PSA: Microsoft is currently looking into service issues with Outlook.com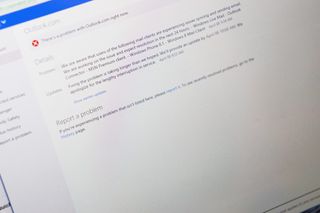 We're just making sure you're all aware of Outlook.com issues Microsoft is currently working hard to address. The service is currently experiencing technical problems that may affect not only those rocking Windows 8.1, but also Windows Phone owners.
According to Microsoft's service bulletin:
The company has since updated the notice, apologizing for the lengthy disruption of service, which appears to be taking longer than expected to fix. Hopefully everything will be resolved soon.
Thanks, Koen, for the heads up!
Rich Edmonds is Senior Editor of PC hardware at Windows Central, covering everything related to PC components and NAS. He's been involved in technology for more than a decade and knows a thing or two about the magic inside a PC chassis. You can follow him over on Twitter at @RichEdmonds.
Not even able to download apps and games

Stop making fun of yourselves

Prize for best question goes to you, sir.

Did anyone else lose the mail and calendar metro apps on windows 10 preview?

Yep Win 10 Mail app been unable to sync for 10+ hours :(

Had been since yesterday! Pretty weird

If you mean the windows 10 preview for PC build 10041, it is true that the mail, calendar and people apps don't work. Luckely there is an easy fix, see: http://m.windowscentral.com/how-fix-mail-calendar-people-windows-10-prev...

The same fix works for build 10049 as well.

That fix is for not being able to install the apps. Unfortunately the servers are not responding there for the mail clients are not working.

Maybe Lizard Squad got some schooling in coding.

Was having this problem since yesterday evening. I thought I was the only one with this problem... tried to fix it by changing my settings... ofcourse nothing helped... Now I have the following adress as one of my browser favorites : https://status.live.com/

Just added to my favs as well. Thanks!

Like for the video! Made me laugh :)

Notice it last night... Couldn´t configure my new NL735 from work... Contacts and system image didn't sync... :(

I've been unable to sync on my Icon since yesterday. At least it's good to know they are working on a problem. I was considering a reset.

Was also considering a reset. I wouldn't be suprised if many people have done this.

Only to find, it didn't work. I wonder how many people have patchy hairdos now :P.

IPhone & Android not affected? Nadella can relax.

Funny comment /s But given the fact that my Google Apps account goes down regularly, and I mean regularly like at least once a month. I think Microsoft have little to worry about.

i do not see any problem on my windows phone and Also windows 8.1 and windows 10 TP they are working great and i'm sending and recieving emails

Yep. Appears to be intermittent. Not a total lack of service.

I've not seen any of this too

Workaround: close (not just log off) your Microsoft Account from your laptop/pc --> login with local account --> reconnect your Microsoft Account PD: Above steps will also magically fix your Windows Phone connecting issues BUT you will need to reconfigure your Authentication App (if you use it for logins with two-step verification)

I'll just wait. Can't be doing with reconfiguring 2FA.

Would this cause issues syncing Start screen and app settings as well? I've tried every solution I can find, but I just can't get my tablet to sync completely with my other devices.

What does PSA means actually?

Think it's Public Service Announcement. Or something else American-y.

It means Public Service Announcement. ​

So that's why all my today's emails still remain in the outbox

I get 'your email needs attention' than I receive emails from...... Mesoft doing yourself yet another disservice.

Shit goes down for all companies. That's life.

Yeah, playstation online was down for me for like 2 weeks around christmas...

Outlook.com works here in Denmark. Thank god for that....

Hopefully when it comes back the outlook.com, site will be more stable the server I'm on is forever having problems with web view, and often stops syncing with my phone. Without this post I'd have thought it just me again.

This was the only thing I could think of when my wife's new WP would not sync yesterday. A brand new set up, complicated things for sure. Speaking of Windows 10, I got an update notice this morning. I am not sure of the build since I thought I already updated to 10049, it is still installing.

Has been and is working fine for me - Australia.

Working fine for me in the UK for both my Hotmail & Outlook accounts on my NL925.

Yeah same for me, emails seem to be coming Through!!!! So no Complaints here....

I knew something was up. Couldn't get my calendars to sync last night.

Only some accounts seem to be affected. I have two mail accounts, a live.com and an outlook.com. The live account hasn't been able to update for 13 hours; the outlook account updates without any problem.

Still unable to check Outlook.com mail here in NC this morn.

Well this at least explains why my mail hasn't synced to my phone in past 16hrs. I thought I was losing it for a bit after trying various fixes.

Windows Phone 8.1 Outlook client:- Error Code: 85010014 (since 19 hours, Hungary).

Haven't had any issues with WP or Outlook (NJ) - But this morning I did get a notification that I could save stuff to OneNote, I wonder if that had something to do with it...maybe a botched roll out.

Not been able to sync / use email for over 24 hours. Outlook.com account connecting via blu402-m.hotmail.com. Have tried other servers, but all of them give the 85010014 error (when is MS going to make error messages friendly rather than generating meaningless codes?!)

Still waiting to fix the error... :/ Greece

Honestly it wasn't just Outlook that's down, yesterday I wanted to create an ISO image of Windows 8.1 Pro that I bought through the microsoft store and the store wouldn't let me see my "Digital Content" for over and hour. Oh well that service is back up, as for Outlook itself, I use Outlook 2013 so I didn't really notice the difference.

Soo what happens when you become so heavily reliant on the "cloud" and that service goes down? :P

Maybe this problem will actually cause Microsoft to fix the issue where I can't use search in web mail or in the modern email app. It's pretty infuriating that outlook.com fails so badly at search and I am forced to keep my Gmail account to be my primary mail hub if I ever need to do an email web search... Grr...

I am not exactly sure what you are talking about. http://answers.microsoft.com/en-us/outlook_com/forum/oemail-osearch/i-ca... This is a known issue that many of us have been dealing with for months. Microsoft's solution is to use a local email client and download all of my mail. That isn't an option on my phone with 8 gb of space or my 16gb Windows 8.1 tablet.

Rumours of Chinese hackers/Government involved.

Rumors by who? No matter what happens, that's always the rumor these days. :p

Haven't been able to check email for 17 hours on my phone's email app. That's frankly pretty bad. At least it worked in the browser though.

Had to hard reset my phone last night because of this. Tried changing password, making a new account to delete old one, and changing server name. Nothing worked.

Thank you for the update. This was driving me crazy all day yesterday as I use the modern apps for most of my work.

I have that same mistake. I reset my phone 2 times. Nothing has changed. Now, my phone is empty. Nothing is synchronized. Email does not come. I do not have Contact. I have no schedule. (Lumia 920,denim,Turkey). I hope they fix it soon.

The mail app in my Lumia 635 with W10 Preview on it works fine, but my Lumia Icon with official WP8.1.1 does not. Maybe just coincidence.

Hotmail on my phone has been down since yesterday afternoon. Around the same time I saw wmpoweruser report the sync error issue on Twitter. But I can access my Hotmail using Windows Live Mail on my work/home desktop PC's. Can't believe the posts I was reading last night about this issue on @Outlook & @LumiaHelp Twitter pages telling people with the issue to do a hard reset. LOL!

these issues have been going on for several weeks. makes me wonder if its not related to the windows 10 work thats being done on the back end.

Nah, it's just part of Nutella's vision for Windows - ios & android first, Windows last. Lol.

Nutella and banana.. eat em up yum!

All the above has been happening with me. The first sign though was Cortona only says "sorry, I didn't catch that"

Tried to do a reset using the Windows Phone Recovery Tool on my Lumia 635, but the program says it can't connect to the Microsoft servers to get the latest version. I'm guessing it's related...

Now, problem solved. But CALENDAR sync is INCORRECT!!! Add phone calendar appointment but not sync outlook.com. If reset phone all appointments lost !!! (Lumia 920, denim, Turkey)

If anyone needs to use their email on their Windows Phone, you can actually set up a POP3 email account with your email address. Just make sure your Outlook account supports POP3 first! That's what I did, anyway. It may not work for everyone. The reason why you cannot set up another Outlook account is because your Microsoft account is the primary account and it won't let you add a second Outlook account unless it's POP3 or IMAP. The default server settings worked fine for me in the sync settings screen.
Windows Central Newsletter
Thank you for signing up to Windows Central. You will receive a verification email shortly.
There was a problem. Please refresh the page and try again.