PSA: A national emergency alert test is happening on your phone tomorrow
The test takes place Wednesday, October 3 at 2:18 PM EDT.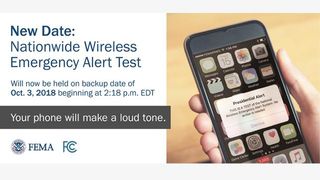 While it can be easy to just think of our phones as tools for checking Twitter, playing games, and watching YouTube videos, they're also critical in the case of an emergency situation. Tomorrow afternoon, the FCC and FEMA will be conducting the nation's first test of its wireless emergency alert system.
The test will take place on Wednesday, October 3, 2018, at exactly 2:18 PM EDT. At that time, your phone will make a loud noise and you'll see a pop-up on your screen that reads:
The alert won't have any adverse effects on your wireless service or device, and after tapping the "Dismiss" button at the bottom of the pop-up, it'll go away and you can carry on with your day like normal.
Get ready for a lot of simultaneous phones going off at the office tomorrow afternoon.
Windows Central Newsletter
Get the best of Windows Central in your inbox, every day!
Never, unless Nationwide now means International!!!!

Canada got a test done a month ago. It was amazing!

Do you really want Trump blasting messages to your phone?

[obligatory complaint about this being US-only]

That's been done, first comment on the article.

I wouldn't mind a nationwide presidential alert when the impeachment hearings begin.

But what's the purpose of this alert if there is no bunker in US soil to go to in case of a nuclear blast!

US people hold their weapons (knives and guns) more dear to them than any other country would. So when there is a blast or an attack to US happens, there is bound to be thousands of people go out on the streets and kill each other. So US people really don't need any safe bunkers - what they need is tons of burial grounds and cemetaries

So the government is going to ping every mobile phone carried by an American citizen at the exact same time? There be dragons!