Titanfall's season pass content is currently free on Xbox One and Xbox 360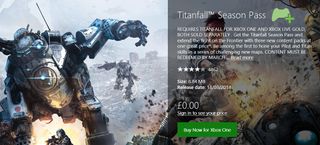 Today marks the anniversary of the launch of Titanfall. Respawn Entertainment's wildly successful sci-fi FPS launched to widespread critical acclaim following months of intense hype. To commemorate Titanfall's first birthday, EA has marked down the price of Titanfall's season pass (opens in new tab) and all associated DLC to $0.00.
Titanfall's season pass contains three map packs, normally priced at $9.99 individually or $24.99 as part of the multi-buy pass discount.
Expedition
The first DLC is Expedition, and features 3 maps on an uncharted world. Swampland, as the name suggests, takes place in a swamp littered with gargantuan alien trees and ancient temples. The trees can be used in parkour gameplay, skilful players can traverse huge portions of the map without touching the ground. Runoff takes place in a fairly standard urban layout, dilapidated in style and crisscrossed with Titan trenches which make for hilarious opportunities to punch weary pilots into bloody chunks. The third map is Wargames, which puts players in a damaged VR style training ground reminiscent of Tron or the VR missions of Metal Gear Solid.
Frontier's Edge
Titanfall's second map pack takes on small, developing colonies with a focus on industry. Dig Site takes place on a mining colony, and features mazes of caves and hazardous pit falls. Export is a day time map carrying the motif of a space port. This map contains various environmental hazards which forces players to be more considerate with their traversal. Frontier's third map - Haven - takes place in a futuristic city which has thus far avoided the conflict between the IMC and the Militia.
IMC Rising
IMC Rising charters the battle across older colonies and Militia settlements. Backwater takes place in a highly vertical forest colony. Zone 18 is a decrepit military base fallen into disrepair, and Sand Trap brings throws players into an arid industrial complex.
Titanfall Season Pass Store Link (opens in new tab)
Respawn have been beefing up their operation ahead of the inevitable Titanfall 2 which is widely expected to shed its Xbox exclusivity. If you haven't played Titanfall before, I would highly recommend it if you're into competitive FPS. The game is available for the incredibly reasonable price of £24.99 / £29.99.
Windows Central Newsletter
Get the best of Windows Central in in your inbox, every day!
Jez Corden a Managing Editor at Windows Central, focusing primarily on all things Xbox and gaming. Jez is known for breaking exclusive news and analysis as relates to the Microsoft ecosystem while being powered by caffeine. Follow on Twitter @JezCorden and listen to his Xbox Two podcast, all about, you guessed it, Xbox!
Is this temporary or permanent????:)

The download offer is temporary. Valid until sometime in March. Look at the screenshot and you will see it in the text of the screenshot. However, they did not expand the text so I do not know the exact expiration date. Whether your download will stay permanent with this offer, however .. do not know that either. They should have clarified it in the article. Again, the screenshot text is not expanded (they did not click "Read more") and it probably reveals this info in that text.

This is a price change, not a trial :) it's a permanent license, but probably not a permanent price change. The text reads: "CONTENT MUST BE REDEEMED BY MARCH 11, 2016" - but that isn't relevant to this particular offer. It simply means that after 2016 there will be no 'season pass' bundle, and you'll have to buy map packs separately. I'll try to be clearer in the future, apologies.

This will go great with getting Titanfall through EA Access one of these days. :-)

All those "console peasants" complaining that the "glorious PC master race" get to play on Xbox Live for free are missing one thing, they get exclusive deals like the one in the article and Games with Gold which is exactly what the subscription goes towards paying for. PC gamers won't get anything like this. I really do hope this is a permanent thing though but it seems unlikely, anyway it's good news for those of you with an Xbox One or 360.

I rather have a steam sale than one free game with a subscription of 50 bucks to even be possible to play online

50 bucks a Year, with free games every month.

Buy my subscription every year for not more than $35-$40, and get at least two free Xbox games per month for the whole year. And that's just the bonus that you get with the subscription.

That's exactly it, $35-$40 with at least two free games every month. IMHO that's a much better deal than a Steam Sale where 50% of the games you already own, 40% of the games are utter rubbish and 10% are games that are actually good and you don't own them.

You could say the same about Gold games, with a sale you can choose what you do and don't want, gold games you get given a game you may or may not want, may or may not already own, correct?

That's not quite it though, the game is free but it's up to you to download it. The other thing is that while you may not want a specific game they are providing for free, you are more likely to try it if it's free. Whereas, with Steam, if you buy a game and you don't like it you can't get a refund. Yes some games on Steam have demos but not all of them.

You can buy games through greenmangaming.com and they will allow you to get credit for your digital games.

Games with Gold is exactly like you're saying about Steam. There are hundreds, if not thousands of games available on Steam. I usually pick up AAA titles when they release the GOTY for under $10 (or part of a package). GWG you get what you're given, and I've owned at least 50% already, and didn't care about another 25%. But then you have to buy all the DLC, which MS almost never discount... buying a GOTY through steam is always cheaper. I have Gold, but use Steam almost exclusively these days and only get Xbox games for under $10 at the brick-and-mortar shops

A steam sale where you'll end up buying 20 games that you won't play?

Exactly and the keyword there is "buying".

A gold membership where you may not actually end up using, getting 'free' games you may not want. There's not defined amount you have to buy in a sale, you chose to buy what you want. If you buy 20 games that you don't play then that's the consumers fault.

Same goes for steam.. You don't decide what to get on sale.. You are presented with a sale and if you want, you can pay for the content. So yeah, either if it's about games I'm not directly interested in, I STILL get 48 games/year (360+X1) and all the other benefits of Xbox Live. I'm fine with it.

The other benefit is that Games with Gold allows you to download games you might not have tried before, that's beneficial if you're looking for something new.

I don't actually know what the other benefits of Live are, I looked on MS website and all i can see are free games, discounts and MP. To be honest, Live and PC MP work out about the same in terms of what you get for a certain amount of money - talking about games since still not sure on other benefits. edit: @Neo, yea that's very true, there's no real way to try a PC game before you buy. A few stores offer refunds like Origin, I think GOG does too, and Steam really should get bashed for it. But in all honesty you could just pick up random games at discount prices, such as 36 $1 humble bundles in one year.

I'm not here to kiss some Xbox ass but if the Humble Bubdle stuff you're talking about is mainly indie games or crap like that. Rarely, do they have some big bundles on the line and when they do, you pay more than $1.

Nonsense. You don't know what you're talking about. They've had numerous AAA Title deals - Square Enix one just finished. My Humble Bundle account is filled with AAA games. Sometimes I only paid $1, or sometimes I 'beat the average' to get more games which is usually no more than $5.

Firstly, screw you for telling me I don't know what I an talking about.
--------------------
You get some publishers sales sometimes but that's all. I unsubscribed from their newsletters cause I got fed up with their endless indie bundles.
--------------------
Needless to say, it's not a bad service, it's nice that they do charity and everything but if you want to present HB as a selling point for PC gaming, then you might as well keep your words to yourself.
---------------------
To end with this pointless debate, the majority of "PC Masters" take pride in saving so much money on PC while at the same time crying about how broke they are because they apparently bought 500 games through Steam Sales that they don't even play. If you are that person, you are pathetic. I'm fine with my $60 subscription/year (I get it for cheaper), the sales that occur with it that actually interest me and the about 50 games I get for free.

You said it's "mainly indie games or crap like that" which proves you don't know what you're talking about, as it's easily and quickly disproven. So screw you. All of your other points aren't worth reading.

That's because it's true you airhead!! YOU are not worth reading! Go drink your milk!

You said it's 'mainly indie games or crap like that' which is completely false. Any other points you want to raise are irrelevant to the point I made. Why should I reply to pointless arguments to items I didn't even mention? You just want to argue for the sake of arguing, hence they're not worth reading let alone replying to.

Like I said, that's the reality. I've been receiving newsletters from them for years.. The number of indie games vs actual good games is massive.. Their main purpose is to serve charity, not to be a gaming hub.

We have Steam-lile sales. Such as the Christmas Sale and the Ultimate Game Sale. I go TWAO for €15, GOT Season Pass for €17, Kinect Sports Rivals for €12, Costume Quest 2 for €5, Lego Marvel for €10, Far Cry 3 for €10 and Fight Night Champion for €6. Huge Discounts. The Telltale Collection was €50, but I arleady had Telltale games

Haha, you must be joking... Nobody can be this deluded...

I'm deluded about what? Why don't you enlighten me!!!!!

Uhm I bought the tripwire bundle (rising storm, red orchestra 2, killing floor with all dlc) for 7 euros (all items apart: 188 euros, steam bundle: 90 euros). Same story for Payday 2. And the latest humble bundle with square enix games (thief, deus ex, hitman absolution, lara croft and murdered: soul suspect) for 5 euros. All saints row games + dlc for 10 euros. I can give you many more examples like these. Those kind of deals you don't get on your xbox or playstation. And yes I played all of those games. Of course when there is a humble bundle of 8 games for 5 euros, if there is only one game you really want, you maybe won't play the other 7. But 5 euros for the one game you want can make the bundle already worth it. You can also give your duplicate games to your friends and make them happy (maybe get some games you don't own in return).

The closest thing PC has to Games with Gold is the Humble Bundles to be honest. 3/6 games every, what 2 weeks, for $1. I get no choice what those games are but they are cheap. Now you can say "But Robo, they aren't free you have to pay $1 for them, Gold Games are free" and I can say "Well Neo, my multiplayer is free, you have to pay about $3 a month for that". Swings and roundabouts people, can't we just agree there are games, there are deals, and there's fun to be had whatever system you play on and move away from "my platform is better than your platform because epeen"?

The season pass is free on PC to

you must be joking its free on Origin Platform on PC too

You have a little egg on your face... Free on PC and still no subscription fee.

Nice, snagged the crazy titanfall deal back in novemeber and don't regret it, even though I haven't played it yet! Hopefully it is perment for those who snap up this deal.

I paid 5 bucks for this 3 or 4 moths back.

Turns out I already have the season pass. Still anyone that doesn't should buy this.

Got the season pass. Won't let me get queue the map packs through smartglass. Probably since the pass hasn't officially been downloaded. Either way, I own them. Now to just get the actual game.

This is kinda a big fuck you in the face to the people who bought the season pass full price...

So is every big sale and deep discount on everything ever. Including all the free games on GwG/PS+ every month. Etc etc.

Nothing to explain. Either upset cause he paid full price or just trying to find something bad in a good thing. I paid full price for the pass and I have no problem with it being free now.

You paid for "early access". You're like the people than line up Day 1 to buy some new tech and then moan that a month later people are getting freebies and discounts (cases, charging pads, speaker docks, vouchers or whatever) for free.

And to think I paid $6.25 for it... But now there should be more people playing, hooray!

How's the MP population on the Xboxs for Titanfall? All I've been hearing on PC is that everyone got bored and stopped playing it not long after release.

Question: can I get this now even if I don't have Titanfall and store it for later? Or will it only allow me to download if I already have Titanfall?

I "bought" the 360 version, but had problems with the XB1 page. Maybe because I don't own a XB1 or maybe this is a US-only promotion? In any case, the description on the page says you have until this time next year (11/03/16) to redeem it... so I guess if you haven't activated it by then it won't work anymore. Oh, and I don't own Titanfall at all (on any platform)

Wildly successful lol u mist be joking

Also free on PC, and I was lucky enough to pick up the base game for £7.50 off Origin the other day. Was almost tempted by the £25 duluxe pack, glad I held off now :)
Windows Central Newsletter
Thank you for signing up to Windows Central. You will receive a verification email shortly.
There was a problem. Please refresh the page and try again.