Qualcomm completes LTE Category 9 Carrier Aggregation testing with EE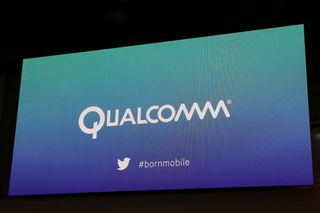 Qualcomm today announced the company has completed inter-company interoperability testing of LTE Category 9 with Huawei and UK mobile network EE. Using the Snapdragon 810 processor, Qualcomm utilized Huawei's commercial infrastructure solution to connect across EE's LTE-A '4G+' network.
The LTE-advanced modem is also backwards compatible with current technologies including GSM/EDGE, CDMA1x/EVDO, TD-SCDMA and WCDMA/HSPA+. With the new tech consumers will be able to enjoy even faster peak data transfer speeds (up to 410Mbps). As was previously shared by Qualcomm, the company expects the new hardware to be available to customers in early 2015.
Check the press release below for more details.
SAN DIEGO, Dec. 22, 2014 -- Qualcomm Technologies, Inc. (QTI), a subsidiary of Qualcomm Incorporated (NASDAQ: QCOM), EE and Huawei today announced the companies have successfully completed inter-company interoperability testing of LTE Category 9 connectivity with 3-carrier downlink aggregation and download speeds of up to 410 Mbps. Testing was conducted using QTI's Qualcomm® Snapdragon™ 810 processor with integrated LTE-Advanced next-generation modem, and Huawei's commercial infrastructure solution, across EE's LTE-A '4G+' network. Category 9 Carrier Aggregation allows EE to aggregate 20MHz of 1800MHz spectrum with another 20MHz of 2.6GHz, and a third carrier of 15MHz of 2.6GHz.
QTI continues to be a leader in driving the commercialization of faster downloads, speedy application performance and reliable connectivity across greater coverage areas enabled by LTE Category 9 connectivity. This test becomes the first announcement of a successful completion of LTE Category 9 interoperability testing with major solutions providers and operators in Europe. Completion of this LTE Category 9 testing further demonstrates the superior end-to-end experience delivered by higher speeds and 3-carrier downlink aggregation.
"We are excited to work with EE and Huawei in ushering in the latest evolution of wireless connectivity," said Enrico Salvatori, senior vice president & president of Qualcomm Europe. "Transitioning from Category 6 to Category 9 LTE-A connectivity will mean 1.5x faster peak download speeds, swift application response times, reliable connectivity and connections to the fastest networks."
"Working closely with the excellent teams at Qualcomm Technologies and Huawei on the next generation LTE Category 9 connectivity enables us to make full use of our spectrum holdings, and continue to offer world class network capabilities, innovating to stay one step ahead of operators in Europe," said Tom Bennett, director of network services and devices at EE.
"Use of our remaining 15MHz of 2.6GHz spectrum enables both our fastest speeds and an increase in capacity across our network and this successful testing phase is a big step forward. We look forward to demonstrating this at Wembley Stadium early next year."
"Huawei is dedicated to improving network capability across the UK – delivering fast speeds and more reliable connection to all mobile devices," said Yang Chaobin, chief marketing officer of Huawei Wireless Network Business Unit. "This test is a truly groundbreaking moment as we move towards the 5G era. This LTE Category 9 interoperability test is the first successfully announced trial of its kind in Europe and we're proud to be working alongside Qualcomm Technologies and EE to drive future networks."
Rich Edmonds is Senior Editor of PC hardware at Windows Central, covering everything related to PC components and NAS. He's been involved in technology for more than a decade and knows a thing or two about the magic inside a PC chassis. You can follow him over on Twitter at @RichEdmonds.
Download speed up to 410mbps.. WOW..

This is shit. We can barely get 60mb/s at home. We have all these fancy gigabit routers, yet we ain't gettin no gigabit throughput. Maybe I'm missing something, but these sorts of numbers never pan out for the rest of us troglodytes.

Do your research, no cellular feed comes close to gigabit speed.

I know, moron. I'm referring to the fact we get nothing close in real world use.

Gigabit in your router refers to it's lan network

Yes, I know, I'm referring to the fact we do not get anything close in terms of service compared to what companies claim is possible whether it be Wi-Fi, LAN, or other.

what your missing is that they test these under "ideal" conditions, meaning, its impossible to get this with average use, but its a goood benchmark, because without any kind of intereference youll get consistant results.

Im sure somewhere max speed at the moment is 385 but average is like 170, real world blows the speeds heavily, also gaming on this speed does carry the lag still!

Well Huawei is one who once said nobody should invest on wp as its a non profitable OS.

They probably produce a lot of the tech, not just phones, that will use this tech. They produce a lot of networking hardware, from what I understand.

That's true, but that isn't related with this article right? And yes they're leaders of network infrastructure, not only phones.

it is not related directly . Im telling their attitude towards wp.yep they are leaders of network infrastructure.

Leave him alone. His topic is close enough. Isn't it hard to follow your drunk, stuttering mom (particularly difficult to understand her when she has a dick in her mouth) yet, no one tells her she's off topic.

The faster the better, I live in the least populated areas in Central America (Belize), here we have HSPA+ since early 2013, carriers here are getting ready to deploy 4G LTE by early next year. My GSM carrier uses huawei modems a lot for mobile broadband so this will be great.

This is not good news for Nokia as Huawei is now on their turf in a big way

I don't see why this is an important news for windowscentral fans. Coz, currently the most advanced processor for wp is snapdragon 801 and it doesn't have cat6 modem. so we can't know what it tastes like if we don't have cat6 modem with snapdragon 805. What needs to be done is clear, microsoft should increase their production line for high-end windows phones for snapdragon 810 phones. If they were going to do nothing, what the hell on earth they buy Nokia. Also, Nokia bankrupted because of MS. You cannot put all the eggs in one basket.

So much nonsense in a single post. Kudos to that achievement. Even though Lumias currently are stuck at SDragon 800, that doesn't mean this isn't news worthy stuff for us at Windows Central. And Nokia didn't go bankrupt - far from. They just didn't know how to make money from their phones so they sold that division. As for the one basket thing, that's solely Nokias fault. They didn't have the guts to go more than one direction, and they lost. Now they are crying like babies because they felt captured by MS, instead of looking to their own faults... Poo to Nokia, and poo to us Lumia fans for being let down like that :/

Umm... Exactly how this is related to "Windows Central"???

Future hardware for future Windows devices... Really cannot think why this shouldn't be Windows related news :P

It is a hardware. It might be used by Microsoft later or may not. It can definitely used with Android as well. It is not an announcement saying that Microsoft's next flagship will come with 810. So...

I've been on many forums but never have I stumbled upon so many post criticizing what might or might not be news worthy. If You don't like the news then just don't read it. It is so simple... I was glad this article was written but there are plenty others that I never enter because they don't seem interesting. Simply don't tap the headline...

Please insert this in my next 1530 :)

What's the meaning of making faster modems if network operators can't give the speeds?

whats the meaning of faster cars if laws dont let us match the speeds?

This is great, let's see if any of top end windows phones ships with SD 810 at same time OEMs will flood the android market with the same in early 2015. How about first surface phone or Lumia 1030 with SD 810, It will be a dream come true for many wp enthusiasts!

Insecure much?? Who cares (but the spec monkeys) about what Android OEMs do?! I'm just glad MSFT did not make the mistake Nokia made with the 1020 and choose to wait for nextgen hardware with WIN10 for the next top tier phone..

That's my point too, SD 810 is a future-proof AP in many ways. If MS makes new APs compatible, OEMs such as HTC can release their flagship android and windows phones at the same time. I don't want OEMs blames MS for delay for any reason as far as latest and greatest advancements in tech, say for example, multi-core APs, BT 4.0 ( LE), etc. We all know WP 8.x is so smooth on 512MB RAM devices but why poor WP users/supporters wait for App developers release compatible apps after months of delay! hey, anyway , happy holidays!

Judging by today's metrics, we could say that 810 will be used by 2016 Lumia flagship :-/ but imagine a 1030 with 810 processor!!! Will be damn awesome :-)

eh, you make no sense.. 1) that was nokia, not microsoft 2) nokia was impatient, early on they didnt wait for microsoft to add support for later chipsets which is why a lot were under spec'd 3) during the 1520/930 days nokia was really bad on money, so it made sense that theyd save a ton of money by using the 800 as the 801 doesnt offer a whole lot more hen the 800

Then, Why MS has used Snapdragon 200 in Lumia 535 ( MS's first WP phone).

because its a budget phone made to be very cheap? I don't understand your question at all..

I think the transition from Nokia to Microsoft happened some time back and definitely Microsoft could have came up with a flagship for this holiday season, if they wanted to.

the transition couldnt of happened some time back, microsoft couldnt start integrating nokia's devices and services division until after the deal was approved, every device up until the 535 were jsut phones that Nokia already had in development, we also had the mclclaren, which was nokias planned flagshiop, when it got scrapped, Microsoft had to start from scratch, and trust me, starting a budget phone from scratch is so much quicker then a flagship is, which is why microsoft probably chose the 535 as their first phone. Alos, its a waste of money and time to release a flagship now, first you have the fact that anything made now will be outdated in a month, and 2, windows 10 is coming up fast, doesnt it make more sense to make the next flagship show off the next OS?