Qualcomm debuts ultrasonic in-display fingerprint sensor tech, launching in 2019 phones
We're already moving on to the next generation of in-display fingerprint sensors.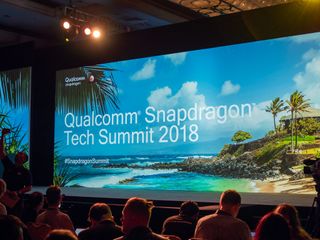 Alongside the announcement of the new Snapdragon 855 mobile platform, Qualcomm is also debuting new in-display fingerprint technology that is already available to manufacturers and will be launched in commercial phones in 2019. Unlike the current crop of in-display fingerprint sensors, like those in the OnePlus 6T, Huawei Mate 20 Pro and countless others that use optical scanners, this new technology uses ultrasonic waves from under the display to read your fingerprint.
The new sensor tech, officially called the "Qualcomm 3D Sonic Sensor," provides appreciable benefits over the current optical scanner technology. Qualcomm claims the ultrasonic tech can accurately detect fingerprints through various contaminants on your fingers, because it isn't easily blocked in the way the light used for an optical sensor can be. It also doesn't have to contend with "seeing" between the LEDs in a display, which should make it faster and more accurate. (And potentially, it could therefore be used with LCDs.) To that point, Qualcomm also says that this ultrasonic solution has higher levels of security and accuracy at the same time — the real holy grail of fingerprint sensors.
It's not clear exactly how fast we're talking here, or whether this technology can approach the speed and accuracy of a modern capacitive sensor. But as a base technology, ultrasonic sensing seems like an important development beyond the current set of optical scanners that have received mixed reviews in the last year.
As companies license this technology to use in their own phones you're unlikely to see Qualcomm's own branding in association with the phone, but there's a good chance the manufacturers that use this new Qualcomm tech will be touting its improvements over the competition. The company obviously can't speak to its partners' launch plans, but we know that the new sensor will be in use by at least one phone in the coming year.
Windows Central Newsletter
Get the best of Windows Central in your inbox, every day!
Looked into this quickly and from their press release in 2017: "The suite of features consists of sensors for Display, Glass and Metal, detection of directional gestures, and underwater fingerprint match and device wake-up. It is also the first commercially announced integrated ultrasonic-based mobile solution to detect heart beat and blood flow for improved mobile authentication experiences.". https://www.qualcomm.com/news/releases/2017/06/28/qualcomm-announces-adv... At first read seems similar to the doppler effect (used in ultrasounds for example). I'm curious to see how they implemented it and how accurate it is underwater.

Thanks for the breakdown. Sounds really interesting.

As our latest technology gets advanced by applying all such innovative techniques to make a revolution in this latest technology based field. They can easily get an update from https://uaetechnician.ae/mac-data-recovery that will guide them in a fruitful manner.

sophiasophos; you should be ashamed of yourself. Your comment was a serious hijack of the article for your click bait crap.

There has been a large spate of these recently, please do report them as soon as you see it.