Leaked benchmarks for Snapdragon 8cx Gen 3 should have Windows fans excited
Windows 10 on ARM devices could see a big boost in performance if these leaked benchmarks are accurate.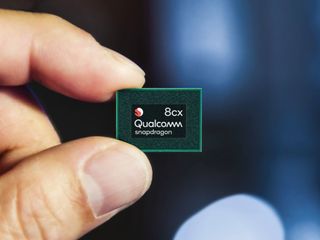 (Image credit: Windows Central)
What you need to know
Leaked benchmarks for the next generation Snapdragon 8cx processor recently appeared on Geekbench.
The benchmarks show that the next 8cx might compete with Intel's 11th Gen Core i7 chips.
As with all leaked benchmark figures, these should be taken with a grain of salt.
Geekbench 5 benchmarks for Qualcomm's Snapdragon 8cx Gen 3 processor have appeared online. If the scores are accurate and genuine, people should be hopeful for the next generation of 8cx chips. Windows 10 on ARM devices like the Surface Pro X could see a big boost in performance if these scores turn out to be accurate.
As is the case with all leaked and unconfirmed benchmarks, these should be taken with a grain of salt. Scores can be from preproduction units or fabricated entirely.
Rumors about the 8cx Gen 3 state that it will feature eight high-performance cores working at different clock speeds. This is in contrast to using four high-performance cores and four low-power cores.
That rumored architecture shift could pay off, as the recently leaked benchmark scores show the 8cx Gen 3 competing with Intel's 11th Gen Core i7 processors. The benchmarks state that the 8cx Gen 3 gets a single-core score of 982 and a multi-core score of 4,918. That would be a marked improvement over the 8cx Gen 2 that gets a single-core score of 795 and a multi-core score of 3,050.
Perhaps more importantly than the jump compared to its predecessor, the 8cx Gen 3 looks respectable when compared to Intel's Core i7 chips. The Intel Core i7-1160G7 (15W TDP) gets a single-core score of 1,400 and a multi-core score of 5,000. Even the Core i7-1185G7 with a higher 28W TDP gets a single-core score of 1,550 and a multi-core score of 5,600.
While Intel's Core i7 chips beat out the leaked benchmarks of the 8cx Gen 3, the gap is smaller than previous generations of competing chips from Intel and Qualcomm. Below is a chart of relevant benchmarks from Tom's Hardware.
Swipe to scroll horizontally
| CPU | Single-core | Multi-core | TDP |
| --- | --- | --- | --- |
| Qualcomm Snapdragon 8cx Gen 3 (unconfirmed) | 982 | 4,918 | Unknown |
| Qualcomm Snapdragon 8cx Gen 2 | 795 | 3,050 | 7W |
| Qualcomm Snapdragon 8cx Gen 1 | 725 | 2,884 | 7W |
| Intel Core i7-1160G7 | 1,400 | 5,000 | 15W |
| Intel Core i7-1185G7 | 1,550 | 5,600 | 28W |
| Apple M1 | 1,710 | 7,660 | 20-24W |
Notably, if the benchmarks are accurate, Qualcomm's new chip will still lag far behind Apple's M1 chip. Those chips from Apple are in a class of their own right now in the CPU space. They do, however, run at a higher TDP than any of Qualcomm's offerings to date.
News Writer and apps editor
Sean Endicott brings nearly a decade of experience covering Microsoft and Windows news to Windows Central. He joined our team in 2017 as an app reviewer and now heads up our day-to-day news coverage. If you have a news tip or an app to review, hit him up at sean.endicott@futurenet.com (opens in new tab).
At a TDP of 7 watt that would be a really good performance jump. Though even at something like 10 watt it would be very welcome.

Besides the higher TDP, Apple's M1 chips also has an architecture that allows them to more easily/efficiently emulate x86 when needed...something that Qualcomm's chips for Windows 10 devices should obviously replicate (I believe they did so already on the Snapdragon 888, but only time will tell when the devices are released).

More performance, so less battery life...?

That's great news, though not unexpected. One thing we should not expect though: the 8cx gen 3 heralded as a CPU revolution. That's reserved for devices with Apple logos.

It isn't a CPU revolution. I am not an Apple guy at all, but the M1 beats all but the Intel Core i9 in single core performance, and it beats most of the Intel lineup in multicore performance despite having only 4 performance cores. What will the multicore performance of their 6 and 8 core chips be? Also, there were real issues with the M1 due to it being a first gen chip. The third gen M1 may even beat the Core i9 in single core performance. By contrast, this CPU doesn't even match the Intel Core i3 in single core performance and it only rivals the i5 and i7 chips in multicore because it is 8 performance cores versus 4 performance cores. And this CPU is made on a 5nm process (though functionally equivalent maybe to an Intel 7nm process). Tiger Lake is Intel's first gen 10nm process. The second gen 10nm process that we are going to get in 2022 is much better. Again, not an Apple guy. (I don't even use iPhones. I did use iPads in the past but switched to ChromeOS.) I don't care how fast their CPUs are ... it doesn't matter if it can't run the software that I need. Even when I did have a Mac, I needed to use VMWare to bridge the gaps and now even that isn't an option anymore. But yeah, this CPU isn't in the M1's class.

Hold a second, apple fanboy. You forgot the most important thing, you not compare processors with tdp in completely different league...

This still isn't good.
1. Qualcomm is using 8 Cortex-A78C performance cores, the maximum that ARMv8 is capable of right now. (Prior to this year that max was 4). Yet it still has a lower multicore score than a quad core Intel chip.
2. You are SUPPOSED to be able to use 8 Cortex-A78C performance cores with 4 efficiency cores to maximize battery life and reduce heat. But it looks like Qualcomm couldn't (inflate) maximize their multicore score that way.
3. Graphics is going to be a bottleneck. 11th gen Intel Core i5/i7/i9 has integrated graphics that are on caliber with entry level Nvidia and AMD discrete GPUs. Meanwhile the Qualcomm Adreno GPUs, while better than the GPUs in Samsung and MediaTek SOCs, aren't great.
4. The real issue: single core score. It is still below 1000. The competing Intel CPUs have single core scores of 1175 (Core i3), 1271 (Core i5) and 1400 (Core i7). The Cortex-X1, which was supposed to compete with the Firestorm cores that are in the A14 and Apple M1 - and yes the M1 also only has 4 performance cores meaning that the 6 and 8 performance core M1X SOCs are going to be real monsters - only has a single core score of either 1013 or 1135. And the Cortex-X1 was supposed to be the ARM Holdings' big core design to compete with Apple, Intel and AMD. Of course, it is going to improve in Gen 2 and really hit its stride in Gen 3 (right now there are issues with the instruction set and cache sizes that are going to take a year or two to work out). But right now ARM Holdings' best core is only competitive with an Intel Core i3 that is on a 4 year old process. Who cares about single core versus multicore? You should. While SERVER workloads are able to be optimized to take advantage of high multicore performance, most productivity and performance CLIENT workloads mostly rely on single core performance. I am certain - but not 100% positive - that Windows 10 ARM to x86 translation is one of the things that relies heavily on single core performance. MAYBE the native ARM apps will be written to take advantage of multicore performance, but right now there is no evidence that Microsoft - or anyone else - is doing so for any of their other ARM apps (for iOS, Android or M1 macOS) that previously were single core dependent. I was hyped about Qualcomm buying Nuvia to build "ultrabook" SOCs but it looks like they have the same issue: able to compete with x86 and M1 with multicore performance while saying as little as possible about single core. Nuvia was trying - and mostly failing - to compete against ARM Marvell and N1 in the server market where having a 128 core ARM SOC offer similar multicore performance to a 56 core Intel Xeon CPU while using much less power is compelling, but again server workloads aren't translating x86 to ARM or running The Division 2. The 8CXv3 appears to be a better SOC for ChromeOS and Linux than for Windows 10, if only due to both have native ARM versions making x86 translations unnecessary. Maybe Microsoft can create their own custom ARM SOC that solves the single core score problem that ARM Holdings has been unable to despite working at it for well over a decade with just about everyone in the PC and server market on the planet. There is also door #3: RISC-V.

Good thoughts and points. Thanks!

Not sure if you understand the difference between a 7W and a 15W SoC. Assuming they stay in the 7-10W range the performance is very impressive.
In addition the leaked benchmarks are with a reduced clock of 2.7GHz.
What this essentially means is, that you get the performance of a 11Gen Intel SoC hat less than half the TDP. Not sure, where you got the nonsense from about Cortex-X1 being designed to be competitive from performance perspective with A14/M1 Firestorm. They are much smaller than A14/M1 Firestorm cores and for that matter much smaller than any Intel/AMD core as well - anyone including ARM is not expecting them to reach the same single core performance - they never claimed this either. Which brings me to Nuvia. Nuvia is developing large cores targeting higher single core performance than A14 Firestorm. They are very specific in their publications that they target very high single core IPC. Nuvia did not fail at all, because they could not possibly fail yet - given they did not have a single design taped-out. I mean Nuvia was founded in 2019... Finally, even under x86/x64 emulation, apps take full advantage of the multi-core capabilities - assuming they are multi-threaded apps in the first place.

The fanboys do not get it. They think that apple made some kind of a miracle. They just created a cpu in segment and technology that no one has. This will be on 5nm, but still in different league of power.

Indeed, they are comparing performance while totally ignoring core sizes and power consumption. If you want to have a very thin tablet like the Surface Pro X - you just cannot put a 15+W CPU inside. Likewise, cores designed by ARM ltd. mainly going into phones, which have a power limit of about 3W. And yet people still complaining, when we are getting roughly 15W performance with a 7W CPU.

They just need to do what Apple did with the M1 to efficiently translate x86 code to ARM and this would be amazing. A 7W SoC that fights against Intel's 15W CPUs while delivering all the advantages of ARM would be amazing, they would still lose to AMD CPUs in performance, but they do have the ARM advantage.

For a 7w TDP is really good performance, now Qualcomm can increase the TDP

How many of you have actually used WoA? I've used them and even now they are highly functional. Apple is going all in and has to replace their entire function with the MX chips. WoA is about efficiency and productivity. The wattage alone shows the difference, the Qualcomm chips are rocking performance per watt.
Windows Central Newsletter
Thank you for signing up to Windows Central. You will receive a verification email shortly.
There was a problem. Please refresh the page and try again.