Quality control issues bench Gibbage 3D cases, there's no joy in Mudville tonight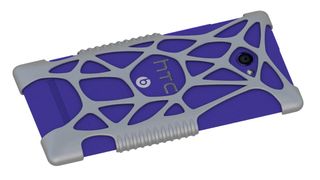 Gibbage Cases were supposed to be a new 3D printed cases for the HTC 8X Windows Phone and eventually for the Nokia Lumia 920. The cases were uniquely designed mainly to offer surface protection to the 8X and 920 from scratches. Plus they are kinda cool looking.
We were slated to receive a review unit here shortly but just got the news from the Gibbage Case creator that he's having to cancel any orders and halt production due to apparent quality control issues with his printing service, Shapeways.
Hopefully, Gibbage Cases can find a reliable, reasonably priced 3D printing service and we'll see these cases offered in the near future. You can follow along in the discussion on Gibbage Cases' development and offer any design suggestions, should another printer be found, here in this Windows Phone Central Forums discussion. (opens in new tab)
Windows Central Newsletter
Get the best of Windows Central in in your inbox, every day!
George is the Reviews Editor at Windows Central, concentrating on Windows 10 PC and Mobile apps. He's been a supporter of the platform since the days of Windows CE and uses his current Windows 10 Mobile phone daily to keep up with life and enjoy a game during down time.
Edit: Never mind, I totally misread.

Very solid case. I only have two issues. First, there seems to be a slight air space between the screen and integrated cover. Slightly annoying, not a deal breaker. Second, the opening for the front facing camera is too small. You can see the edge of the case when using it. Very annoying. Probably wouldn't have bought it if I had known beforehand. All in all I like this case and would recommend it to any HTC 8X owner.

Sad face.. I was hoping for a review. I was really interested in these cases.

to bad... looked promising for sure

I'm sure my man Gibbs will get it sorted.. Have faith WP Nation!!

I think he's expecting too much from 3D printing. The flexible and strong enough materials needed for this sort of task are very coarse. Polishing is done either by tumble polishing,or by hand. There's no easy way to polish around detail in the middle of a flat area in a reasonable amount of time for them to be profitable. The ring is an easier polish since there are no flat areas. Chances are the line artifact showed up because there's a gradual curve that that material's process and low resolution can't smooth out. It prints in layers, and you'll see stepping. That or the rare chance the part moved while being printed, the video isn't clear enough for me to tell. The materials that can print in the detail and smoothness he is looking for, are too brittle for everyday use. You'll not get mass production looking pieces that will suit as protection with the current economical 3D printing technologies today. Maybe soon in the future, but not now. Work with today's limitations and get rid of that text detail in the flat area if you want it polished. Either way, the 3D printing materials will still eat away the soft surface of the 8X, defeating the purpose.

Should use 4d printing instead

On the White case issue why not Invert the Windows Phone Central Logo instead?

Also something coming was mentioned last year for 3D printing was Black Elasto Plastic
http://www.shapeways.com/blog/archives/1375-Introducing-3D-Printed-Black...


Inversion of the text is not a bad idea, but still left with problem that it is not a great material for such a soft phone. If it is hand polished, they can skip polishing the area that contacts the phone, meaning the specs are consistent and it can be built to fit snuggly=less wear on phone. If tumble polished, it doesn't discriminate where material is removed=not consistent from one print to the next, some will have slop, some won't...those with slop will wear at the 8x soft finish. The soft elasto material would have been the ideal material. But it does not allow hardly any detail, required really thick prints, and was just crappy all together. The reason it was only a test run that has not come back yet until a better method is found.
http://www.shapeways.com/forum/index.php?t=msg&th=10183&start=0&

Im not giving up yet. The case from Sculpteo was PERFECT other then the dye thing, so it can be done. Its just a question of price and quality. Since Shapeways would send people the product directly, I have no way of doing any quality control, and Shapeways messed up 2 our of 3 prints. That's a red flag for me, and I dont want my customers to pay the price.


Welcome to the world of 3D printing and production! I'm a product design engineer, so, here's a really long post of what you can expect:
On of your main issues is going to be that stronger, high res 3D printing processes and resins are designed for engineering things. Color really doesn't matter in enginering prototypes, and when it does, things are painted for expensive one off prototypes. There are not many good, black, resins.
What I think you want, is an SLA printed part, not an SLS printed part. SLS is printed in a big pile of powder, and is always grainy like you noticed (also what all the 3D printed "nylon" parts are). You can polish it, but, a good polish is labor intensive. Probably where the difference in price is coming from in your two suppliers. SLA is printed in a big vat of liquid, and the parts come out much smoother.
The issue with SLA parts, is they shatter. They are really great, up until a point, and then they shatter like glass. Much different from your normal plastic that will stretch a lot. They are strong though up to that point. Actually, I tend to have this issue with SLS too.
I recommend getting a part printed on a Viper Pro machine (a type of high res 3D printer) with DSM Somos NeXt resin. That stuff is strong, they've printed prototype lacrosse heads out of it. I've printed phone case prototypes and it's a nice strong resin, though unfortunately only available in white.
Your issue then becomes price. The price for these resins, even bought in bulk by a 3D printing place, is about $5 per cubic inch. Then no matter which process you use there is some labor involved. You're normally paying $20/ci for a 3D printed part from a service.
I don't think you're going to hit a cost that's acceptable, and a quality that's acceptable, with 3D printing.
You can probably get some really nice injection molding tools made for around $20k in China, and then shoot the things at cents per part. That's how most cases are made. Maybe do a kickstarter? In the US your tooling would probably be more expensive than that. The issue is the amount of sliders you're going to need to make all those undercuts.
Anyway, good luck!

Damn, what a pity. I was looking forward to these cases too. But you know it's strange for me that the creator of a future successful product can't find a simple printing service and halts production. I would do anything that is possible to not stop the production and not tell those bad news to everyone. But maybe that's just me. By the way, I am the creator of a really successful WordPress PayPal plugin so I know how to do business. At least I hope so. Anyways, thanks for the post!
Windows Central Newsletter
Thank you for signing up to Windows Central. You will receive a verification email shortly.
There was a problem. Please refresh the page and try again.