Quantum Break now available on Steam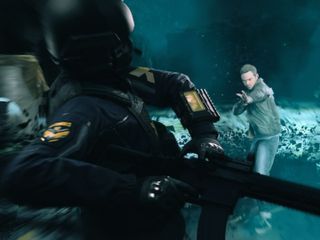 The Steam PC version of Quantum Break, the temporal-themed action game from developer Remedy and publisher Microsoft, is now available to download for people who own a Windows 7 or 8.1 PC.
Quantum Break was released earlier this year for the Xbox One and Windows 10 PCs, via the Windows Store. However, this new release on Steam will allow the critically acclaimed game to reach a larger audience on the PC. While the Windows 10 version uses the DirectX 12 graphics API, the Steam version uses the older DirectX 11. Nordic Games is also publishing the Steam version of Quantum Break to stores on five game discs, along with a Steam key, a behind-the-scenes book and Blu-Ray, a quick guide to the game, two posters and the game's soundtrack on CD.
Get the Windows Central Newsletter
All the latest news, reviews, and guides for Windows and Xbox diehards.
My guess is it will only ever be available on Steam via the older Windows. Basically if you want the better visuals you get the Windows 10 version. If you don't care for visuals you go Steam.

Both times wrong. DX12 doesn't provide better visuals, at least not yet in all games launched so far. The DX11 version will just perform worse, and now the game is basically available to everyone on W7, W8.x and available to those on W10 without a DX12 GPU.

It will be interesting to see which version of this game sells better. :)

Oh god it's really cheap in my country.It's like $20.

Ok, I'm not against Microsoft titles being available on Steam. Basically I want to support Windows Store better, but I'm sick at the wild difference in price for my region (Argentina). Makes no sense either. Quantum Break started expensive, too much. Around the equivalent in Argentine pesos to 70 dollars. Then inexplicably dropped to around 22 dollars, and now it's a bit higher at around 30 dollars. Makes no sense whatsoever, and I'm not talking about discounts, the price its not announced as such. Same (or worse) with ReCore, a title I wanted to buy from MS. it's supposed to be cheaper at 20 or so dollars. Well it costs around the equivalent 100 dollars in my currency. What's going on there? What's the reason? Of course, I'd rather buy games through Steam, even though I'd like to support MS's vision, because in Steam I can buy games in dollars (in my region). So it's just paying the currency conversion, and prices are exactly the same as the US ones. So, why does Microsoft screw their customers like this? What are they doing exactly? I couldn't get an answer from whichever drunk monkey is at the wheel of this through the official channels.

Funny how WC tries to make it sound as if only those on dated Windows would buy the Steam version while in reality, the Windows Store version of QB didn't sell well at all as stated by MS themselves. I own a modern PC with DX12 GPU and Windows 10, yet I wouldn't buy any of those overpriced 70€ Windows Store games. And Remedy also said they have more experience with DX11 so the game will perform better on the older DX version than on DX12 ;)

They sure need to leverage some solid advantages on the Store version to be able to compete with a Steam release. But definitely a higher price works against anything they can come with.

Just got the Retail version from THQ Nordic. Great value for almost half the price of the Windows Store version. Making Of BluRay, Soundtrack, Making Of Book and perfectly fits with my Collector's edition of Alan Wake. There are some games I prefer tp get as retails version, and Remedy games are among those.