Quantum Break Windows 10 update adds new graphics options and more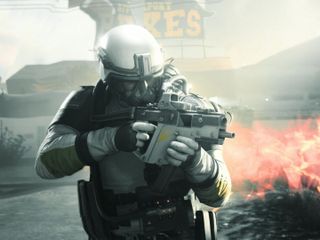 Microsoft has released an update for the Windows 10 version of Remedy's action game Quantum Break. It adds some more graphics options along with a Quit button on the game's main menu and more.
Here's what's new and improved with this version 1.7 update:
NEW FEATURES
Added additional graphics options
Added Quit Button to Main Menu
Alt+Enter now toggles full screen mode
IMPROVEMENTS
Fixed rare instances of cloud saves failing and causing loss of progress
Fix for a rare bug that accidentally wiped progress after completing the game
Fixed aspect ratio and full screen scaling for non 16:9 resolutions
Fixed resolution selection when transitioning from windowed to fullscreen mode
Fixed frame timing not matching the refresh rate - General Performance Improvements
Unlock descriptions for Will Diary 1 and Will Diary 2 are no longer reversed
Fixed Jack's subtitles not showing in some cinematics
Fixed various keyboard input issues
Fixed in-game TV screen images which were sometimes grainy
Fixed circular progress bar alpha in the junction stats screen
Fixed options menu items being clickable even if they're cropped
Fixed 1 px gaps sometimes visible in the PC keyboard key callout backgrounds
Fixed rendering issues in the menus
Fixed video playback not always ending if the video was synced to audio
Fixed issue in renderer when initializing participating media
Fixed missing line in Portuguese audio in an Act 5 cinematic
Act 2 Part 1: Fixed Nick pathing issues
Act 2 Part 3: Added collision on time machine corridor to prevent player's accidentally falling to their death
Act 5: Fixed last subtitle going by too quickly to read
Download Quantum Break from the Windows Store (opens in new tab) ($59.99)
Just borrowed this from a friend. Roll on tomorrow night.

The story of this game is fantastic.

Yeah... It all stops making semse because after his brothers " death " the paradox they creating by jack actually saving him in the same moment with time.maschine and mr bad guy wont see that, although he knows the future.. Playing with time shifts and stuff is amazing but it always ends like this " it makes no sense " Sent from windows central app for windows 10 mobile

Cool, now I dont have to play it.. Thanks....

Holy hell! How about a SPOILER ALERT? Posted from Windows Central for XL

So what are the graphical options exactly? And does it has a decent performance already? Cause last time i tried it was **** on Windows (even with a pc that can run it recommended)

I'm wondering the same thing. Can you disable Vsync ??

No. Vsync is still forced. Posted via the Windows Central App for Android

I beat this game on normal. Now I gotta play through again on hard.

It's not very difficult on Hard mode. My first play through was on Hard and only died a handfull of times. Mainly the last boss fight before you realize whats killing you, haha.

Is this still locked at 50fps?

Is anyone else's update 27GB? Also thought there would've been an updated Geforce driver by now with Quantum Break optmizations.

I played for about 5 minutes before the game completely locked up and I had to hold down the power button to restart. Oh well, It was fun on XBO and I didn't have any issues.
Windows Central Newsletter
Get the best of Windows Central in in your inbox, every day!
Thank you for signing up to Windows Central. You will receive a verification email shortly.
There was a problem. Please refresh the page and try again.