Quick tip for getting the Nokia Lumia 1020 online through the Microsoft Store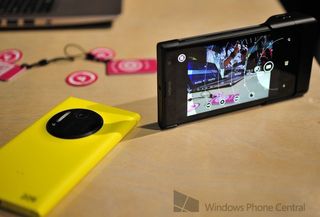 Today is the day for pre-ordering your Lumia 1020. Right now AT&T has their page set up (and Best Buy), ready for to take your order for the device and its accessories. But a few of you have been clicking the refresh page for the Microsoft Store so you can grab that free camera grip!
But it's not live yet, here's how you can order the Lumia 1020 through the Microsoft Store.
For whatever reason, the main page for the Lumia 1020 doesn't have any links for taking your pre-order yet at the Microsoft Store. But it's totally possible to get it right now.
The trick is to select another Windows Phone on AT&T as your device (like the HTC 8X or Lumia 920). Once you've done that and you're on the order page you opt to "change device". This will give you the option to select other phones on AT&T, like the Lumia 1020.
To save you the hassle, click this link to go to the Microsoft Store (opens in new tab). Once there, just click "change device" to select between the different colors of the Lumia 1020. Update: No more tricks, it's up for reals now (opens in new tab).
Now the big question, which color are you going to get? Be sure to take our poll after you grab the device.
Thanks for the tip SSAPRE!
Source: Microsoft Store (opens in new tab)
Windows Central Newsletter
Get the best of Windows Central in your inbox, every day!
Is off-contract available?

yes, I think $699. [As a replacement device]

Off contract is available for $749.99 on Best Buy.com, but here's the funny thing. It's $299.99 on contract with a $325 early termination fee. It doesn't take a math whiz to see that only adds up to $624.99. What's stopping me from buying it on contract then simply cancelling and paying the ETF? It saves $125 and I can then take it to T-mobile and activate it there for a much cheaper service plan. Hmm... OK, I looked into it further and it's not really worth it. If you add in the service charge which you'll have to pay at least $40 for one month, plus the $36 activation fee, plus the add-on data at a minimum of $20 (don't know what that is all about)... It just seems like kind of a hassle. Guess I'm back to square one trying to get a Lumia 1020 on T-mobile...

PLus the off contarct price is $649 at ATT

Yes, but will they let you buy it without activation? If not, then you're paying an additional $66 or more. I just want the phone, not the service, but they don't have to sell it to me that way...

Just grab that T-mobile Lumia 521 off-contract for $499.

I have an ATT Business Premiere account. Can MSFT upgrade on of my lines on that as well? They cant seem to find my information for eligibility when I try to see which lines are eligible.

Damn this phone is growing on me damn sexy thing..... Would throw money but arm can't make the US

One downside to this approach for upgrade customers: it doesn't let you keep the $15/month 200MB data plan. The minimum selectable data plan is 300MB for $20/month. AT&T's online ordering does show the old $15/month plan and allow you to keep it.

Yeah, that's right. I could blow through my monthly cap by uploading a mere 20 pictures at full res. Hahaha! Of course, I rule cellular data usage with an iron fist so that would never happen. So far I've used 26MB this month...

200MB!? That's two days of use for me. Are you on constant WiFi?

Yes, I always make sure wifi is enabled before doing anything that would consume more than a few KB. The only exceptions are when I'm away from home or work, like doing light web browsing while waiting for food at lunch or at the airport or something. And if I'm visiting someone I usually either have access to their wifi or there's no cell service in their area anyway.

Dude if you're not using data what's the purpose of a smartphone? Sounds like you could've stuck with a feature phone.

I am using data, just not an excessive amount over cellular. Email, weather, travel info, multiplayer games, and general web browsing can be very useful on the go without using much data at all - usually under 100MB/month for me. For streaming video, file transfers, updates, anything data-intensive, that stuff can always wait until I'm on wifi, which is most of the time anyway.

Hey at least I have a data plan. Some people out there are using smartphones without one, using wifi exclusively. I don't like the idea of being completely cut off when wifi is unavailable though.

Sad you guys/gals have to live under the iron fist of AT&T. 200mb or 300mb is unheard of at T-mobile. TMO gives you 500mb for the hell of it. Plans for $20 of unlimited 4G LTE and hotspot services are $10 for 2gb and $20 for 4gb. Lumia 925

When I click the supplied link I get the 8X store page. I click "change device" and do not see a 1020 because it's set to Verizon. You have to click "change carrier", choose AT&T, and then click "change device" to see the 1020.

Weird...took me directly to AT&T page on the MS store...maybe it reads cookies for the last area visited on the site (I might have visited the AT&T WP page on MS site...did you visit the Verizon page previously?) But not sure of the cause of your redirect...

Techiedude

Thanks for the tip. kept on refreshing the page since yesterday nite

Thanks just got mine preordered

I just had a shitty experience with ATT customer support trying to upgrade. The first rep orders me the 920 then hangs up on me, then the second one says they are out of stock. Dude doesn't even know its for pre-order. Any finally order one..YELLOW!

nice trick...ordered Nokia White..

I placed an order for white, but in the order details it shows black. Not a big deal, but it's obvious MS store is just a portal to a different company.

Awesome. Just preordered mine.

So quick question...how long it's going to take for the confirmation of order

Ok....I'm really interested in the 1020, but I'm thinking that another round of WP8 devices is bound to be released around November. Right now, the only thing keeping me from going after the 1020 is the rumored Nokia phablet. Does anyone have concrete evidence that a Nokia phablet is on the way...and maybe a timeframe??? Will it be released in late 2013 or early 2014??? If I had those answers, my decision would be fairly easy to make.

Hi I don't know if a phablet is coming but that's what I'm waiting for as well. During the 1020 announcement Elop stated that Nokia would be announcing another product later this year. Could be a phablet. If so imagine a phablet with the 1020 camera. I'm hoping that's what's coming. If it's not a phablet it could be the rumored tablet...or something else. At any rate, I'm in agreement with you, though it's getting harder to wait(the 1020 looks great and the new ATT plan makes it harder to resist), I think I'll wait to see what's coming at Nokia's next announcement or what Nokia does hardware-wise after WP 8.1 early 2014. Hope I can hold out.:-)

Totally agree. Want to wait and see what's coming, but it's getting pretty tough. Might need to dig up some things to sell on eBay. :)

It's obvious the MS Store is just a portal for a 3rd party. I selected white and when the order went through it showed up as black. I ended up cancelling. I preferred I dealt directly with MS Store as billing, don't feel too comfortable with Simplexity.

Your safer with Simplexity than Microsoft in your Wallet. Believe a victim.

Thanks, Ordered with Camera Grip. My Third Lumia on the way (900,920, Now 1020)

I have a feeling, the free camera grips will be black.

Doesn't work for me. Says the deal is no longer available & sends me to a Verizon HTC 8X page instead.

The preorder page is now live :http://www.microsoftstore.com/store/msusa/en_US/pdp/Nokia-Lumia-1020-for...

I was hoping the MS Store would have the same price that the AT&T store has off contract of $659, but as I did a chat with online folks at MS, said they don't price match and didn't have any info, if the price would be the same as AT&T on release date.

Also, is anyone able to order the 1020 off contract on the site at all? It keeps making me go through the month to month deal. I just need the phone, not anytype of new service.

The MS store may be tossing in a camera grip, but, for the price difference I'll just buy mine from AT&T and pay for the grip separately. It's not really a deal, it's a bundle.

It's 299 on att too, without the free grip...

I get the choice of keeping my unlimited data plan, does anyone know if that is in fact 4G LTE or do they throttle that to 3G to make you change data plans?

If I'm understanding your question I believe it's 4g LTE. I upgraded my wife to a 920 last year, she had the unlimited data plan on a non-LTE device. We moved her to the 4g LTE for the 920 retaining her unlimited plan that she was grandfathered into. Does that help?

It does, if she actually gets 4G LTE speeds. :-). Thank you.

I was planning on preordering last night, until I realized she paid bills. Looks like Ill be waiting until Friday am to preorder. Just hope I can still get a yellow one. So damn excited! I never buy brand new phones, I tend to always go with a cheaper year old phone...

I was planning on preordering last night, until I realized my wife paid bills. Looks like Ill be waiting until Friday am to preorder. Just hope I can still get a yellow one. So damn excited! I never buy brand new phones, I tend to always go with a cheaper year old phone...

Has anyone checked their MS Store order status page and gotten past the initial step ("Order Received")?

Anybody gotten "Carrier Approval" yet? Know how long it took?

Anyone lucky enough to get "Order Validation" yet?

...twiddling fingers and pressing CTRL+F5 every five secs...

Techiedude

Phone ordered. Now I try to patiently await next weds for it to arrive........