Race The Stig, an endless driver game for Windows Phone 8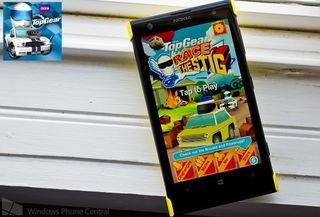 Race The Stig is an endless runner styled game for Windows Phone 8 where you take on Top Gear's driver, the Stig. You will need to stay a car length ahead of Stig while you jump over parked cars, dodge parked semi-trailer, and weave in and out of traffic.
For those not familiar, Top Gear is a popular BBC motoring show (you also have a U.S. variation on the History Channel). The Stig is a character from the show whose primary role is to set lap times for cars showcased on Top Gear. The game was recently released on iOS, Android and Windows Phone and after spending a little time with the game, it is an enjoyable game to pass the time with. Catch the full review after the break.
Menus
Race The Stig's main menu offers up options to access the game's settings, view your challenges, check in on your Facebook Friends progress, view your cars and visit the gaming store.
Settings offer your standard sound/music levels along with options to view the game's privacy policy, credits and a means to contact developer support. You also have an option to enter a promo code for free stuff. Promo codes are generated daily and are accessible from the flash screen as the game loads. Just tap on the screen to redline the tachometer and the code will appear.
While the primary goal of Race The Stig is to stay ahead of the Stig, the game also includes sets of secondary missions such as jumping your car a set number of times or achieving a predetermined score. Missions come in sets as well as daily and weekly goals.
If you sign into Race The Stig with your Facebook account, you can view your friend's scores and show off your scores.
The Me tile on the main menu pulls up options to change your car and helmet along with viewing your racing stats. You begin the game driving Oliver, one of the Top Gear host's car, and with the golden nuts you earn during game play you can unlock additional vehicles (as well as helmet styles) to race.
If you are curious about the history behind the vehicle you are racing, a YouTube video on the car (similar to the one above on Oliver) can be accessed by tapping the filmstrip that sits just below the car name.
The gaming store offers in-app purchase opportunities to buy nuts that can be used to purchase boosts, cars, and helmets. You can also remove the ads through a $.99 in-app purchase.
To jump into game play, just tap the center of the main menu.
Game Play
When you first launch Race The Stig, you will race through a tutorial that explains the gaming controls. You control your vehicle through a series of screen gestures (e.g. slide up to jump, swipe left/right to change lanes, slide down to duck, etc.).
The goal is to dodge traffic and collect the gold nuts that are scattered about the playing field. The game screen has your score and nut count displayed in the upper left corner of the screen and your top score displayed in the right corner.
Obstacles range from parked cars you'll need to jump over, parked semi-trucks you'll need to maneuver around and barricades you duck under. The further you progress, the more challenging the game becomes.
You will have to cross busy intersections, dodge traffic flow and at times avoid being hit by the Stig. All the while collecting the golden nuts that can be used in the game's store.
There are bonus items that can be collected to turn your car into a rocket ship to fly above the traffic or become invincible and crush everything in your path.
Overall Impression
Race The Stig is a nice addition to the growing collection of endless runner styled games in the Windows Phone Store. The game does have a Subway Surfer feel to it, just with cars instead of boards.
There aren't any complaints on the graphic quality and game play is challenging enough to keep things interesting. Gesture controls are responsive and the gaming engine does a really nice job generating track layouts to avoid a feeling of repetition. I wouldn't mind seeing more car choices (a '67 Mustang Fastback would be nice) but it is our understanding the developer has more to add to the game with future updates.
Race The Stig is a free, ad-supported game that is available for Windows Phone 8 (including low-memory devices). You can find Race The Stig here in the Windows Phone Store.
Windows Central Newsletter
Get the best of Windows Central in in your inbox, every day!
George is the Reviews Editor at Windows Central, concentrating on Windows 10 PC and Mobile apps. He's been a supporter of the platform since the days of Windows CE and uses his current Windows 10 Mobile phone daily to keep up with life and enjoy a game during down time.
Nothing but lag for me on my 521.

Yet another subway surfers rip-off!

Yet another temple run rip-off!

Temple Run is different, for example you can't swipe to change 'lanes'

Didn't this come out a week ago?

Yeah, I deleted it last week too - but this is a review, not an announcement.

This was posted 2 days ago

That's when they announced the game was available, this is a review.

It kinda gets laggy at the start of the game, and the gesture control gets unresponsive every now and then, however, I have a Nokia Lumia 521. But overall its a nice game, especially the 70's theme á la porno music. I managed to score 20,790 points so far.

But if your a Top Gear fan, it is kinda cool ( in a nostalgic type of way ), a bit like Star Wars tiny Death Star is to fans Star Wars.
And yes this is a slightly bias comment as I just happen to be a fan of both !!!!

It's great. Can't stop playing it. Top score of 293,544

This is basically a cheap Subway Surfers copy. Tried it, didn't like it. Just play Subway Surfers instead, it is better in my opinion.

Minion rush the best and ot now needs new updates too.

Unfortunately the controls are a bit sucky - it is very hard to pull of double line change or any quick double actions really. Most of the time it won't do the second one.

The controls are terrible. There's too much lag and the game tends to crash a lot. Plus it takes forever just to start up the game. Apart from that the game's interesting enough.

Obviously this game is nothing new as far as concept is concerned. However, it's free so if you are a fan of the endless runner genre then please give this one a try. You have nothing to lose. I tell you what, but when I was a young boy back in the '80s during the 8bit computer scene there wasn't anything for free. All software and games had to be bought if you wanted to be able to use it. For this reason I get fairly pissed off with people who complain about having to spend less than the price of a cup of coffee for an application.
If you fit into the above category, please just go away and don't post here again.

this game sucks, the controls are little laggy and not to mention, the graphics just sucks..

As Jezza would say, "Brilliant, but rubbish." Still, it's a fun game. Besides more car options, which they'll hopefully add later, they're really, really missing "Jessica", the Top Gear theme song.

Where are the "some say" jokes?

Oliver!!!!! Love the game tie-ins to the show, but...I cannot tell you how much the game misses swipes...I'm pretty sure that it can't keep up (ie lags)...so on the faster levels, I will never be succesful, as it just won't accept swipes... Love the game, just needs a little tweaking...

Touch response is just horrible in this game.

Played and already Uninstalled..This game is full of bugs,gameplay copied from Subway surfer and the touch response is horrible.

I emailed the devs about the controls issue and this was their response: "We are continually working on improving performance and Windows especially is a new platform for us so we are learning as we go. Could you just confirm the device you are using please to help us identify any issues. We will look into the issues you have raised."

Where to use the promo code?

Settings. And try bbcentertainment as a promo code :¬)

Good Games new add on should be jezzas ugly head hahah game needs tweeking but better than subway surfers well in BBC Entertainment
Windows Central Newsletter
Thank you for signing up to Windows Central. You will receive a verification email shortly.
There was a problem. Please refresh the page and try again.