Beat the Stig in a new Top Gear endless racer for Windows Phone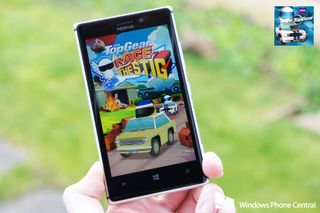 Top Gear fans are now able to put their driving skills to the ultimate test by racing the Stig on Windows Phone. Launching globally, Race The Stig is today available on iOS, Android and Windows Phone. Those of you who may be familiar with the endless runner concept will quickly familiarise themselves with Race The Stig. The title is a 'endless racer', taking players through some of the most iconic Top Gear locations.
The goal of the game is to collect as many golden nuts as possible whilst avoiding obstacles and vehicles by jumping, ducking and dodging. There are some of the series' most recognisable challenge vehicles available to drive, including Richard Hammond's Oliver, Jeremy's Italian police car and James' Amphibious Triumph Herald. There are numerous references to the show, making for an enjoyable, humorous experience.
Collecting golden nuts is important as it's the in-game currency. When you've collected enough in your inventory, you can head to the store and pick up new consumables, powerups, helmets and vehicles. Missions can be completed to receive score multipliers and other rewards. These come in multiple batches, including weekly and monthly.
What you see in the current version is not final as new content will be "regularly" added to the game, which will include more iconic vehicles and locations, extra crash helmets and tougher challengers. Players will also be encouraged to compete against friends through social media and will be rewarded for high scores.
You can download Race The Stig from the Windows Phone Store for free. There are only a few in-app purchases to support app development, including the removal of advertising ($0.99) and doubling the nut collection, as well as packs of nuts for those who don't wish to grind through the game to get the best gear.
What's your highest score? I've only managed 4,134 so far but I can definitely see me grinding my way through the become the best. See if you can beat my miserable attempts!
Windows Central Newsletter
Get the best of Windows Central in in your inbox, every day!
Rich Edmonds was formerly a Senior Editor of PC hardware at Windows Central, covering everything related to PC components and NAS. He's been involved in technology for more than a decade and knows a thing or two about the magic inside a PC chassis. You can follow him on Twitter at @RichEdmonds.
Just got to high score
20048

Just got to 18164 on my second try. Kind of already bored of it though...

The above title in the pic looked like subway surfer and i got excited as 512 Mb ram owner.

Just sideload the app
Its easy

I don't have sdk to download i have w7 pc not 8. It requires windows 8 to side load. If possible can u show easy steps to download please!!!!! aashish.soneji@live.com

http://forum.xda-developers.com/showthread.php?t=2422751 It is available for windows 7
x64

go to windowsphonehub.in ....there you can find the mini sdk for windows 7. Developer unlock your phone, and sideload any(downloaded from that website) app using xap deployer....it has even got the exclusive 1gb ram ones....patched for 512mb ram

Kaaj kar Gaya bhai sdk on win 7 and visual studio 2012 update 4... Playing subway surfer on my Lumia 625

Sadly not available here in Brazil.

They have to get serious about Brazil really. Either MS or the govt

Well, Pheonix Force from Awoker games launched on WP today and is only available in BRAZIL. So chill, you got a game, we got a game...

What if he wants to play THIS game?

Good plan, why not have it so each game release goes to one region only, that way no one gets left out, right? /s

British Broadcasting Corporation a media conglomerate in the UK and the makers of the game and the producers of Top Gear.

I know that..i was wondering if it was real BBC or something else!!

Well there isn't a fake BBC or anything else with those distinct and famous letters.

All we know is...he's called the STIG!!

Some say that his breath smells of magnesium, and that he's scared of bells...

that he only knows two things,
and both of them are wrong

Some say he has a T-shirt that has a picture of a T-shirt.

Some say he has a full-size tattoo of his face on his face.

My son and I are huge Top Gear fans and were really excited to see this app this morning via Top Gears facebook page! Downloaded and haven't looked back!

He should always be aware of his surroundings when operating a vehicle.

A fantastic game! I've been playing it since it first hit the store and through sheer luck have managed to get a top score of 8,224 so far! Chasing after the 10,000 mark will keep me occupied for some time!

There shouldn't be adverts in the app as the BBC content is paid for by TV license funds so it's weird that there is. Game play is really good but it's a lot like Subway Surfers.

Its published by BBC worldwide which is not funded by the licence fee. BBC worldwide is funded by things like this, dvd sales and the licences of programmes sold to other country's.

Yeah my mistake i never noticed that it was published by BBC Worldwide.

Top Gear is still funded by the UK license fee payers though. Well over half of the BBCs income comes from the fee...

Some say that he runs on windowsME, and that he is currently dating Cortana. All we know is, he's called the Stig!

Awesome..atleast something for 512mb users..Tired of the shit of ram requirement of SS and TR2..

Awesome. I hate endless runners, but I love me some Top Gear. I'll have to give it a try.

Not bad, not great. Just another Endless Runner for better or worse. Always feels like a missed opportunity when 'Endless Racers' don't have a decent crash animation. Or well, any crash animation in this case. The screen just flashes white and that's it.

It looks like Subway Surfer and Minion Rush in a few points,so in a nutshell it's a combination of those two endless runners with TG theme.while i love Top Gear,the game isn't really cool,My highscore after a half hour is 5086...

Look like DM2 from Gameloft :)

Wow , windows phone is growing , App Store healthy now , developers are having interest in developing and releasing apps for our platform , this year is for windows phone (+8.1 update )

@Rich. One of the system requirements is 'web browser component'. What is that?

on a android device , right :-p

Yeah, overall game speed is fairly sedate which is also true of the Android version. This is good for our younger gamers to learn some reaction skills.

I'm not a massive fan of endless runners but I do like this one as well as Minion rush. I like the pace and simple graphics of this one.

Burn it! Burn it with fire!

Love how the only 2 comments so far on the TG article about the game are WP fans thanking them for releasing the app on our platform. Hopefully this will covince other developers to speed up the process for us (that includes you BBC News!)

I like the graphics of this game. It's simple but nice. Besides, we didn't have to wait for this app for release on WP after iOS and Android.

As James May would say: OH C0CK! It's a nice game, but needs a better optimization, it often lags and crashes on my Lumia 520.

For those who are playing this, how did you beat the stig?!

Hi! Somebody take me on facebook please! I want to do the Competitor (Take on three friends) achievement in this great game. Thank you! :) My facebook name: Miatt Csak Játék
Windows Central Newsletter
Thank you for signing up to Windows Central. You will receive a verification email shortly.
There was a problem. Please refresh the page and try again.