Radio.com Windows Phone app launches with access to over 300 CBS Radio stations [Update: Windows 8.1 as well]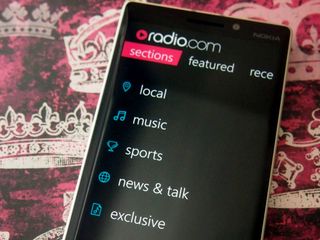 Update: There's also a Radio.com app for Windows 8.1 users to try out as well.
CBS Radio has just launched a new Radio.com app for Windows Phone owners. The app offers users access to live streaming audio content from over 300 CBS Radio stations from across the US.
The app is well-designed and lets users quickly find their closest local CBS Radio stations, along with more general lists of music, sports, news and talk stations. There are also sections for your recently visited or favorite radio stations and there's also lists for specific music genre like country, classic, rock and more. Here's a quick look at Radio.com's other features:
See what songs are playing right now on your favorite live, music stations with real-time album art displaying on your home screen
Dive deeper into Now Playing info with artist bios, photos and more
View station info, show schedules and news feeds
Browse the latest Music news headlines
Search the entire station catalog with ease
Set a sleep timer
Easily contact us to report issues or suggest features
Fans of live radio apps such as iHeartRadio will likely find much to like with the new Radio.com app
Thanks to Nic for the tip!
Download Radio.com from the Windows Phone Store (free)
Download Radio.com from the Windows Store (opens in new tab) (free)
Windows Central Newsletter
Get the best of Windows Central in in your inbox, every day!
Happy to see another official app :)

Lol the screenshots show the app on debug mode xD.

"this.DebugSettings.EnableFrameRateCounter = false;" Anyone?

Lol yeh or just press the drop-down menu and press "Release" instead of Debug and take screenshots in that aspect lol.

Only in US? When it is available in mars?

Sometime after CBS launches an affiliate on Mars.

First let all humans get access! Then let them launch for aliens :D

Finally, getting CBS on board, iheartradio wasn't enough and I can ditch the FM radio on my car now =) Update: App's still got some rough edges that hopefully will be smoothed out. Failed to load the station on the first play.

I've already ditched the FM radio in my car simply by using the aux input to listen to the music on my phone or in my Xbox music library.

After trying for 10 minutes, not very reliable on Lumia 925 running 8.1. Also, no way to pin a station to the home screen.

Lmao, waited FOREVER for this app...then my local sports talk station got sold to another company (CBS blocked it on TunedIn) and I didn't need it anymore. NOW it's here... Well I'm still glad it finally made it.

Only US. Next comments are: When in India... I'm better. I ask when in Guatemala??

Amazing. This can slide in along side my official CBSNews Windows Phone app.

Yep. Definitely not available in the UK:(

Change your region download the app... Switch back the region simple

I've wanted this app ever since I've used Windows Phone. Blackberry had it as Nobex Radio. I'm glad it's finally here.

We can only hope nobex will release their own app as their standalone apps leave much to be desired

This app is a bug-fest. Interface is confusing, crashes a lot, and it doesn't give you title and artist of what's playing! Back to TuneIn for me.

Is that Windows 10 style icons I see? Similar to those in the settings

I noticed that too... How does it compares to iOS7-8 icons? this is honest curiosity. The screenshots look beautiful too. Downloading.

For the Dutch, search for 'Radioluisteren' in the store for a nice app to stream Dutch FM radio stations

Too bad SiriusXM has no plans for WP..

Yes, yes, yes. Now I can stop using that awful TuneIn app for my sportsradio station. Only downside is that I can pin my favorite stations to my homescreen like TuneIn Radio.

So we have official apps for iHeartRadio, Radio.com, Beats Music, MixRadio, even Spotify and Pandora. But SiriusXM can't get off their behinds and make an app. Bah.

In the face of bofa chase and vevo!

This is an exciting app! Great live and local stations, with the ability to listen to more customized stations.
Windows Central Newsletter
Thank you for signing up to Windows Central. You will receive a verification email shortly.
There was a problem. Please refresh the page and try again.