Rage Racing 3D: bash your way through traffic with this Windows game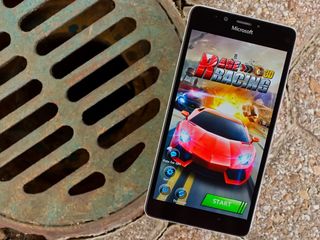 Rage Racing 3D is an entertaining racing game where you weave your way through traffic, collecting items to reach performance goals and smashing into other drivers is encouraged.
Available for both Windows Phone and PC, the game comes from the developers of other smash gaming hits such as City Racing 3D (opens in new tab) and 3D Zombie Wars (opens in new tab) (formerly Battle for Homeland Mad Animals) Rage Racing 3D sports sharp looking graphics, simple gaming controls and a small collection of gaming modes to give the game nice depth.
Rage Racing 3D is a free game with plenty of in-app purchase opportunities. If you are looking for a fun racing title to add to your gaming library, Rage Racing 3D is worth a try.
The primary menu for Rage Racing 3D offers the options to rate the game, access the settings, exchange gifts with other gamers, exit the game and start gameplay. Settings cover audio and music levels, a fuel broadcast option and a help screen that details the gaming controls. I'm not entirely sure what the fuel broadcast option does and haven't seen anything obvious when this option is active.
The game begins with a tutorial stretch that covers the basics of gameplay. When playing from a Windows Phone or tablet, car movement is accomplished by a combination of screen gestures and tilt movements. If you are using a Windows PC, the reliance on the keyboard sucks a considerable amount of the enjoyment out of the gaming experience.
Once you complete the tutorial, Rage Racing 3D transitions into a secondary menu that has a host of options that includes choosing your gaming mode. Rage Racing 3D has two gaming modes: endless and normal. The endless gaming mode is where you can challenge global players in events and the normal mode is a career-oriented mode where you tackle dozens of goal-oriented levels.
Along with the gaming modes, this secondary menu offers a handful of options that run across the top of the display. These options include:
Visit the gaming store to buy coins, crystals and power-ups
Sell extra gear you have lying around for gaming coins
View your player/team profile
View your gaming achievements and collect any rewards associated with them
Play a game of chance for treasure (power-ups, upgrade parts, etc.)
Buy a VIP status that increases your gaming rewards, increase your fuel allotment and discount items in the store and garage
View your career statistics
Along with these options, you also see your fuel level, coin count and crystal totals at the top of this secondary menu. It costs you a few fuel points to play the game, with fuel replenishing automatically with time or you can buy fuel units with the crystals you earn during gameplay.
Once you choose a gaming mode, you have the option to visit the garage to buy new cars, upgrade your existing fleet, or just jump into gameplay. Upgrades include custom paint jobs, engine upgrades nitrous boosts, and chassis improvement. Prior to the start of gameplay, you also get the opportunity to buy power-ups that include rockets, shields of invincibility, magnets and more.
If you are playing the endless mode, the goal is to travel as far as possible without destroying your car or getting caught by the police. The normal mode is a multi-level mode where you have defined goals to meet that is displayed prior to the start of gameplay. These goals include tasks such as collecting a number of coins, use the nitro boost for a set time, crash a set number of cars, etc. Your objectives are displayed on the gaming screen and you need to reach them before your car reaches the finish line.
Gameplay is done from an overhead view to the rear of your race car and forward motion is automatic. You shift between the lanes by swiping left or right, while tilting your phone left or right raises the car up on its corresponding two wheels.
You can weave through traffic to collect coins and power-ups or side-swipe cars as you pass them to send them sailing off the road. You have a damage meter and any available power-ups displayed behind your car. Damage is sustained if you rear-end a car or hit the police spike strips. The damage meter usually allows you two hits before it depletes and the game ends.
Keep in mind that while you can side swipe any vehicle, the larger vehicles have a little push back. For example, shifting lanes and crashing into a passenger car is done almost seamlessly, and you'll end up in the lane you shifted to. Shifting lanes into a large truck crashes the truck but pushes you back to the lane you shifted from. You will want to keep this in mind while traveling through heavy traffic to avoid getting pushed back into a lane where you rear end a car.
Rage Racing 3D tests your skills for timing and concentration. The longer you survive in the endless mode, the more congested traffic becomes and the more aggressive the police gets. The same is true of the normal mode as you advance through the various gaming levels.
You also see larger vehicles on the road and jumps where you can sail over cars, collect coins hovering in the air or avoid spike strips. If you do run up on a set of spike strips and no ramp is in sight, just tilt your car up on two wheels and shoot the gap in between the strips.
There is a lot to Rage Racing 3D leading up to actually racing your car down the road, but not in a bad way. The selection of cars you can race is nice and upgrades help give you a fighting chance for success.
Overall, I found Rage Racing 3D to be a fantastic instalment to the Windows Store's racing genre. Graphics are sharp and the controls are responsive and simple to pick up. Gameplay is challenging enough to keep you interested in the game and keep you on your toes. Glance away from the screen while playing Rage Racing 3D and you'll likely run into the back end of a truck.
The game is better suited for tablet or Windows Phone gameplay due to the gesture-based controls. The keyboard controls on a laptop or desktop just don't feel as natural as swiping on the screen.
The free gaming title is available for both Windows Phone and PC and includes plenty of in-app purchase opportunities. Rage Racing 3D is a fun game to lose track of time with and well worth the download.
Download Rage Racing 3D for Windows Phone and PC (opens in new tab)
George is the Reviews Editor at Windows Central, concentrating on Windows 10 PC and Mobile apps. He's been a supporter of the platform since the days of Windows CE and uses his current Windows 10 Mobile phone daily to keep up with life and enjoy a game during down time.
downloading rage racing 3D - From Windows 10 Nokia Lumia 730

They should make rage racing for rage comics.

Why no xbox????????????? Posted via the Windows Central App for Android

Is IT an endless racing game
Windows Central Newsletter
Get the best of Windows Central in in your inbox, every day!
Thank you for signing up to Windows Central. You will receive a verification email shortly.
There was a problem. Please refresh the page and try again.