Xbox One in Japan – Raiden V announced and the Chaos;Child demo is now available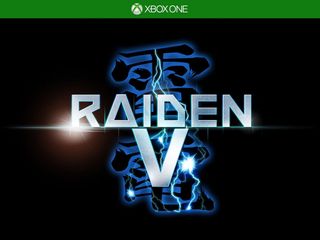 While the launch of Microsoft's Xbox One console was recently delayed in China, the Japanese launch came and went earlier this month with little fanfare. Xbox consoles have always struggled to gain consumer support in Nippon, and the Xbox One is no different. Still, the Japanese availability creates the opportunity for more types of software to be created, which non-Japanese consumers can choose to import or download.
The first Japan-exclusive Xbox One game Chaos;Child launched alongside the system. It even has a free demo that non-Japanese players can get without much effort. Meanwhile, two more Japanese games were recently announced at TGS: Raiden V, the latest in the venerable shoot 'em up series, and 'Azito X Tastunoko Chronicles,' a simulation game. These join Sega's already-announced Puyo Puyo Tetris. Read on to learn more about the upcoming Japanese Xbox One games and how to get the Chaos;Child demo!
Raiden V
The original Raiden arrived in arcades back in 1990, making it one of the most venerable ongoing series of vertically-scrolling shoot 'em ups (shmups). Previous entries Raiden IV (opens in new tab) and Raiden Fighters Aces (opens in new tab) both made it to Xbox 360 worldwide. Now Raiden V will appear (probably as a timed exclusive) on Xbox One in Japan in 2015.
We don't know much of anything about the latest Raiden, with only a teaser trailer and some concept art released so far. But the game will likely be a vertical scroller and support 2-player local co-op. All of the Raiden games have been fantastic, so Raiden V coming to Xbox One is great news for shmup fans.
Raiden V is being developed by Moss, current owner of the series. If this one was to get a worldwide release, I would expect Rising Star Games (who recently released Under Defeat HD on Xbox 360) to act as publisher.
A remake of the original game, Raiden Legacy is available on Android and iOS. Shame publisher DotEmu hasn't brought it to Windows Phone!
Azito x Tatstunoko Chronicles
Hamster's Azito series allows players to build and manage underground bases in which giant robots are stored and sent out aboveground to fight monsters. You have to hire and pay scientists and other staff, research new technologies, defend and repair the town aboveground, and much more. It sounds like a perfect mobile game, doesn't it?
Meanwhile, Tatsunoko is a Japanese animation company whose characters previously appeared in Tatsunoko vs. Capcom for Wii. Given that Azito's robot base-building scenario is perfectly anime-like, a crossover between the Tatsunoko characters and Azito makes sense. Some of the characters teased in the announcement video include Gatchaman (aka G-Force and Battle of the Planets), Speed Racer, Casshan, and Yatterman.
Azito x Tatstunoko Chronicles will arrive in Japan in 2015. Don't expect an international release.
More Japanese games coming
2014:
Dynasty Warriors 8: Empires (aka Shin Sangoku Musou 7 Empires) is the latest in the Dynasty Warriors series of hack-and-slash action-RPGs. Although Warriors Orochi 3: Ultimate was recently released worldwide (see our review!), Koei Tecmo has not announced Empires for worldwide release yet. It will debut in Japan on November 20.
Puyo Puyo Tetris is a crossover between two popular puzzle series, Puyo Puyo and Tetris. The game features a story mode and many other ways to play, including 4-player local and online multiplayer. It arrives in Japan on December 4. See our full preview for more details!
2015:
Natsuki Chronicle is another shoot 'em up, this one developed by Qute, whose games have never been released outside of Japan. It will take place in the same universe as Japanese 360 shmup Ginga Force. It will arrive in 2015 as well.
Onigiri is a free-to-play MMO that you can enjoy on PC in English right now. It will be coming to Xbox One as well (possibly in English).
Shooting Love Trilogy: A three-pack of shmups from Triangle Service.
Chaos;Child demo
Chaos;Child from 5pb and Mages is a visual novel: a text- and dialogue-heavy adventure game. The game and demo are entirely in Japanese, so only download if you're comfortable with the Japanese language or are feeling adventurous. Here's how to get it from any region:
Go to Settings and then System.
Choose Language and Location. Take note of where this option is found so that you will be able to change it back later.
Select Language, and then scroll all the way to the bottom and pick Japanese (written as three Japanese characters).
Restart the console when prompted.
Optional: Pick the "TGS" tile in the top-right corner of the dashboard to watch trailers for the games in this story.
From the main dashboard, scroll to the Store page at the right. Select the top-right option, which means Game.
Scroll to the right-most page of the Games Store and you'll see New Game Demos in English. Select the ellipsis symbol at the bottom to open the full demos list.
The Chaos;Child demo is one of seven demos currently available in the Japanese store. It's a 2.29 GB download.
After selecting the Chaos;Child demo, pick the top option to download it, and then pick the default option to confirm the download.
You can monitor your download progress from the demo page, or exit and watch the download from the My Collection (Games and Apps) page.
Once the demo has finished downloading, return to Language and Location. Change your language and region back to their correct settings and restart the console again.
You can now enjoy the Chaos;Child demo!
Are you excited for Raiden V or any of the other Japanese-exclusive Xbox One games? Did you try the Chaos;Child demo? Leave a comment and let us know!
Windows Central Newsletter
Get the best of Windows Central in in your inbox, every day!
Paul Acevedo is the Games Editor at Windows Central. A lifelong gamer, he has written about videogames for over 15 years and reviewed over 350 games for our site. Follow him on Twitter @PaulRAcevedo. Don't hate. Appreciate!
I love Raiden and shooters like it.

Good to see MS hasnt given up on a market they have been struggling to penetrate.

Your comment feels like you just ended your youpron session.

They still need to launch the Windows Phone there and the Lumia 735,830 and 930.
It could be possible if they add 1seg TV tuners on all of their Lumia units since Brazil has done it before with the Lumia 630TV.

Phone please. Recently read an article here that said all the major carriers are finding it hard to stand out, all three carry the iPhone so they are chasing after the same 30%. Would be fantastic to again see Windows Phone here.

I'll be downloading as soon as I get the chance!

Good lookin out on that demo hack!

It's not a hack. Just a turnaround

You can tell Chaos;Child's publisher is 5pb. by its name. Can't wait! Steins;Gate was their last good VN tho.

Can we get in trouble with Microsoft for switching regions like that (thought that was the case on Xbox 360), or did they stop caring about that? Would like to check out that demo. Also, if we change the language settings and keep them that way (by choice), can we then play our existing games in another language? I'd like to check out D4 in Japanese. Also, would that affect achievements at all?

No, as we explained in the Puyo Tetris story, users are allowed to switch regions on Xbox One without consequence. That's a good question about playing D4 in Japanese. If the Japanese language files are included in the domestic installation, I bet it would switch the text. I think the audio was recorded only in English, but I could be wrong. Let us know what you find out. No, language doesn't affect unlocking Achievements. They might show up in another language if you don't change your region back to English though. But! Some games have distinct regional versions which count as separate games. These games have stackable Achievements, meaning you can buy both versions and earn separate Achievements for each. I did that with Castlevania: Symphony of the Night on 360. Xbox One-wise, the Japanese versions of Warriors Orochi 3 and Zumba World Party are both stackable.

I totally upvoted your answer ;) Thanks.

Want to see some RPG support before committing to Xbox One. Though these days the portables seem to get the good ones.

Shooting Love Trilogy: A three-pack of shmups from Triangle Service. This sounded like if it was a shmup that has love as a theme in it... SHOT YOUR GIRLFRIEND.

I'm just here for the RAIDEN ❤

i'll dowload it now, it's perfect and i like it very much

Waiting for Cave to announce something...

Pleeeeeease bring Raiden to the US soon. I don't care on either XBox One or PS4, I have both, just release it for one of them!!

Well, if the game is being made on the One, that would be the platform that sees a US release... But a Playstation 4 version would be good too.

quote:
We don't know anything else about the game,

Natsuki Chronicle is sequel to "Ginga Force(2013/xbox360)".

Do you have a source for that? All I've been able to find is speculation. I worked it into the article though. :)

0:09 subtitle is mean "The seventh settled planet:SEVENTIA". This background story is identical with "Ginga Force".

I love Raiden, wish it comes to PC... Darius too

RAIDEN V and Natsuki Chronicle are most wanted for me! Go JAPAN!!
Windows Central Newsletter
Thank you for signing up to Windows Central. You will receive a verification email shortly.
There was a problem. Please refresh the page and try again.