Rainbow Six Quarantine is missing, but probably for the best
Rainbow Six Quarantine was absent from Ubisoft's E3 replacement — but maybe it was meant to be.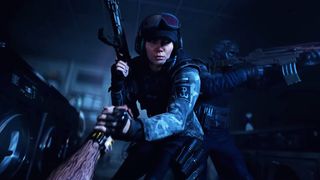 (Image credit: Ubisoft Entertainment SA)
Ubisoft just wrapped its Ubisoft Forward livestream, a digital game showcase hosted in lieu of the publisher's E3 2020 appearance. With the current world events keeping us far-distanced from normality, the cancellation of the dominant Los Angeles-based tradeshow left virtual streams to fill the marketing void. Ubisoft's answer was a one-hour showcase of its upcoming titles — but with several notable absences, including Tom Clancy's Rainbow Six Quarantine.
Ubisoft unveiled Rainbow Six Quarantine back in June 2019, pitching a new spin on its hit tactical series, and expanding on the same foundations as Rainbow Six Siege. The latter has seen explosive growth through its competitive-grounded gameplay, recently surpassing 60 million players, and still the live-service breadwinner for modern Ubisoft. Rainbow Six Quarantine looks to translate the experience to a player-versus-AI setup, with the same strategic philosophies in a cooperative zombie shooter.
Rainbow Six Quarantine builds on the backdrop of Outbreak, its previous limited-time event for Rainbow Six Siege, which also gauged interest for the full-fledged offshoot. The mode saw its roster of playable counterterrorist Operators deployed to combat an alien parasite, with three lengthy stages and intertwined cinematics. And while Ubisoft hasn't talked Quarantine since last summer, steady leaks suggest the same pandemic on a nationwide scale.
Rainbow Six Quarantine first targeted an early 2020 release but was caught in a series of delays alongside Watch Dogs: Legion and Gods and Monsters. Ubisoft's newest update suggested we'd see the title drop before the end of March 2021, leading many to expect something at the July showcase. But Rainbow Six Quarantine was absent, as with several other properties speculated for the event.
And while it's disappointing to see — the title represents a sizeable expansion on the new Rainbow Six universe — it's likely for the best. The true reason likely comes down to the current state of development, potentially targeting early next year, freeing space for more imminent releases instead. Rainbow Six Siege also debuted in a notoriously broken state, and while now one of Ubisoft's greatest success stories, a sleek launch for Quarantine is always preferable.
But equally, shipping a title named "Rainbow Six Quarantine" during the height of a global pandemic isn't in great taste, even if a variable the publisher couldn't have foreseen when development started.
I don't expect Rainbow Six Quarantine to be canceled — far from it. We continue to hear development remains underway, with its previous delay allowing the studio to expand the scope of launch content. Furthermore, today's stream wrapped with a tease of a second Ubisoft Forward showcase to come later this year. If Quarantine is to make its return, it appears that will be the venue.
Let's just hope that when that time comes around, the world is in a better place.
Matt Brown is Windows Central's Senior Editor, Xbox & PC, at Future. Following over seven years of professional consumer technology and gaming coverage, he's focused on the world of Microsoft's gaming efforts. You can follow him on Twitter @mattjbrown.
That's such a dumb thing to worry about. The game isn't built on making light of the pandemic. It's total coincidence and a video game. I hope they delayed it just because of scheduling conflicts with other releases and resource availability during the pandemic. If they delayed it because they're concerned it will offend people affected, then they're wasting their time. Those people will still be offended when it finally releases and actual customers will just be glad to have the content. Given the current state of affair involving Ubisoft execs, worrying about coincidence in timing is the least of their worries anyway.

This was such a dull showcase. Skull & Bones, Beyond Good and Evil 2 and at least something on Gods & Monsters.
Just the one new announcement and it's a new Far Cry. My concern is that it's quite soon after the previous one and it just follows the trend of those never ending sequels of games. Here at Ubisoft Forward we've had AC, Far Cry and Watch Dogs sequels. And ofc Ubisoft trying to get their very own battle royale Hyper Scape.
Personally I thought Watch Dogs looked good, but whatever happened to creativity? Making new games, new universes, new franchises, new stories? Are we moving towards a future where these major publishers just serves us sequels after sequels, or microtransaction-filled services instead of games or again just copying concepts that worked for other companies (like battle royale)?
It's quite amazing to think that a studio like Rockstar, almost rode the entire generation on the back of an old gen game, and only made ONE new major game the ENTIRE generation (and that too a sequel which they are also turning into a service).

Um... Sorry to inform you but we've BEEN there.

Where have you been for the past twenty years? That's always been gaming.

Well one example. Rockstar.
2008: GTA IV
2009: GTA IV 2 new story DLC
2010: Red Dead Redemption
2011: L.A. Noire
2012: Max Payne 3
2013: GTA V
2014:
2015:
2016:
2017:
2018: Red Dead Redemption 2
2019:
2020: Making microtransactions-filled service instead of games isn't something that existed so much 10 years back let alone 20 years.
We're there but it's just getting worse and worse. And things will only get worse if we continue to support this stuff. Keep buying the FIFAs or CODs every year, keep spending huge amount on microtransactions and services...
Windows Central Newsletter
Thank you for signing up to Windows Central. You will receive a verification email shortly.
There was a problem. Please refresh the page and try again.