Rainbow Six Siege Burnt Horizon packs two deadly Operators you can't miss
Operation Burnt Horizon pairs creative Operators with a vibrant haven for competitive play.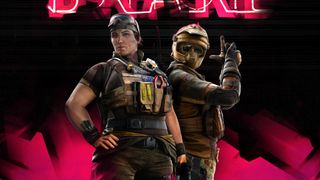 Ubisoft has unveiled Operation Burnt Horizon, the next major update headed to its hit tactical shooter, Tom Clancy's Rainbow Six Siege. Kicking off its fourth year of post-launch content, the new season spotlights the isolated red desert through a fresh Australian theme. And picking up two native grease monkeys, Gridlock and Mozzie, new gadgets shake up existing gameplay.
Operation Burnt Horizon is starting the year right, home to two of Ubisoft's most creative Operators yet. Now, after three hours hands-on at the Six Invitiational 2019, this is the Australian getaway you don't want to miss.
Gridlock: Watch your step
Swipe to scroll horizontally
Category
Spec
Ability
Trax Stingers
Primary
F90
M249 SAW
Secondary
SDP 9mm
Super Shorty
Gadget
Breach Charge
Smoke Grenade
Armor
3/3
Speed
1/3
Price
600 R6 Credits
From Queensland farmland to the ranks of Rainbow, Tori "Gridlock" Tallyo Fairous headlines Burnt Horizon's refreshed roster. The new attacking Operator hauls a trio of "Trax Stingers," once halting fleeing vehicles, now primed to impale unsuspecting personnel. When deployed, it's a menacing ambush for mobile defenders, unloaded into an array of underfoot spikes.
Between the piercing clash of unpacking metal to razor-sharp pins, Trax Stingers are among Rainbow Six Siege's most intimidating gadgets yet. Throwing down the capsules propagates a piercing sprawl of fanged pads that shortly multiply to increase their reach. And as a trap-wielding offensive Operator, Gridlock's gadgets differentiate themselves from a traditional defensive trap.
Trax Stingers cover significant ground once fully deployed, spanning corridors, doorways, and other highly-contested choke points. Alongside a dose of 10 damage per pad, they'll also slow down Operators while creating noise. It makes for a hugely flexible gadget, locking down roamers, while also preventing defenders from hiding and holding down angles.
Gridlock also stows an impressive arsenal of weaponry; well-paired with her three-armor, one-speed composition. She holds her grounds in firefights, with the F90 assault rifle or raw firepower of her M249 light machine gun. Backed by the "Super Shorty" shotgun or SDP 9mm machine pistol, there's welcomed flexibility in her full loadout.
While there's no direct gadget-based counter for Gridlock, every Operator's firearm remains crucial. Shooting the first Trax Stinger during deployment prevents it from further multiplying while remaining spikes can be picked off individually. It's a simple counter but requires precise aim during tense encounters.
Gridlock is shaping up among Ubisoft's best attacking Operators in recent seasons, defined by her creative gadget. Injecting a unique spin on a familiar gadget family, the Trax Stingers differentiate themselves with fresh implications on gameplay. Gridlock isn't Rainbow Six Siege's first trap-wielding attacker, but I can't wait to pick her up again once Burnt Horizon launches.
Mozzie: Hide your drones
Swipe to scroll horizontally
Category
Spec
Ability
Pest Launcher
Primary
Commando 9
P10 RONI
Secondary
SDP 9mm
Super Shorty
Gadget
Barbed Wire
Nitro Cell
Armor
2/3
Speed
2/3
Price
600 R6 Credits
Burnt Horizon's second Australian native is Max "Mozzie" Goose, an egoistic hotshot geared up to alter defensive surveillance. His slingshot-style "Pest Launcher" commands a flock of arachnoid devices boasting drone-hacking capabilities. Pests can mount and give full control of drones to Mozzie, shaking up a fundamental element of gameplay.
The Pest Launcher can be fired directly at drones, automatically latching on for a quick and clean hijack. Alternatively, the digital bugs can be primed on any surface, ready to ambush those passing by. And once Mozzie has control, he can take full advantage of movement, tagging, and even Twitch's taser.
Pests are small and agile, requiring a sharp eye to spot among the Siege's tactical chaos. If facing off against Mozzie, droning attackers must stay wary, on the lookout for an on-screen indicator when nearing a Pest's radius. Cautious drone-goers can avoid Pests, but one wrong move could mark your drone's demise. And after capturing a drone, attackers can identify turncoats when its red LED changes to blue.
When not infiltrating enemy gadgets, Mozzie features a compact weapon loadout that still packs a punch. The P10 RONI and Commando 9 submachine gun succeed as fast-firing close-quarters companions, holding his ground when required. And with the same SDP 9mm or Super Shorty combo, he can deal formidable damage and create holes between rooms.
Mozzie is another strong addition to the Rainbow Six roster, shaking up how attackers gather information and approach the objective. His creative gadget has the potential to influence combat significantly while filling a much-needed hole within 2019's Operator lineup.
Exploring the Outback
Operation Burnt Horizon also pairs with a new multiplayer backdrop "Outback," the only wholly new locale planned for 2019. It's an L-shaped service station isolated in the red desert, flanked by an open void of harsh sand plains. And split into the garage, restaurant, and motel, the map serves three sections with distinct gameplay opportunities.
Although still in Outback's early hours, the new map is already shaping up for exciting competitive combat. The two-story building hosts varied encounters, from tight-angled motel rooms to the wide-open, vertical garage. It's clear why Ubisoft pitches this as an amalgamation of Clubhouse and Oregon, accommodating a similar style of play. However, with only two floors and no basement, its L-shaped layout could prove challenging for keen roamers.
As with any new Rainbow Six Siege map, understanding the strengths and flaws can take time. However, strong art direction and continued consideration for competitive play already establish a strong foundation.
Watch the horizon
Rainbow Six Siege Operation Burnt Horizon is expected to launch this March, following an early access trial period via the Technical Test Server (TTS) on PC. In the meantime, don't miss our complete roundup of all the Burnt Horizon details so far.
Eyes on target
Tom Clancy's Rainbow Six Siege
Addictive, challenging shooter action.

Ubisoft's hit shooter is hotter than ever, touting tense tactical gameplay, and regular free updates. With millions of players in 2019, Rainbow Six isn't slowing down.
Get the Windows Central Newsletter
All the latest news, reviews, and guides for Windows and Xbox diehards.
Matt Brown was formerly a Windows Central's Senior Editor, Xbox & PC, at Future. Following over seven years of professional consumer technology and gaming coverage, he's focused on the world of Microsoft's gaming efforts. You can follow him on Twitter @mattjbrown.