Rainbow Six: Siege closed beta test gets extended until October 4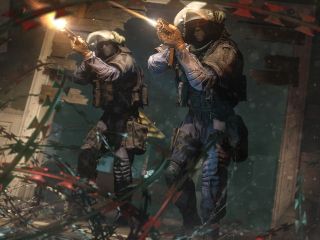 If you are in the current closed beta test for Ubisoft's upcoming tactical shooter Rainbow Six: Siege, you will have some extra time to play online. Ubisoft has extended the closed beta period until the end of Sunday, October 4 for Xbox One, PlayStation 4 and PC testers.
If you have yet to sign up to join the closed beta, you don't have much time left. The beta registration page will close on October 1. Also, the guaranteed access codes will only last until October 2. Ubisoft says:
Starting today, we will begin sending emails to all American and European players who have played at least one match in the Closed Beta before 2:00PM EST, September 29th 2015. These emails will contain immediate access codes that can be used by the players to get their friends in the beta. Those keys will be for the same platform as the player who qualified for friend referral. For example, if a player plays on Xbox One, he will receive additional Xbox One keys for his or her friends.
There will be a Double Renown event starting Friday, 8:00PM EST with a 2x renown bonus. This is a great chance to unlock some more operators, attachments and skins.
The full version of Rainbow Six: Siege will be released on December 1. By the way, Ubisoft recently revealed that the game will not have a traditional story-based single player campaign, but gamers can still play against AI opponents in the multiplayer levels.
Pre-order Rainbow Six: Siege for the Xbox One on Amazon for $59.96 (opens in new tab)
Source: Ubisoft
The no campaign mode trend is starting to get really annoying. I played the crap out of all the old rainbow 6 campaigns

Trend? I wouldn't call it anything close to a trend. Which other franchises have taken campaign content from their sequels?

Titanfall. Resident evil.

Titanfall both had a campaign AND wasn't a sequel. That the campaign was crap does not mean it didn't exist

You can't call Titanfall's campaign a true effort really.

Seriously, that was not a campaign. If you thought so, you haven't gamed enough.

Good job ignoring what things actually are based on your preferences. We all know that the Titanfall campaign was a bpile of trash, but that doesn't make it NOT a campaign. That bit at the end about "gaming enough," that's just a mronic statement of the funniest nature.

Destiny has a campaign. Especially since Taken Kings, it's very comparable to Borderlands.

Not even close to Borderlands. Doing the same missions over and over again is not the same as unique story driven missions. Destiny is the most redundant game I've ever played.

How has no one mentioned Evolve. Favorite game. Too bad a lack of campaign killed it for lots :(

"Which other franchises have taken campaign content from their sequels?" Because, as I keep pointing out, THESE GAMES AREN'T SEQUELS. I asked abotu sequels.

For a Beta it didn't seem close to finished or that ready, felt more like an Alpha.

Really? just curious, what issues did you have? I only had some issues connecting into matches, only twice really. I'm still on the fence about getting it (def won't if at least 3 people I know don't get it) but I'm trying to keep up on any issues I can know about.

some graphic glitches, app is sometimes not responding and the physic has a bit problem too... but the realease date is on Dec 1. so they have a lil time to fix this problems

Never play single player anyhow.

I got a invite although I dont remember signing up, I dont have a XO anyways..

Why does this game look so bad? The graphics look like last-gen, even on PC.

I wasn't impressed with this new rainbow 6. The graphics and gameplay were nothing special. Vegas and Vegas 2 were much better..imo

Have you played it in person ? Anyway, its a trend already that DICE games (or Battlefied really) in beta look substantially worse than the final product.

Tried it. maybe I'll try it again.

It was fun to play but I wouldn't buy it especially without a single player campaign.

I signed up, but never got a code. I also won a guaranteed access code. Still nothing.

I've got a spare from Ubisoft in my e-mail. PM me on the forum if you want it, and I'll send it over.

Cheers buddy, I sincerely appreciate the offer. However, I went on their website and it claims that I have already unlocked access. I suspect it failed as I didn't have a uplay account before I redeemed it. I also cannot redeem another code, as they assume I am already in. Bummer. Thanks though.

I agree, single player campaign is a must have. Sometimes you just want to play alone or the internet goes down and you have no other choice except to play something else.. Also helps you to learn the mechanics of the game. I enjoy playing through the campaign on co-op mode.

Is a must have ? I don't know. I would've payed less for BF3 and BF4 if they didn't had those awful campaigns.

I loved Vega 1 & 2.. Had very high hopes for this and have been waiting years. I think I would of liked the game better if it was more like Vegas, opening doors, night/heat vision, customised character.. While the destruction side of it is pretty cool, I'm worried the game has been rushed due to the fact there is no single player campaign. Plus plenty of bugs in the beta for a game that ships soon.

Both Vegas games were awesome.

Good game reminds me a bit of counter strike been playing the terrorist hunt mode still the problem is it's coming out in a time of too many good games.

It definitely took a bit getting use too but if you can get a squad that works together it is pretty fun. If anyone is interested in trying it out here are some extra codes I received yesterday:​ XH4XV-PDX4R-V3CD7-7M7X7-QHW3Z HMTQF-YDF3H-MD7JT-DKQJT-VGK3Z PP26W-4XG6T-HTPH6-CGW3D-7RGCZ TK69W-PDTDM-HPDRH-MVXW9-P3H4Z

Fun with a full squad but with no campaign I'm think it lacks depth. The graphics are pretty sub par but the game play makes up for that. Just not something I see playing for long.
Windows Central Newsletter
Thank you for signing up to Windows Central. You will receive a verification email shortly.
There was a problem. Please refresh the page and try again.