Rapid fire camera app 'Blink' from Microsoft Research gets new look and features today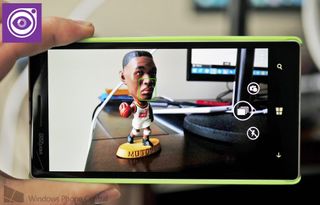 We last saw an update for Blink back in December. That update simply brought a fix for the Lumia 1520, though it build off of the 2.2 update that brought new features. This morning, version 2.4 is live in the Store and it's a significant overhaul of the app in terms of design and function.
Let's see what's new.
Blink version 2.4
Fresh new look: New branding and refreshed UI elements throughout the app.
Dual Modes: Switch easily between two modes - Blink mode to edit and share your animations, and still mode to save and share the perfect shot.
Focus Lock: Tap on the screen to lock focus in that the region. That region will always remain in focus even across phone movements. Tap again to unlock.
Improved stabilization: Even better video stabilization so that your Blinks play without any camera shake or jitter.
Live Tile: Pin Blink to the start screen and see your perfect shots on the live Tile. (Note: might require a phone reboot or a unpin/re-pin for live tile to start showing.)
My Blinks: A new gallery view in the Blink roll to quickly jump among captured Blinks.
Tutorial: An interactive tutorial is included to quickly get you going.
Orientation lock: Bug fix to orient Blinks correctly on sharing, under orientation lock.
That's a whole lot of changes, and we're glad to report that we like them all so far. The new look, which includes the Tile icon, certainly looks much cleaner and less cheesy than the original. The rest are simply new features that greatly improve the app, from the Focus Lock to the Tutorial to the Live Tile feature, version 2.4 certainly gives us a lot to chew on.
If you haven't tried Blink, you really should. The app allows you to take a quick succession of photos, which you can then use to create an animated GIF or select the best photo of the bunch as save as a still. GIFs can be shared to various networks including Blink.so.cl, Facebook, Twitter, Email or OneDrive. It's an app that started off as being 'neat' to something really well polished, especially with version 2.4 today.
Pick up Blink for Windows Phone 8 here in the Store. It's completely free.
Thanks, chowdhary1994, for the tip!
Daniel Rubino is the Editor-in-chief of Windows Central, head reviewer, podcast co-host, and analyst. He has been here covering Microsoft since 2007 when this site was called WMExperts (and later Windows Phone Central). His interests include Windows, Microsoft Surface, laptops, next-gen computing, and for some reason, watches. Before all this tech stuff, he worked on a Ph.D. in linguistics and ran the projectors at movie theaters, which has done absolutely nothing for his career.
Anyone knows whether it captures 5MP photos only on 1gb ram phones or does it capture them on 512mb phones too ? I cant use an app which would sacrifice my picture resolution... Even cinemagraph doesn't capture 5MP photos on 512mb ram phones..

In my 8X BLINK captures in 720p (1280x720) only .... Haven't tried the update yet

Bad.. Then it isn't for me.. Even when I'd buy a 1gb phone, I'd use nokia cinemagraph only, atleast it takes 5mp on 1gb ram phones.

For all I know, even cinemagram doesnt make cinemagrams at 5mp res. It does them at 720p or so.

Oh yes i remembered that. 5mp is captured by smart sequence in phones with 1gb ram.

Using lumia 520. I feel quality of picture isn't good after recent update

I can never decide if I should use MS Blink or Nokia Cinemagraph. Don't the features overlap? Suggestions?

How about the quicker to launch ?

Use cinemagraph, it takes 5mp pics on 1gb ram phones.

not really. blink lets you pick the best image from a series of quick shots. cinemagraph is more artsy. it lets you take a small video, but then freeze most of it, leaving only a portion animated. so on a windy day you can take a picture of someone next to some trees, and have the trees be moving, but the picture be otherwise still.

The Nokia equivilant is Smart Shoot in the Nokia Camera.

The biggest advantage of Blink _by far_ is the ability to capture images from _before_ you press the shutter button. I've got some fantastic lightning shots simply because I pressed the shutter button within about 0.5 seconds after seeing the lightning. The biggest disadvantage is of course the quality (1280x720 or 1920x1080, depending on your screen - it buffers the image _preview_). So, if you want to capture something that you don't know is going to happen when, use Blink (e.g. lightning). If you know when it's going to happen, use Cinemagraph (e.g. someone doing a stunt on their skateboard, as long as you press the shutter button _before_ the action begins).

Oh that's great ! I didn't know that ! Infact one day i was trying to use smart sequence in nokia camera to capture images of lightening. i failed miserably :-P

Sweet ! I was just using it to make a GIF of our cat.

Intime for Windows Phone 8.1 I guess? ;) lets see what they did out of the other apps :)

I wish there were more editing features. You can't do much except make the clips shorter or longer. It also runs forward then backward only

I love blink , I use it way more than cinemagraph

I have a feeling that this is the precursor to the camera app for 8.1.

A better description of the app is that it takes burst shots before nd after you press the shutter key making catching tricky shots a bit easier when you don't know when they'll happen exactly.

Nokia Cinemagraph needs such improvements coz it loads slower as compared to Blink. Must have app ! :)

The UI looks pretty nice, but seriously where can I share this or put it on OneDrive .. I can't seem to find it anywhere?

You should do the tutorial. srsly.

Lol man I know, I have done it and it says nothing useful about sharing it, when I click share it just pops up that Socl thing, or do I really have to first login there and then that menu like in the screenshot comes up? Posted via the WPC App for Android!

I use Blink and Cinemagraph in different ways. Blink will simply make a loop where any and all can move. Cinemagraph files can be manipulated so some parts don't move. An example I'll use is this. Shoot a picture of a person by a waterfall. Remove any movement in the person, but let the water keep moving. Now you have a still picture of the person with a moving waterfall. You have much more control.

Crashes on my Ascend W2 :-(


Heats alot after update... Lumia 1320

Still only capture pictures in 0.9 megapixels.

Anybody have success sharing to OneDrive? I keep getting errors, fails to connect.

worked okay for me. Had to give the app permission to use mypersonal info to log in to OneDrive, but other than that it worked fine.

Need to login to Socl for that? Posted via the WPC App for Android!

Is there a camera app for my 920 that has a control over the flash intensity? The standard is too harsh in my opinion. Thanks

Still too slow...I use Turbo Camera for action photo :P http://www.windowsphone.com/s?appid=7fcd71c4-0d36-42ca-b11d-0587ab45b7ef

last updated in June 2012 -__-

How about Microsoft and Nokia work together and merge all of these different camera apps of theirs into one, things like panorama mode should be built into Nokia Camera, same with Cinemagraph.

Panorama or photosynth? Which one's better??

Photosynth definitely! Don't even download Panaroma. Waste of time.

Again, why does Microsoft want access to my Music library even though the app has nothing to do with that!?

Isn't the music and video library a shared permission? I forget.

I love blink and probably the only one that uses SOCL...lol

I could feel the lagg of the app on my 8x, but still works lawlessly with new update.

I love Blink, even though I have to use my sister's WP since I have iPhone. But the thing I love most about it is that it is connected to Socl. They have one of the best and friendliest communities. It's not full of negative crap like a lot of the other networks. People there actually talk to you including the Microsoft people that work there. I think you guys should give it a try. The one thing I will say is that sometimes people use Blink and just go crazy sharing stuff and don't know or care that they are like clogging up everything. Take a look at the settings that Daniel showed above or go straight to about blink. They have videos and other links to help you learn how to use it right. Plus Socl has other cool stuff. I wish you would have talk about those things as well Daniel ;)

I wish it could share to Instagram.
Windows Central Newsletter
Thank you for signing up to Windows Central. You will receive a verification email shortly.
There was a problem. Please refresh the page and try again.