Raspberry Pi 3 offers a 64-bit CPU, built-in Wi-Fi for just $35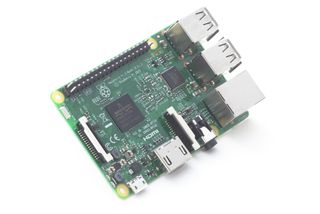 It's been four years since the Raspberry Pi Foundation launched the 256MB Raspberry Pi Model A, and to celebrate the milestone, the charity is launching new hardware in the form of the Raspberry Pi 3. On sale for the same $35 as the Pi 2, the Pi 3 offers a 1.2GHz 64-bit ARM Cortex A53 CPU, integrated Wi-Fi 802.11b/g/n, and Bluetooth 4.1.
The Raspberry Pi 3 will be fully compatible with older models, so all the tutorials and projects will work the same on the latest hardware. The Cortex A53 CPU offers an increase of 33 percent in the clock speed, and is twice as powerful as the 900MHz Cortex A7 CPU used in the Pi 2. You get the same 1GB of RAM and 400 MHz VideoCore IV graphics solution as the Pi 2, and the Pi 3 also retains the dimensions of its predecessor.
For now, Raspberry is sticking to the 32-bit Raspbian OS that is used on other Pi devices, with the charity set to consider the value of offering a 64-bit flavor of the OS in the coming months. With eight million Pi devices in the market, Raspberry wants to ensure that the Pi 3 is fully comatible with older models.
The Raspberry Pi 3 is now available for $35 from the following retailers:
Source: Raspberry Pi blog
That was what I wanted to ask. Posted from Windows Central for Windows 10

There isn't a new Windows 10 IoT build yet for this board. Maybe the existing one will work just fine.

What about a kit though? How much extra is an iot starter pack?

It would be probably be $10 cheaper for a kit as you don't need a WiFi adapter.

It has built in WiFi. Did you read the headline? Posted from Windows Central for Windows 10

That's why I wrote kits would be cheaper... Did you read my comment? lol

No. The Raspberry Pi 3 has built in WiFi without an adapter. Did you read my comment? Posted from Windows Central for Windows 10

Are you trying to say that the kits will be cheaper than before, or are you trying to say that the kits would be cheaper than the Pi itself with the things separate?

WPenvy asked how much extra a starter packs would be and I said, starter kits would probably be a few bucks cheaper because you wouldn't need a WiFi adaptor as they are now integrated. *Also, those needing Bluetooth will also see savings.

Nice pic. Promoting W10M 8-bit tile art

Windows 10 IoT is just a runtime environment you can deploy specific Win 10 apps to. It isn't the OS environment the OP is likely asking about in their quesiton.

Since this is a Windows Site, I'm asking myself how this Article is related to Windows. I'm not too familiar with all this Raspberry stuff, but is Windows for IoT easily installable on these devices and does it work with the peripherals?

Windows 10 IoT officially supported the Pi 2, in fact there appeared to be a launch partnership of sorts. If the Pi 3 is fully backwards compatible then Windows 10 IoT probably already works on it as well.

IoT is compatible with a 400 MHz or faster x86, x64 processor or ARM SoC.

Is there a Linux version available, or is this Windows only? Posted via my Nexus 7 2013 using the Windows Central App for Android

The article answers your question.

There is always a Linux version ;)

I've been wanting to get into these. I guess now it's a good time.

Never had so much fun since I was a kid with the Radio Shack electronics kits.

My 1984-86 high school electronics teacher always told us if we bought something at Radio Shack to "put it back in the sack and take it back to the shack." LOL. We actually had a much better electronics components store that was closer to school than Radio Shack was. ;-)

:) This was around 1975 but agree, there are much better sources especially now with internet.

Is it there in India? I would love to buy it.

follow the syntax man - when in India?

wen Oh, and don't forget to note how this new Pi seems faster.

Yeah, you can get the earlier model in India. Guess we'll have to wait a few days for the Pi 3 to launch.

I think it is available now at element 14 India site. It is listed at 3000 rs. Funny actually as the pi2 is listed at around 3500. Edit 1 : http://in.element14.com/raspberry-pi/raspberrypi-modb-1gb/raspberry-pi-3... Here's the link. Enjoy.

What are best scenarios for this?

These are often used by hobbyists our tinkerers who want to make interesting devices or machines. It's a good way to play with robotics.

They should have waited 2 weeks, amiright?!... 3.14......

That would have been a good idea had today not been the 4th anniversary of the original Raspberry Pi.

Well they chose the date wrong 4 years ago

Have to buy!!! Already have 4 RPi (servers, VPN servers, webcam server) and 2 RPi2. Win10 Iot installs perfectly to #2 version! I am In love ❤!!!!

Did they fix the problem there was with a flashlight on the main chip ?

Already 4 years? Wow. I remember when my parents got me the original one for Christmas. Can't believe it's been that long Posted via the Windows Central App for Android

"The Raspberry Pi 3 will be fully compatible with older models, so all the tutorials and projects will work the same on the latest hardware". So, just to confirm, the Raspberry Pi 3 will run the Raspberry Pi edition of Minecraft, right?

You literally answered your question in the quote you used immediately preceding it. Do you require a color picture as more proof?

No, I did not. The quote specifies that all "tutorials and projects" will work, which ambiguously opens the door for Minecraft: Raspberry Pi Edition--which is neither a tutorial nor a project--to not be included. Reading is important.

So you do, in fact, require crayons to understand. What do you think a project is?

Yes, in 4k. Posted via the Note 4/Nexus 7 (2013)/Lumia 1020/Lumia 2520

Probably, mine's running Witcher 3 on Ultra with Hairworks on high across 3 4k monitors at 120 fps.

Ordered mine early this morning while watching the live feed from London. Splurged and picked up the 7" LCD panel as well. Stuff is backordered, but scheduled to ship on March 8th.
Windows Central Newsletter
Get the best of Windows Central in in your inbox, every day!
Thank you for signing up to Windows Central. You will receive a verification email shortly.
There was a problem. Please refresh the page and try again.