Rayman Jungle Run joins Color Carnival and Nun Attack as this week's Red Stripe Deals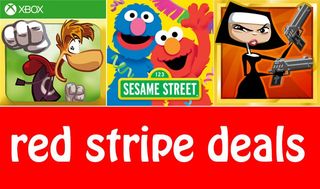 There's nothing better than downloading apps and games currently on offer for your Windows Phone. Microsoft's weekly Red Stripe Deals series is here once again with three new offers to tempt your purchase. This week, Rayman Jungle is joined by Color Carnival and Nun Attack. That's one Xbox Live title alongside two highly rated offerings.
Rayman Jungle Run
Ubisoft's Rayman Jungle Run is the first game in this deal. If you're not familiar with the title, it's a gorgeous 2D platformer and plans like an endless runner. You simply command Rayman to jump over obstacles and perform other moves. What makes this Rayman title different from other endless runner titles is how there are levels. You're tasked with completing each level and collecting as many Lums as possible.
We've previously praised the game for its detailed backgrounds and expertly drawn characters. There are 50 levels included, as well as expected achievements. Check out our review for more details.
Pick up Rayman Jungle Run from the Windows Phone Store for $0.99.
Color Carnival
Color Carnival lets kids enjoy an interactive read-aloud experience with Elmo and friends. Moving through the colours of the rainbow and more, you're joining gang as they visit a very colourful carnival. As colours are read out, toddlers are invited to find and name those that aren't mentioned. It's a neat book worth download for any youngling.
You can grab Color Carnival from the Windows Phone Store for $0.99.
Nun Attack
Finally we have Nun Attack, which as the name suggests is a game covering Nuns and unanswered prayers. Don't mistake this for an easy tactical game, however as players are tasked with joining the battle of light against darkness. Leading your squad in action packed environments, you'll need to defeat the Fallen Nun to restore balance to the world.
It's a humorous game with funny dialogue, epic nun arsenals and character progression. Everything you need in a game that empowers the nun.
Download Nun Attack from the Windows Phone Store for $0.99.
Rich Edmonds is Senior Editor of PC hardware at Windows Central, covering everything related to PC components and NAS. He's been involved in technology for more than a decade and knows a thing or two about the magic inside a PC chassis. You can follow him over on Twitter at @RichEdmonds.
Was coming here to say the same thing.

Is it really? I mean, it was just $0.99, like, 3 months ago. It was JUST a Red Stripe deal.

I was about to say the same thing. It wasn't very long ago at all that it was on sale.

When are we getting the extra levels like the Windows 8 version? When are we getting the sequel of this game? (I believe it comes out soon on ios/android or its already out)

1. We already got the levels weeks ago
2. It comes out as soon as it comes out on iOS/Android, or nearly at the same time.

"A fun fiesta adventure is coming to your smartphone and tablet 7 November! Just two weeks to go until Rayman Fiesta Run, the latest mobile game from the creators of the critically acclaimed#Rayman Jungle Run, will soon be available for iOS, Android and Windows 8!" - https://www.facebook.com/rayman

Windows Phone 8 alredy has the extra Pirate ship and Giant plant worlds.

Oh shit my bad guys, my phone was at Nokia Care for a while last month.

Guys....Fiesta run is out for Ios & android from today

Just a guess: Xbox certification is slow, so maybe they have that in there and it'll be a few weeks? Other possibility: Xbox games are Wednesday releases, so 6 days?

Angry Birds releases same time meow. Idk why they can and Rayman cannot. $$$

Was waiting for this deal. Rayman jungle downloading now. . . .

Rayman Jungle is soooo good. Its the game in,playing right now. Tho I'm stuck in the fourth gate of the dead or whatever that's called.

can anyone tell me if rayman jungle run supports HD graphics? really wanna get it.
but i bought skulls of shogun last week and was really disappointed by it's poor graphics. the text is so pixelated. felt like i wasted my money.
i have a lumia 925 btw.

You won't be disappointed.

Windows Phone 7 games can't support WP8 screen resolutions. Windows Phone 8 games like Rayman do of course support the higher resolutions.

Rayman Fiesta Run was supposed to be launched for WP in the same time as in iOS and Android. And was released today... Nothing new for WP right?

I really don't think it's coming to WP8 today. We'll see!

Sad since its not too long ago Rayman was on sale. :(

I know. I was so disappointed to log in and see Rayman was the Red Stripe Deal again. It was just on sale in, what, late July or early August. Plenty of other worthy titles deserved to go on sale before this game repeated. Until next week I wait.

I'm glad to see Nun Attack is getting some attention. I bought that game six months ago and was really impressed. It has a couple of quirks that detract a bit but it's got a great art style and is fun to play.

Any news on Fiesta Run? It's out today for ios/android but I'm not seeing it in the windows phone store.

Nun Attack seems nice, I love this style.

All I can ever think of when I see the "Red Stripe" deal is the Jamaican beer.

Nun Attack?!
Seriously?!!

Just downloaded it on my Lumia 520. Was always putting it off on my iPhone & Android tablet, but for $0.99...had to try it out. Runs and looks great on the 520!

Where is Fiesta Run?!? WTF

would be nice to see more then 1 game a week on sale.

So WP7 only get 1 game? Colour Carnival??!? Wtffffff

Weird, rayman is still normal price on the south African store

Same here in Belgian store 2.99 EUR ...
Windows Central Newsletter
Thank you for signing up to Windows Central. You will receive a verification email shortly.
There was a problem. Please refresh the page and try again.