Razer BlackWidow Chroma V2 review: a great mechanical keyboard gets even better
How much better can an already-great mechanical keyboard get?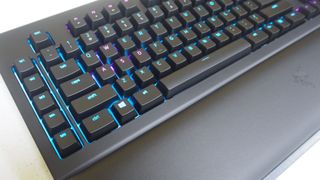 Today Razer unleashed the Razer BlackWidow Chroma V2, the latest version of its flagship mechanical keyboard. This version features new keycaps with a new font, a removable wrist rest, and individual backlights for every key. Do all this make it the ultimate gaming keyboard?
See at Amazon (opens in new tab)
The mechanical difference
Like all Razer keyboards, the BlackWidow Chroma V2 features Razer's proprietary mechanical gaming switches for each key. These switches have optimized actuation and reset points, so the time between electrical contact being made and reset is supposed to be better for games than the industry standard Cherry MX switches. With an estimated lifespan of 80 million keystrokes, they'll also outlast Cherry switches by a fair margin.
The BlackWidow Chroma V2 is available with three switch options: Green, Orange, and Yellow. Green are the traditional "clicky" mechanical switches with the loudest volume. The orange switches featured in our review unit are quieter. They really feel great to touch, and respond just as quickly as a gamer would want. As for the new yellow switches, they have a "linear and silent" design. They're intended to reduce travel and allow keys to be pressed faster – perfect for FPS and MOBA games.
Design and features
The BlackWidow Chroma V2 measures 7 inches deep, 18.5 wide, and 1.5 inches tall (with the keys).
This new keyboard features the same basic design as the original BlackWidow Chroma, complete with angular edges, recessed sides, and light-up Razer logo on the front center of its body. The keys themselves feature a new, sleeker font compared to the original model. It's a strong and clean design, with the customizable Chroma lighting allowing for visual flair.
As Razer's top-of-the-line keyboard, the Chroma features USB and 3.5mm audio pass-through ports along its right side. The keyboard's thick braided USB cable has three ends: one USB for the keyboard itself, one USB for the pass-through port, and one 3.5mm for the headset pass-through port
The pass-through ports make it easy to insert and remove accessories like controllers and headphones without having to reach behind your computer. But if you don't need the pass-through feature, you can opt to only connect the main USB plug.
The BlackWidow Chroma V2 includes a detachable wrist rest with a very comfortable level of padding, and should reduce fatigue both during work and play. It attaches and removes easily via magnets, but the connection is strong enough that it won't slide around or disconnect during normal use. You can lift the keyboard off your desk and the wrist rest will stay attached, unless you really shake it hard (which I never recommend with electronics).
Programmable keys and Function keys
The BlackWidow Chroma V2 features five programmable gaming keys to the left of the main keyset. These do nothing by default, but you can customize them to launch programs, perform macros, and other functions.
In addition to those dedicated hotkeys, the top row of Function keys and Pause Break key double as shortcut keys for common functions when you hit the Fn key. Among them is a Macro recording feature (F9) that you can use to type and save sequence of keys, and then bind that macro to another key. Gaming mode (F10) disables the Windows key and maximizes the keyboard's Anti-Ghosting effect. Gaming mode can be further customized using the Razer Synapse software.
Razer Synapse software
Like other Razer PC products, you'll need to install Razer Synapse to get the most out of the BlackWidow Chroma V2. The keyboard does not store profiles and settings internally. Instead, all settings are saved through the cloud and accessed via Synapse. Most gaming keyboards store settings on the device itself, hence some users' distaste for Synapse. How often do you really switch your keyboard between PCs anyway?
Still, the Synapse software is actually quite good. You can customize lighting, edit and record macros, enable or disable Chroma lighting connectivity in compatible applications and games, customize features of the Gaming mode, and more. Adding functions to the five M keys is a snap, as is disabling Caps Lock or other nuisance keys. The only thing I dislike about Synapse is how frequently it pesters for updates.
Chroma lighting
The BlackWidow Chroma V2 features Chroma lighting, complete with their Razer's name for its 16.8 million color spectrum lighting technology. Every key is individually backlit, as well as the Razer logo on the front of the keyboard. Using the wrist rest will cover up the logo, but you'll still see plenty of light from the keys themselves. By default, these all light up green.
With the Razer Synapse software, users can turn the lighting off, create custom lighting profiles, and select from eight lighting presets:
Breathing: All lights pulse up and down in intensity. You can't have one light pulse a different color than the others, but you can set the lights to alternate between two different colors.
Fire: This impressive new effect simulates the appearance of fire burning beneath the keys. The lights animated between shades of red and yellow most convincingly.
Reactive: When enabled, pressing any key causes it to light up. Other Chroma devices set to 'Reactive' will light up as well.
Ripple: Ripples of light emanate from whichever keys you hit.
Spectrum Cycling: The lights cycle between various colors.
Starlight: Keys light up in one or two colors in a seemingly random pattern that simulates the effect of twinkling stars.
Static: Lights stay on in the single color of your choosing.
Wave: Waves of color flow from left to right or right to left across the keyboard.
One cool accessory included, one absent
As an added bonus, the BlackWidow Chroma includes a Razer Chroma keycap keychain. The keychain consists of a tiny cube with embedded microswitch and a Razer log-adorned keycap on top. Pressing the keycap causes the Chroma light inside to cycle colors. Pull off the keycap and you'll see a genuine Razer Orange switch inside. Unfortunately, the part that attaches the device to your keys is thin and bound to break if used as an actual keychain.
While the keychain is a cool bonus, the BlackWidow Chroma V2 lacks one important accessory: a keycap removal tool. One of the selling points of mechanical keyboards is you can remove caps and replace microswitches if necessary. It's possible to remove keycaps without a specialized tool, but you risk damaging the key. I'd take the practicality of a key removal tool over the novelty of a keychain any day.
Razer BlackWidow Chroma V2: The Bottom Line
The BlackWidow Chroma V2 is an excellently designed keyboard. The differences from the original model aren't tremendous – just a wrist rest, new keycaps and font, and the option of Razer Yellow switches. But the original BlackWidow Chroma had just about everything you could want, anyway: extra programmable keys, USB and audio pass-through, durable USB cable, Chroma lighting, and of course, the advantages that come with a mechanical keyboard.
This year's BlackWidow Chroma V2 retails for $169.99, just like the original. If you've already got a quality Razer keyboard, or a mechanical typer from another manufacturer, I wouldn't necessarily run out and grab this one right away. It's better, yes, but we're reaching the point of diminishing returns for your dollar. But if you're in the market for a top-of-the-line mechanical keyboard, you can't do much better than the BlackWidow Chroma V2.
See at Amazon (opens in new tab)
Windows Central Newsletter
Get the best of Windows Central in your inbox, every day!
Paul Acevedo is the Games Editor at Windows Central. A lifelong gamer, he has written about videogames for over 15 years and reviewed over 350 games for our site. Follow him on Twitter @PaulRAcevedo. Don't hate. Appreciate!
If I remember, right now they are running a sale were you get a free replacement cap kit with the tool.

No media controls, no sale

You can map the macro keys to work for Media Control. That's what I end up using this for as I use them for nothing else.

Or you can use the media controls on the function keys at the top of the keyboard.

Yes you can, I personally just don't like having to hit fn+a function key, just easier to map the macros so all I have to do is hit a button.

Am I the only one seeing the article title as BlackWindow? :v

Nifty looking keyboard. Alas a lowly console peasant like myself has no real use for it.

Not this keyboard (I don't care for razer), but depending on what you do, a nice mechanical (even one with macro keys) can be great for more than just gaming. I work from home 2 days a week and my logitech gaming keyboard is awesome. Between setting macro keys for common things I do, and the comfort of a mechanical keyboard.

I like the idea of a Razer keyboard but the cost just never made sense to me. I love the thought that's been put into every detail but they always miss the biggest detail, dedicated media keys. I don't like having to fiddle with a Fn key plus one of the F keys, I just want to pause my music or turn up the volume quickly and easily. Logitech and other high end keyboard makers can do it, why can't Razer?

Technically, you can make the five side keys perform media functions if you want.

yeah but then you lose the ability to use them as macro keys, and when you're in a game, they are no longer media keys.

Switching between profiles for different tasks is easy. I prefer to use the media shortcuts, myself. Looks like some of you guys really enjoy the Logitech mechanicals, but man do those things look busy compared to other brands' mechanical keyboards.

I don't disagree that most gaming keyboards can be a little "overdone" when it comes to whiz bang stuff. I've personally owned both Razer and Logitech gaming keyboards and I'd have to say the Logitech unit is the better board simply due to the dedicated media keys. Other than that they aren't that much different, the Logitech units being slightly cheaper overall though.

I was actually going to mention the media keys as well. I don't think I would buy a keyboard, esp. in this price range, that doesn't allow me to easily change volume, mute, etc. with having to press some button combination.

I'm still using an old heavy IBM mechanical PS/2 keyboard that was made in 1989. I would love to grab a newer one like in this article, but I have a hard time parting with this old one. It's practically indestructible, the lettering on the keys is perfect and not wearing away. I've had this thing since I was a kid and it is amazing how well built this thing is (Made in USA) Only thing that is sorely missed is there is no Windows button or sweet backlit keys:(

I would go to a store that had it, try it out, and if it feels decent get it. Because having a windows key and backlit keyboard are pretty sweet options. As well as the macro buttons :). Worst case, you still have your 1989 keyboard you can easily get out and use again :).

Same here... I have several of the black M13 model with the trackpoint embedded, and I've been really hesitant to give them up. However, I managed to snag a v1 Chroma late last year for $60 new so I could finally actually try one. I'll say this... The typing experience is definitely not as good for me on this one vs. the experience on the IBMs, but it's passable. I do enjoy having the extra keys, the passthough ports, and the backlighting finally, though. I think someone coming from a rubber dome keyboard would find these to be and incredible improvement. I just don't think anything can match the key feel of a model M, though.

Leopold FC900R. 'nuff said 😉

This keyboard looks very similar to corsair strafe rgb :P apart from the extra 5 keys on the left.

nah...who needs a mouse mat???!!!! REAL MAN use an A4 Paper or old newspaper. If its dirty or torned, just replace it !!

This is a keyboard review...

I have the Razer Black Widow first edition.? Anyway, I have programed the key backlight to my liking and wouldn't go back. The clickity-click of the keyboard helps type rythmically. Plus, the programmable keys and back light coloring are easy to switch with just a keystroke. Expensive but very nice features.

Which switches do you have?
And: Can you completly turn of the lighting ( I hate lighted keyboards, just distracting).

Great looking KB, but propriety in this day in age is a deal breaker. I'm trying to get away from proprietary anything, including key switches. My current KB has cherryMX, which probably won't need new key caps, but if I somehow lose a keycap, at least I have plenty of options to choose from.

Mechanical keyboards... I always thought them to be for PC snob users until I found (by chance) a Redragon Kumara for 17$ on a fleamarket in my country (the keybard was new! go figure) After a couple of hours with it I fell in love with the feel... but then, after a couple of days, the wrist pain started. I had the Microsoft natural ergonomic keyboard 4000 before the Kumara and while the keys from my Kumara are far superior, the ergonomics are nowhere near the MS keyboard (like with any straight keyboard) I still use the Kumara because, as someone who types a lot durig the day, the keys make it worth the pain... still, I can't stop myself from missing the ergonomics of the MNEK4000. Now, one thing I don't miss is the size, the MS keyboard was a beast and my mouse was far away, which makes handling the mouse tiring. Mechanical keyboard manufacturers should pay more atention to ergonomics and stop saying their keyboards are ergonomics just because the keys are concave and they keyboard has legs on the front (which are in fact worse for your hands)

Haha sorry, couldn't put a name to it. Here is a picture of it (it's actually from a kumara keyboard) http://www.tomtop.com/img/p/gu1/C/6/C2656/C2656-1-1a60-1raW.jpg

Ohhhhh, those should be on the back. Yes, ergonomic keyboards are cool - I used one for several years. A mechanical version would be nice. Most users prefer the traditional style though, for whatever reason.

I like the huge comfy looking wrist rest!! More KBs need those.

Looks fancy. I like that it has a numpad even though I never touch mine. Makes the rest of the keys feel like they are in the right spot. I same complaint as other about the media keys. Rest of the keyboard looks stunning.

No. Sound. Wheel. Fn + f2, f3??? Deal breaker. I used the blackwidow chroma last month and returned it. Sound wheel(which i thougt i could do without) aside, the keys were good but I prefer the cherry mx red switches on my corsair k70.

I was totally intrigued with this article until I came to the section "Razer Synapse software". Been there, done that. Pass. Synapse is horrid. Had a Black Widow way back when and returned it after one day because Synapse was that bad.

Nice looking keyboard. I especially like the USB and 3.5mm ports on the side for easy access. Also the lighting presets are pretty cool :)

I'd love to have that keychain! I've got plenty key removal tools, plus could buy one.