Razer announces DeathAdder Elite mouse and Gigantus mouse mat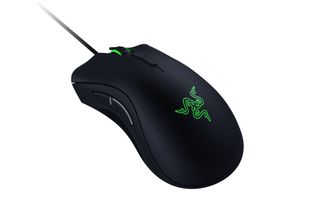 Gaming giant Razer can't be accused of resting on its laurels. Razer continually refines and iterates its signature products, as evidenced by today's announcement of the new DeathAdder Elite mouse and the Gigantus mouse mat. Both products are designed to give a competitive edge to Windows gamers.
Meet the DeathAdder Elite
The DeathAdder is Razer's signature eSports mouse, designed especially for the needs of competitive gamers. Razer takes that design a step further with the new DeathAdder Elite. In addition to Razer's fancy Chroma lighting effects, the Elite sports some features that should really make it shine.
The Elite shares the same basic form factor as the regular DeathAdder, and is tended to be used in a right-handed orientation. Razer has worked hard to perfect the ergonomics of the Elite though, going so far as to team up with the University of Queensland Australia Centre for Sensorimotor Performance to perfect the mouse's shape.
Performance will be key to the DeathAdder Elite, starting with mouse clicks. This new model features Razer Gaming-optimized Mechanical Mouse Switches (coproduced with Omron), to provide the ultimate responsiveness in mouse clicks.
These switches are rated to last 50 million mouse clicks, far more than the 20 million that traditional mouse switches. Razer has also optimized the Elite's firmware and drivers to only pick up the clicks once the switch is ready to activate, which will prevent phantom clicks that can happen when other mice are clicked rapidly.
The Elite also features what Razer calls the world's most advanced optical sensor. This 16,000 DPI sensor boasts 99.4 percent resolution accuracy, a measurement of the correlation between mouse movement and arrow movement. Other gaming mice typically have about 95 percent accuracy, whereas non-gaming mice only are about 90 percent, according to Razer.
The Razer DeathAdder starts next week from the Razer Store and will launch first at BestBuy on October 2. It will sell for $69.99 – not a bad price for competitive Windows gamers.
Beware the Razer Gigantus
Gaming mice like the DeathAdder Elite need a proper mouse surface to reach peak performance. That's where the new Razer Gigantus comes in. Not to be confused with the Razer Goliathus (opens in new tab), the Gigantus is Razer's eSports mouse mat. It was designed with the input of four world-class eSports teams (including Team Liquid).
The first thing you'll notice about the Gigantus is undoubtedly its ultra large surface area. It measures 445 mm x 445 mm x 5 mm, a massive square shape. The reason for this huge size is to accommodate low DPI players who require larger movements during gameplay. Even if you use a higher DPI though, large mouse mats like the Gigantus provide an extra level of comfort for your entire forearm.
The surface of the Gigantus has been engineered for speed and control, so it should accommodate all play styles. The mat itself also features what Razer calls enhanced thickness and a rubberized base. This design provides extra consistency when used on different surfaces.
The Razer Gigantus mouse mat will come in three variations with slight differences in the artwork at the corner of the mat. The Special Edition and Team Razer Edition variants will be exclusive to the Razer Store, with the regular edition selling everywhere. All three retail for $29.99 and begin shipping in early October.
See at Amazon (opens in new tab)
How about it, guys? Anybody out there in the market for a new gaming mouse or mouse mat?
Windows Central Newsletter
Get the best of Windows Central in your inbox, every day!
Paul Acevedo is the Games Editor at Windows Central. A lifelong gamer, he has written about videogames for over 15 years and reviewed over 350 games for our site. Follow him on Twitter @PaulRAcevedo. Don't hate. Appreciate!
Looks interesting. Not a terrible price for a good, high-quality mouse. Mouse pad however is a little overpriced.

I like Razor stuff quality wise, not a huge fan of the logo personally. Actually surprised to find a Windows Central post that allows comments this week ;)
Seriously though, what's with the buying guides this week that don't allow comments? I know we can't comment on the "Digital offers" posts because they are adverts to bring in revenue.
Should we consider the posts where comments are locked which "may contain affiliate links" as adverts?
I'm cool with it, as I'm sure everybody else is as the site needs to make money (Still waiting for a way to donate via the app or similar) but just want to know what the deal is with them. I come here for the content for sure, and enjoy the majority of the articles, just like to be clear if I'm reading opinion or content taken from the companies marketing materials for example.
Like I say this is not a dig, and I totally get that the site needs to make money. We get a hell of a lot of fantastic content for free so don't think I don't enjoy it or that I'm not grateful for the effort that goes into the site. But what's the difference between the "Best mouse to buy" and this article announcing a new model from Razer that means I can't comment on the best mouse post with my own experiences using some of the products etc.

The no comment thing was because the comments were terrible, that's it (especially the help software guides). They're guides, not news articles/reviews/editorials where debate and discussion are encouraged. Has nothing to do with affiliate linking or adverts (they would stipulate that) as we're not even endorsing any particular brand.

That's cool, thanks for explaining. I know the quality of some of the comments from the WC community can be extremely poor at times. Not everybody, but there's people who post here that just like to hate on things and I get how that could take away from the aim of the article when people descend into bashing a product because a certain company make it etc. Sometimes I wish comments were disabled on posts where an app has been removed from the store for Mobile, same old trolls posting the same old stuff in the comments section lol.

or any article about the Elite X3, or that mentions Nadella ;-)

I can't see any difference between the new Deathadder and the current DA Chroma from that article. Not sure it's worth an upgrade, I'll need look in to it. I'm not convinced the choice of mouse mat is relevant beyond personal preference. #1 consideration is that the DA Chroma (and the update I expect) has an excellent polling rate consistency and will properly maintain 1000hz which matters alot when using monitors with a good refresh rate.

Mechanical switches are the main difference. There's also some minor changes to ergonomics and sensor accuracy, if I understand correctly.

Not sure I understand the switch thing, since the last DA-C has switches too, which surely must be mechanical (since they're switches, not simple contacts, but then that's true of most mice?). The ergonomic changes must be minor, from the pictures I can't see any difference. Ah yes, my sensor is 10000dpi (no interpolation) and this one is 16000. Since there is no reason I can see where anyone would even get close to using 10000dpi that 16000 figure, whilst impressive, is not of practical use. I've never seen anyone use dpi at that level, frankly very few people would even use over 2000dpi. 3000 and above is just for show I guess. Nice mouse, but not really worth upgrading current gen DAs for, I think.

I don't know how non-mechanical mouse switches work, but mechanical switches are not listed as a feature of the DeathAdder Chroma. If it had them, Razer would've used them as a selling point.

If you want a proper competitive mouse, buy a Zowie EC2-A (or EC1-A, depending on your hand size). If you want an ambidextrous mouse, Zowie FK2/FK1.

Looks like a dance mat :P

Wow that mouse mat/pad is huge, almost 4x larger than some metal piece I use lol.

Is there not a wireless version? I've been using a wire free mouse for years, can't imagine going back now!

eSports guys tend to prefer wired input devices. The wireless cream of the crop is the Razer Mamba Chroma. In Bluetooth there's the portable Razer Orochi.

Looks like a good mouse. The DPI and accuracy of the optical sensor is crazy!