Razer just made smart glasses for people who work all day and they look awesome
By Daniel Rubino published
Featuring Bluetooth, open-audio, and blue light filtering lenses (and polarized sunglasses), the new Razer Anzus are perfect for a connected life.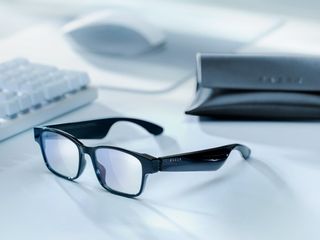 (Image credit: Razer)
What you need to know
Razer is launching its first smart glasses aimed at gamers or anyone working from home.
The Razer Anzu feature blue light filtering and touch controls to navigate music or calls.
It includes two sets of lenses for indoor and outdoor use (polarized).
The Anzu come in two styles and are available starting at $199.
Over the years, the connected space has grown, especially for wearables. While so-called smart glasses have waxed and waned, Razer is taking a stab at offering realistic functionality that you can have today without breaking the bank.
The Razer Anzu are unique in that they offer open-ear audio perfect for taking calls while at home, the office, or out on the trail. There are both 35% blue light filtering lenses and 99% UVA/UVB protective polarized sunglasses included. Add in touch controls, Bluetooth 5.1 for up to five devices, support for smart assistants, and two styles (round or square), and these glasses look to be, dare we say, actually useful?
Built for those working from home, commuting to work, or even going for a bike ride, these glasses help prevent eye strain while also letting you listen to music or hop on a Skype call.
Going into the app for iOS or Android, users can flip on short 60ms latency so that video call audio syncs up to the user without delay. You can also mess with the custom EQ settings to nail that perfect sound profile.
Category
Razer Anzu
Lenses
1 set: 35% blue light filtering (clear)
1 set: 99% UVA/UVB (polarized)
Headphones
16mm drivers (open ear)
Connection
Bluetooth 5.1
60ms low-latency
Sizes
Small/Medium
Large
Weight
43 to 48 grams
Microphone
Omnidirectional
Touch controls
Music (Play, pause, skip, previous)
Call: Answer, reject, switch, end
General: Pair, power, gaming mode, and smartphone assistant
Battery
More than 5 hours (active/streaming)
2-week standby
Compatibility
Devices with Bluetooth audio (Windows, iOS, Android)
App
Android and iOS devices
Settings
Latency, EQ, battery status, firmware updates
Water-resistance
IPX4 (splashproof, workouts, weather)
Included
Case
USB-A Charger
Lenses: regular and sun
Cleaning cloth
Price
$199.99 USD / €209.99
Replacement Sunglass Lenses
$29.99 USD / €34.99 MSRP
The glasses look comfortable, too, at around 45 grams in weight with two sizes (small/medium, and large). Since the speakers aren't jammed into your ear canal when audio plays, phone or virtual meeting calls sound more natural.
Image 1 of 2
Image 2 of 2
Charging is interesting. There are proprietary magnetic connectors and no open ports (which helps with that IPX4 rating) on each ear stem. There are two connectors because Razer didn't want to run the battery wire through the frame itself. The result is the Anzu can flex widely open akin to genuine eyeglasses, ensuring a more comfortable fit.
Battery life with streaming audio is rated at five hours, which should be more than enough for a workday. Folding them up, which also powers them off, should give two weeks of standby time.
By default, the lenses are the clear, blue light filtering ones, but users can pop them out and replace them with the included polarized lenses for outdoor uses. While Razer does not expect you to do this too frequently, they have ensured that they should last a long time in testing.
Image 1 of 2
Image 2 of 2
Razer is teaming up with Lensabl with 15 percent off for prescription lenses for those who purchase Anzus, all done via its Lensabl website. Of course, you can also bring the glasses to your local eyeglass store and have them make up lenses too.
The Razer Anzu smart glasses are now available with pricing at $199 from Razer.com. We'll be getting a pair in later this month to give a thorough review.
A smarter way to work
Razer Anzu
Perfect for work-from-home life

The Razer Anzu smart glasses are the ideal wearable tech for those working from home or spending extended periods in front of a computer. They feature eye-protecting lenses with blue light filters and have touch controls to navigate calls, music, and gaming with friends — or pop in the polarized lenses for outdoor use. With built-in mics and speakers, the Razer Anzu is all you'll need at home or on the go.
Daniel Rubino is the Executive Editor of Windows Central, head reviewer, podcast co-host, and analyst. He has been covering Microsoft here since 2007, back when this site was called WMExperts (and later Windows Phone Central). His interests include Windows, Microsoft Surface, laptops, next-gen computing, and arguing with people on the internet.
They are basically copying Amazon's Echo glasses

Echo glasses... the ones that are $250 Lack 35% blue light filtering lenses Lack swappable polarized lenses 1/2 the battery life One style One size Those? It's OK to acknowledge that these are different/improved/different. Just because they're glasses with speakers doesn't mean they're the same. That's like saying OnePlus copied Samsung because they made an Android phone with a display, camera, and speaker. The truth is, we're going to see MANY companies get in on this category, just like fitness trackers and wireless earbuds. That's a good thing if you're a consumer.

These look interesting but I will have to wait for prescription versions. I wish Razer the best of success with this current iteration.

You can buy prescription lenses for them via Razer's partner Lensabl or you can get them replaced at your local optical store

Yup. If I look OK with the review sample (a big "if" as I can't pull off most frames), I'm going to get some prescription lenses put in. I'll just take them to my local optician and get them custom-made. Super simple these days.

" or anyone working from home." - That is so funny! Marketing department: Quick, add 'working from home' to see if anyone bites! Question: If I don't wear glasses, can i still buy them to be super cool? Asking for a friend.

" If I don't wear glasses, can i still buy them to be super cool? Asking for a friend."

No, they force a prescription on you. It's totally random, so you may get near or far-sighted solutions. Sometimes, even one side is just blacked out. On a more serious note, yes, anyone can wear these. Indeed, "gaming glasses" have been a thing for a decade. See GUNNAR Optiks.

Also, that whole "sunglasses" concept has been around the block a few times. I wonder if that has caught on yet, or if only cool people know about that?

Ooh, these look interesting 🤓 excited to see 😎 what other companies bring to the table.

Hmm when I think of smart glasses I think of something with a HUD on it of some type not just audio. Perhaps my definition is askew.

That tech is not ready yet. But these have touch sensors on either side, BT 5.1, speakers, and mics built-in. Smart glasses are a generic term with no real model in 2021 yet, so it can mean any glasses that have a digital component to them.

As always when coming to glasses. How are they for a full day wear? Can you bring them for a walk into town, sitting on a cafe doing some work without feeling like your ears are falling of? I hope for the best but my experience of having heavy glasses is not good. Sitting at the moment with super light Silhouettes for maximal comfort.

This is what we'll find out in the review. Glasses are pretty personal, so it'll be interesting to see. But like any new category, there will be some rough spots that will improve over the coming years. I'm fairly confident we'll see regular eyeglass frames get enhanced in the coming decade.

It's cool they are trying something. But for someone who already wears glasses half the time, I would have to pass on anything called Smart Glasses unless it has HUD with at least some simple notifications. Like, incoming call, new text, reminder 1:30 , 1000 steps... simple things. And the lenses should be transitional for going outside. They had to start somewhere, lets hope it picks up quickly, the tech is out there. In fact what would be really cool is a simple add on to clip to my glasses I already own. We had smartphones with mini projectors years ago, use that tech that's even better now to project on the inside of your glasses that communicates to your phone.

I think this is cool. I figure this is like those hybrid smartwatches that don't have a digital display (or have a hidden one) but offer some features like notifications and music. I've never been into wearables stuff (even smartwatches, except for exercise) but I can see how this device might be useful, especially if you're constantly in calls. (I never liked in-ear headphones personally.) Wonder what the audio quality is like. Looking forward to the review! Oh and I really think they should rethink the name.

These look pretty ugly to me. But obviously taste is individual. I'm really annoyed Google bought ByNorth and immediately shut them down. That was the best take on smart glasses I've seen so far and the v2 they were showing at trade shows was supposedly a big step forward. Not hopping into this space until they are normal looking glasses that can do a HUD and use the smart assistant of my choice.

Yeah, I was getting really excited for North v2s, which were close to release. Shame.

So everyone around you gets to listen to your personal phone conversations and music due to the open speaker. Nice! I'll take ten of them! sigh....
Windows Central Newsletter
Get the best of Windows Central in in your inbox, every day!
Thank you for signing up to Windows Central. You will receive a verification email shortly.
There was a problem. Please refresh the page and try again.