Razer Mamba Chroma review: The ultimate wireless gaming mouse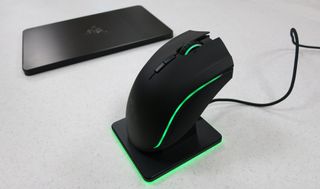 The Razer Mamba (not be confused with the Mamba TE) is Razer's flagship gaming mouse – the cream of the crop. It boasts wireless and wired modes, adjustable click force on the primary mouse buttons, a 16,000 DPI sensor, a Charging Dock, and beautiful Chroma lighting. Do these features justify its hefty price tag? Read our full review with video to find out!
Razer Mamba Chroma versus Razer Mamba Tournament Edition
Before we get to the Mamba's many fine points, let's examine the differences between the $150 Razer Mamba and the ~$90 Razer Mamba TE. Both share identical physical shape and nearly all of the same features. But each mouse has a few unique features.
Mamba Chroma
Both wireless and wired modes
Adjustable Click Force technology for left and right mouse buttons
Includes black metal storage case (9.75 x 6.75 x 3.25 inches)
Mamba TE
Wired
Razer logo on palm area of mouse lights up (The wireless Mamba presumably excludes this light in order to extend battery life.)
We'll elaborate on the Mamba's unique features shortly.
Sleek and sexy
Whether you use your mouse for games, work, or as a weapon to beat up criminals, comfort matters. Some of Razer's mice like the Diamondback and Orochi utilize ambidextrous designs, making them suitable for both left- and right-handed people. The Razer Mamba currently comes only in a right-handed design.
The Mamba measures 28 mm / 5 in (Length) x 70 mm / 2.76 in (Width) x 42.5 mm / 1.67 in (Height). Its top features a mildly textured matte plastic surface, while both left and right sides have a sublimely comfortable textured rubber coating. They seriously feel great to hold, plus the texture prevents the mouse from escaping your hand.
The front of the Mamba has two grills on either side of the micro-USB port. These grills don't serve any obvious purpose, but they look really cool. The front ends of other mice look plain by comparison.
The underside of the Mamba has a few differences from the Mamba TE. First, a recessed section allows the Mamba to rest on its Charging Dock. Above the recessed section are too connection points for charging. And further up, you'll find two hex screws used to adjust click force.
Buttons and wheel
On the top of the Mamba, you'll find the mouse wheel surrounded by the two primary buttons. The wheel has a rubber texture that makes it easy to grip and scroll in small increments. Pushing it in acts as a mouse button, while clicking the wheel left and right will scroll left and right by default. The left/right wheel clicks can also be customized as buttons.
Below the wheel, the Mamba has two sensitivity buttons. These raise and lower DPI (Dots Per Inch) by default, drawing on user-selectable DPI settings from the Razer Synapse application. Different applications actually do benefit from varying levels of mouse sensitivity, so toggling DPI on the fly proves handy.
On the left side of the mouse, the forward and back buttons sit just above the rubber grip area and just below a light strip. These are great for web browsing, reading, and of course, performing functions like reloading in games.
I find every one of the Mamba's buttons and wheel functions easily accessible and pleasant to use.
The ultimate mouse sensor
The Mamba and Mamba TE's main claim to fame is their 16,000 DPI mouse sensor, which is widely considered the best one in existence. Pioneer manufactures the sensor. Razer has a timed exclusivity contract on it, so no one else will have a comparable mouse sensor for the next year or two.
16,000 DPI is way too fast for any normal user. Better to have too much than not enough though, right? But you don't need to max out the Mamba's DPI to benefit from its powerful sensor.
The DPI can be adjusted by increments of one, a feature that no non-Razer mouse offers. You can make this mouse exactly as fast or slow as you want. Users can save five separate sensitivity stages through the Razer Synapse software and then switch between them at will using the DPI buttons on the top of the mouse.
Wireless or wired
If you're buying an ultra-premium mouse like the Mamba, you probably intend to use its wireless feature. And to make use of that wireless functionality, you'll use the Charging Dock – it doubles as a wireless receiver. The Dock measures approximately 3.5 x 3.5 x 2 inches.
Before you can use the dock, you'll need to connect it to your PC. The Mamba includes a seven-foot braided USB cable with a proprietarily shaped micro-USB plug on one end. This end plugs into the back of the Charging Dock.
The primary method of charging the Mamba is setting it down on top of the charger – two spider bite-like connection points manage the power transfer. The mouse should be switched off when charging with the Dock. Both the Mamba and the Dock's Chroma lights will pulse and glow green as the mouse charges. If the mouse battery is dangerously low, it will instead glow red. A solid green glow represents a full charge – this takes about five hours on an empty battery.
To use the Mamba wirelessly, simply move the power switch on the bottom of the mouse to the On position. You'll experience flawless, lag-free wireless performance.
Like the Razer Orochi mouse, the Mamba can also be used in wired mode. Simply remove the charging cable from the Dock and plug it into the front of the mouse. Not only does it work as a wired mouse at that point, but it also charges the battery.
The one downside to the Mamba's wireless and wired functionality is the charging cable. Oh, it's a very nice cable, but it also has that proprietary plug on one end. If the cable gets lost or breaks, you'll have to contact Razer or look to Amazon sellers for a replacement.
Adjustable click force
Besides wireless functionality, the Mamba's other big advantage over the Mamba TE is its Adjustable Click Force technology. Users can adjust the resistance of the left and right mouse buttons in order to customize their performance and feel.
The bottom of the mouse has two hex screws – one for each primary button. You'll use the included tiny hex screwdriver to loosen or tighten those screws, thus reducing or increasing the resistance of each button. It's an easy adjustment to make.
Tightening a button's screw won't make it significantly harder to press, but it affects how quickly you can press it. I find the default click force perfect to begin with, but I can see some users wanting the fire button to be looser than the aim button in a shooter, for instance.
Razer Synapse software
Like other Razer PC products, Razer Synapse is required to get the most out of the Mamba. The mouse does not store profiles and settings internally, which any costly mouse like this definitely should. Instead, all settings are saved through the cloud and accessed via Synapse. I understand that exporting settings to a USB stick is an option, but internal storage would obviously be better.
That said, the Synapse software is actually pretty good. Setting up your sensitivity and lighting preferences is a snap. Players can even set up macros and even enable statistic and heatmap tracking for their mouse use, though I don't use those features. Some PC gamers really hate Synapse, but I enjoy using it.
That Chroma lighting
After its exceptional performance and wireless capability, my third favorite aspect of the Mamba is its Chroma lighting support. Chroma is Razer's name for its 16.8 million color spectrum lighting technology.
The Mamba itself has three basic lighting areas: the sides of the mouse wheel, and two long strips along the left and right edges of the mouse. The lighting for those two strips can be configured in seven increments. You can even independently adjust the Mamba's wired and wireless lighting modes.
Additionally, the Mamba's Charging Dock has a Chroma strip along all four sides of its base. The Dock follows the lighting preset assigned to the mouse by default, but it can also be configured individually.
Besides turning the Mamba's lighting off, users can select from six lighting presets:
Custom: Use the custom Chroma profile you create.
Breathing: All of the mouse lights pulse up and down in intensity. You can't have one light pulse a different color than the others, but you can set the lights to alternate between two different colors.
Reactive: When enabled, any keypress or mouse click from the Mamba or compatible device will cause the lights of all Chroma devices to flare up. The Reactive effect can make your mouse flash when shoot, etc.
Spectrum Cycling: The mouse cycles between various colors.
Static: The mouse remains lit up with a single color of the user's choosing.
Wave: A series of colors flow down across the mouse lights.
The Mamba and Mamba TE
Choosing the right Mamba
When I reviewed the Razer Mamba Tournament Edition a while back, it quickly became my favorite mouse. But the Mamba Chroma is even better thanks to its wireless functionality. With no wire attached, it truly achieves the ultimate in comfort. And you still get the wired option, which rocks.
The Mamba has only one big negative: its price. It retails for $150, making it one of the most expensive mice on the market. Razer is a premium brand, after all. But they do justify the price here with the wireless functionality, the nice Charging Dock, Adjustable Click Force, and the metal storage case.
Whether the $60-70 price difference between the Mamba Chroma and Mamba Tournament Edition is justified or not is up to you. I love the wireless mode, myself. But if you don't need wireless functionality, I say just roll with the Tournament Edition. It costs quite a bit less and feels just as great to use. You can't lose with either of these mice.
Featured mouse surface: Razer Firefly Light-up Mouse Mat.
Windows Central Newsletter
Get the best of Windows Central in in your inbox, every day!
Paul Acevedo is the Games Editor at Windows Central. A lifelong gamer, he has written about videogames for over 15 years and reviewed over 350 games for our site. Follow him on Twitter @PaulRAcevedo. Don't hate. Appreciate!
Looks great! Posted via the Windows Central App for Android

I love the several options to choose colors!

That is a fantastic mouse but man, the price is just way to much for me.

She is a beauty. It is not what I would use today but one day I may. We have a dry climate in Alberta. In the past wired mice and keyboards gave me shocks in winter. So I try to avoid everything wired. Wireless it's the way to be.

I've had two issues since I purchased mine 3 weeks ago. I continuously get a low battery indicator even with it fully charged (I'm suspecting a defect). My other issue, is that only the provided cable can fit and charge the mouse... This second issue is small, but if the cable ever fails, I'll have to go to Razer directly for replacement instead of using a generic USB cable. Posted via the Windows Central App for Android

Yep, mentioned the cable in the review - one of the few downsides to an awesome mouse. You should hurry and contact support about the battery indicator issue.

Definitely for those SERIOUS PC gamers that gotta have all the cool lights, bells and whistles...lol, and of course the money to burn since it goes up so easily! =p

Yea....that happens when they live outta their parents basement. lol

Even looks good when charging

I think I am fine gaming on a Logitech or a Microsoft mouse.

I've been thinking of getting a mouse that I can use for both me left and right hands, and although this one doesn't seem ideal, I am glad you mentioned the Diamondback. I currently have a Razor mouse and I rather enjoy it, and I have no major reason to go to another brand. Although now that I look at the Amazon views for the Diamondback I'm a little skeptical. I'll have to do some more research I guess. :\

Yeah, I was a bit worried about the Amazon reviews on the Diamondback as well. As far as I can tell, they all have some kind of agenda or unreasonable expectations from the mouse. I would look at our Diamondback review and maybe a few other professional reviews and make your decision from there.

Do they come in extra rubber pad/strip (Below the mouse) ?

It does not. But I will say my 2009 Razer Orochi still has all 4 pads (but one is loose now) after ~6 years of use, so they seem pretty well attached.
Windows Central Newsletter
Thank you for signing up to Windows Central. You will receive a verification email shortly.
There was a problem. Please refresh the page and try again.