Razer Phone 2 review: A brilliant second act
Razer's sequel makes small, but very important improvements on the original formula which turns a good phone into a great phone.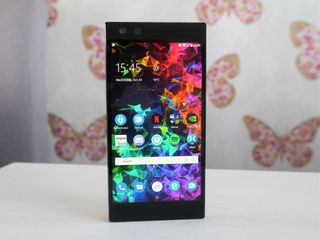 I was a big fan of last year's Razer Phone, despite its obvious flaws. Razer made a pretty swift entry into the smartphone arena, pulling together expertise from its various acquisitions to put out a high-end smartphone with some unique features.
Fast forward a year and much has been learned. Razer is a company that listens to its fans and takes feedback very seriously. No-one tried to hide from the problems the first phone had, instead, Razer's mobile team embraced it and went to work making things better.
The result is the Razer Phone 2. And it's pretty easy to say this is what we wanted the first phone to be. It's a mild upgrade, but makes a number of important improvements which add up to being a very good smartphone.
(opens in new tab)
$800 (opens in new tab)Bottom line: Razer simply made its first phone better, and now it has a great phone.
For
Impressive display.
Great battery life.
Water resistant.
Amazing front speakers.
Wireless charging.
Against
Large speaker grills a magnet for fluff.
Glass back = fingerprint magnet.
No word yet on Android 9.0 Pie.
Camera is better, but nothing special.
Reviewing the original Razer Phone
The Razer Phone 2 is very much a continuation of the first Razer Phone. It takes the same design and principles and simply builds on them to make it better.
Since several comparisons are made throughout this review, be sure to check back on our review of last year's phone if you need a little added context.
Video hands-on courtesy of our pals over at Android Central.
Razer Phone tech specs
Swipe to scroll horizontally
Category
Specification
Operating System
Android 8.1 Oreo
Display
5.72-inches Sharp IGZO
2560 x 1440 resolution
120Hz refresh rate with UltraMotion sync
Wide Color Gamut (WCG)
Corning Gorilla Glass 5
Processor
Qualcomm Snapdragon 845
RAM
8GB LPDDR4X
Storage
64GB internal
microSD card (class 10), 2TB max
Ports
USB Type-C
Headphone adapter included
Audio
24-bit THX certified DAC (headphone adapter only)
Dual front facing speakers with individual amplifiers
Dolby Atmos
Dual rear camera
12MP AF f/1.75 Wide
12MP AF f/2.6 Zoom
Dual PDAF
Dual tone, dual LED flash
Front camera
8MP f/2.0
Battery
4,000 mAh
Qualcomm Quickcharge 4.0+
Wireless Charging
Yes
Wireless
802.11 a/b/g/n/ac
Bluetooth 4.2
NFC
Biometric
Fingerprint scanner (side power button)
Bootloader unlockable
Yes, directly through phone
Price
$799 / €849.99 / £779.99
Razer Phone 2 hardware and design
Looking from the front, you'd be hard pushed to distinguish the Razer Phone 2 from its predecessor. Once more Razer stuck to its own thing, and that means no notches, no extended displays, and a display flanked with giant speakers.
Mostly things are the same. You're still looking at a 5.72-inch 1440p IGZO display with its 120Hz refresh rate and touch polling and Razer's UltraMotion sync technology. What has changed for the sequel is that the display is now 50 percent brighter, which means you can go outside with it in daylight and be able to see things on your phone.
It's still very reflective, but at least with the screen brightness having been cranked up a few notches, you can see more than just your own face. Colors are vibrant, and all told, it's a stunning display. It looks great and it's smoother than anything you've ever seen on a phone.
The display is also HDR once again, and it's certified for use with Netflix and its HDR content. It looks as good as you'd hope, and the added brightness certainly gives it a boost. The Razer Phone 2 and its predecessor remain the only smartphones on the market to offer a refresh rate as high this, with not even the ASUS ROG Phone matching it. By default, the display will be set to 90Hz, but Razer has worked a little magic under the hood to get the same battery life with 120Hz as you used to get having it set to 90Hz.
There's a more subtle improvement around the display area of the Razer Phone 2 as well. The first phone had a slight lip between the speaker grilles and the display glass and it drove me insane. The attention to detail on its successor is such that there is no more lip. It's a seamless transition so swipes are no longer interrupted by a physical barrier.
The Razer Phone 2 is a slab, in the best possible way. As everyone else chases decreasing screen to body ratios, Razer is providing an antidote. It's a phone for gamers after all, and gamers need something to hold onto while they're laying down shots in PUBG Mobile or Fortnite (other games are also available). But beyond that, you can't have massive front firing speakers without somewhere to put them.
And so the dust and fluff magnets have returned for another outing. Two large speaker grilles at opposing ends of the phone, only somehow, Razer found a way to make the phone IP67 water resistant while keeping the speakers.
I also previously described the Razer Phone as being the one that could be "too loud," and guess what? Razer made the Razer Phone 2 even louder. For gaming, it's perfect, and with the Dolby Atmos turned on the sound quality is very good. With it off everything sounds flat and a little tinny, the sort of sound you'd expect from a smartphone. With it enabled the sound is rich and quite well balanced.
Flip the Razer Phone 2 over and you'll find the only major design changes. The fingerprint sensor resides on the side of phone in the power button, but the back is now glass and the camera has been centered. With a glass back comes wireless charging, another feature folks were asking for. Razer even made its own wireless charger, and of course, it has Chroma.
Which brings me to the party piece. The Razer Phone 2 is a little like a mullet: Business in the front, party in the back. Does the Razer logo light up this year? You bet your sweet derriere it does. You won't be able to sync it with your other Chroma accessories, but Razer brought its trademark lighting system to its new phone with a dedicated mobile app to control it.
It's not just for show, though. If you place your phone face down a lot, the logo can light up to show you have notifications. Battery life will take a hit, but you can turn it off entirely if you want, and you have control over the color and the effect you want it to display.
It feels like a proper Razer product now.
Other little nuggets worth highlighting:
The vibration motor feels like it's certainly improved on the first Razer Phone but it's still not a patch on some of the market leaders, like Apple.
Once again there's no headphone jack and the included USB-C to 3.5mm dongle houses a 24-bit THX DAC. Music sounds incredible with a good set of headphones, but if you'd prefer, Razer has updated its USB-C Hammerhead earbuds to include ANC.
If you're not a fan of the fingerprinty nature of glass phones, Razer will also be selling a Satin finish version which has a matte rear.
Razer Phone 2 software and gaming performance
The tale of the software on the Razer Phone 2 is basically the same as it was 12 months ago. It's near stock Android, with Razer continuing a partnership with Nova Launcher Prime to be pre-loaded. There's no bloat, with only Razer's own applications and those which come with Android being pre-loaded, and the experience is top notch. You'd find more preloaded guff on a Razer Blade laptop with Windows 10.
What's also going to irritate some phone buyers is the same thing that irritated them with the first Razer Phone: It launches on a previous version of Android. The reasons for this remain the same. While the software is essentially a near-stock experience, there's a lot going on underneath, not least the UltraMotion technology.
These things (sadly) can't code themselves, so it's Android 8.1 Oreo for now. Razer hasn't yet committed to a timeframe for an update, but on past experience, we'd be hopeful of something in Q1 2019.
Razer's custom apps are all useful. The theme store returns with a host of exclusive Razer themes, including the infamous toaster, as well as a host of game-related ones. Razer Cortex has been redone for mobile and integrates with the returning Game Booster. Game Booster allows you some pretty tight control over how you want the performance of your phone to be when gaming on a per title basis, though not all options can be changed in every game.
Cortex is also a great way to find games that are optimized for the Razer Phone and support the 120Hz display fully. It's worth playing around with both to get the best experience.
Performance is very important on a piece of Razer hardware. The Razer Phone 2 is billed as a gaming flagship, that is, it's for gaming but it's also for folks who just want a kick-ass high-end smartphone. It's packed with power, with the Qualcomm Snapdragon 845 processor and 8GB of RAM. 64GB of storage is plenty for most, but a micro SD card slot is present to expand it as much as you need.
The performance is easy to sum up: The Razer Phone 2 is an absolute beast. There's not a single game on the Play Store I've tried that has offered anything but an incredible experience.
It does get a little warm after a prolonged session gaming, especially if you've set everything to maximum performance, but nothing worse than either its predecessor or other high-end phones. Naturally, the everyday performance is equally impressive. Gamers crave performance and the Razer Phone delivers.
Mobile gaming is a continually growing space, with a number of console franchises coming to Android, and games like VainGlory which have healthy competitive scenes that play best on Razer Phone 2.
Razer Phone 2 battery life and camera
The battery in the Razer Phone 2 is no bigger than the last one at 4,000mAh, but with some tweaking, Razer has managed to match the battery life of the old phone's 90Hz mode on the new one at 120Hz. The Chroma logo on the back will decrease your use depending on how often you want to see it glow.
The simple truth is this is easily an all-day phone and usually beyond that. If you game a lot, it'll reduce, but even then I only managed to burn about 40% having played between 3-4 hours of Need for Speed: No Limits. There's really nothing to cause any concern with the battery life on the Razer Phone 2.
What was a concern coming in was how good the improved camera would be. Resolution and aperture are the same as last year, but it's all-new hardware and Razer has taken the software portion a lot more seriously. For starters, the stock camera app now has the sort of features you'd expect to find.
That means portrait mode, panorama, even beauty mode, all are found in the new Razer Camera app on this phone. It seems mad to praise such a thing, but the first attempt was so barren it could barely be called a camera app. We still have nothing in the way of manual controls, but at least all the point and shoot modes are there.
But, how does it perform? Well, I'm happy to say it's better than the Razer Phone by a fairly wide margin. It's still not going to challenge the Samsung's, the iPhones and the Pixels of this world, but it's not horribly disappointing. That said, it's not much beyond adequate for a phone at this price point, and there's still plenty more I think Razer can squeeze from the fairly capable hardware.
Focusing is fast, there's no issues with shutter lag and switching between 1x and 2x zoom is smooth and speedy. The digital seamless zoom is also a big improvement on previous attempts, and while it could still be smoother, it's at least not slow enough to read a book while waiting for it to complete any more.
Image 1 of 10
Images are generally pretty good, and I'm especially pleased with the portrait mode. While it can sometimes completely fail to function, this is probably just a bug that can be fixed. When it works, edge detection, particularly on the single front-facing camera is actually very good. I've seen much worse from more experienced phone makers.
Rear images are fairly detailed and quite punchy looking but have a tendency to get blown out too easily and the processing adds too much sharpening. The panorama mode is very similar to Apple's in that you hold the phone vertically and just move slowly round keeping the arrow central, and results are pretty good with no obvious signs of stitching.
Since I received my review unit there have been two camera updates, so honestly, I'm still getting a true feel for it. It's only been in what I'd call its retail ready state for a couple of days (panorama was the last to arrive), and I'm confident Razer will keep working on it. But at least this year the foundation is much better. If the camera is your number one priority on a phone, you're still going to want to look at something like the Pixel 3.
The bottom line: Should you buy the Razer Phone 2?
I've made no secret of my love for the original Razer Phone. In a sea of "me-too" devices, Razer made a phone which not only stands out but genuinely appeals to me as a gamer. It's a great high-end phone that's also good for gaming on. Gaming isn't its sole purpose for existing, and I appreciate that.
The Razer Phone 2 isn't much different to the first one, but that's not a bad thing at all. Razer isn't following any trends, isn't pretending it's going to compete with Samsung and Apple. It's making a phone for people who like both nice phones and gaming. If you already own the first one, it's not necessarily an essential upgrade, but it's one you'll enjoy. If you held back, then you should certainly grab this one.
My appreciation for the Razer Phone 2 isn't just that it's a great phone for gamers like myself. It's that Razer listened to its fans, took on board feedback from the first phone and set about making all those things better. On that front, it's a roaring success.
The Razer Phone 2 is outstanding.
Superb phone
(opens in new tab)
The Razer Phone we always wanted.

Razer didn't just add Chroma, it improved every area of criticism from the first phone and now it has a genuinely great mobile device.
Windows Central Newsletter
Get the best of Windows Central in in your inbox, every day!
Managing Editor - Tech, Reviews
Richard Devine is a Managing Editor at Windows Central with over a decade of experience. A former Project Manager and long-term tech addict, he joined Mobile Nations in 2011 and has been found on Android Central and iMore as well as Windows Central. Currently, you'll find him steering the site's coverage of all manner of PC hardware and reviews. Find him on Mastodon at mstdn.social/@richdevine
I love the idea of this phone, I just feel like they need an XL version with a ~6.3 inch screen. I also need a better camera, I know it's not "bad" per say, and it has gotten better but an iPhone X it is not.

I just wish they would make the camera flush (flat) with the back. My Sony phone camera is flush and it lets me play my PS4 games around the house, it's my gaming phone for now. I would do the Razer except for the wart of the camera, besides that it looks great.

Can it play games like Fallout 4, Fallout '76, or Call of Duty Black Ops 4? Then it's not a "gaming" phone. It's not any more capable than any Android flagship.

Yea, I see your argument, I think the screen refresh rate is the big selling point. But you can't deny that this phone sports almost the same internals as other flagship Androids, I'm also curious "why" this phone is so good for gaming compared to other devices in the price range.

It's the screen refresh, the audio/speakers, form factor, vapor chamber cooling (supposed less throttling) Razor made gaming accessories ...... If I had to guess.....

Asus goes further than Razor with their ROG phone and accessories.
Windows Central Newsletter
Thank you for signing up to Windows Central. You will receive a verification email shortly.
There was a problem. Please refresh the page and try again.