Razer Phone hands-on: A phone for gamers, but not a gaming phone [MrMobile]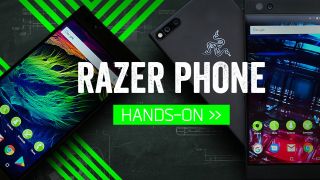 The idea of a smartphone built just for gamers is not a new one (recall my throwback video featuring the Nokia NGage from 2003). For PC-gaming goliath Razer, updating that idea for 2017 means blending bold design – like a special 120Hz screen and loud speakers – with uncharacteristic restraint (there's no manufacturer software skin aside from Nova Launcher) and a spec sheet that more than makes up for the lack of Chroma LEDs. Looks aside, a "Nextbit Robin 2" this is not.
But to hear Razer tell it, this isn't a phone for hardcore gaming. The company isn't launching a special catalog of titles or even the long-rumored PC-to-phone streaming service. Rather than being a gaming phone, this a "phone for gamers" … and that distinction is an important one to keep in mind if you're considering pre-ordering one of these.
Confused? Not for long. Join me for the MrMobile first look at the Razer Phone; check out Android Central and Windows Central's take on the same; and be sure you're subscribed to theMrMobile on YouTube so you don't miss the full Razer Phone review when it drops!
Stay social, my friends
Windows Central Newsletter
Get the best of Windows Central in your inbox, every day!
Impresive specs but still just another android phone.

Looking forward to the review.