Razer will release its N95 medical-grade facemask with Chroma RGB
Razer's Project Hazel combines medical-grade protection with tech built for communication.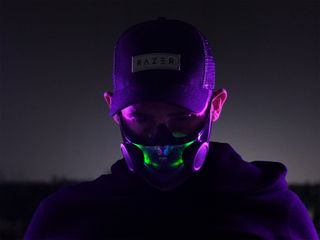 (Image credit: Razer)
What you need to know
Razer will make a hi-tech facemask with a clear cover and voice amplification.
It was initially announced as a concept called Project Hazel but will go into production.
The facemask will also include RGB lighting to match many of Razer's other products.
Razer announced a concept facemask called Project Hazel in January. The facemask features a transparent design so that people can see your facial expressions, as well as several hi-tech components. While Project Hazel was initially just a concept, Razer CEO Min-Liang Tan told Yahoo Finance that the company is working to make it into a reality.
On the protection side of things, Project Hazel features N95 medical-grade respirators with "detachable and rechargeable active ventilators and Smart Pods." The Smart Pods have high bacterial filtration efficiency (BFE) to remove 95 percent of airborne particles with a "high fluid resistance."
But Razer isn't just making a safe and comfortable facemask; it also has tech built-in. Communication through the mask should be much easier than normal cloth masks because it has VoiceAmp tech. This "uses a built-in microphone and amplifier to enhance the user's speech." It also has a clear design so people can see your lips and facial expressions.
Image 1 of 4
The mask also has interior lights that make it easier for people to see you in different lighting conditions. It also has "two customizable Razer Chroma RGB lighting zones offering 16.8 million colors and a suite of dynamic lighting effects."
Razer discussed Project Hazel back in January in a video:
Tan told Yahoo Finance:
While many countries and regions are doing well in terms of vaccination efforts, there are still risks that these masks can help protect people from. Tan explained the several factors involved:
Our executive editor Daniel Rubino covered the ins and outs of Project Hazel when it was first announced.