Rdio Updated for Windows Phone 8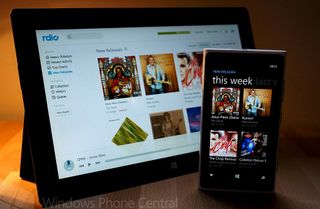 The popular cross-platform streaming service Rdio has just released an update to their app to make it Windows Phone 8 friendly. Microsoft has done an excellent job with their home grown Xbox Music service but at present it is still not cross platform and that can be a sticking point for many users.
Rdio will allow streaming playback through the web, a range of mobile devices and also though music appliances like Sonos. Read on to check out some of the changes.
Just like Xbox Music you can sign up for a free trial to see if you like the service before subscribing, in the case of Rdio you can get seven days to check it out. Unlike another popular music streaming service we could mention, Rdio has been active in developing its own app and supporting it. As mentioned above, the latest version brings Windows Phone 8 compatibility and here is the list of changes from the release notes from the store.
New in version 3.14:
Windows Phone 8 compatibility
Improved online streaming/playback
Browse Recommendations
Metro Interface Enhancements
In the absence of anything tangible from the notes we checked out their dev blog but found no mention of Windows Phone 8 or the update that has been released to the Windows Phone Store. Not only that but they are still showing off the Windows Phone 7 version on their front page, crazy times indeed. We have contacted them for some more clarification on what's changed but in the meantime we dug in and did some investigating of our own.
Lock Screen Artwork - Now Playing - Double Wide Tile
The latest version when first launched will ask you if it can set your lock screen. It doesn't say what that means but essentially you'll get the Rdio logo when nothing is happening but will change it to some album artwork when you are listening to music. Also you'll now get the double wide tile feature that Windows Phone 8 supports. In this case you'll get the name of the artist and what is playing updated on the tile.
In use everything seems pretty much as we'd expect, you can pin albums to your start screen and streaming seemed pretty solid in testing. I did notice that when streaming music it was not possible to access an album I had pinned to the start screen, it just didn't seem to like that. Going into the app through the normal icon did give me what I wanted.
So, some nice updates and Rdio seems to have moved decisively to squash some lingering bugs while improving the playback and streaming. We're glad to see Rdio continuing to push forward with updates for Windows Phone and if you're looking for a good cross platform option on your device this might be well worth checking out.
We'd like to know what you think of the latest version or if you've noticed anything else that's new in the update, sp be sure to let us know in the comments.
You can download from the Windows Phone Store here or scan the QR code below.
Get the Windows Central Newsletter
All the latest news, reviews, and guides for Windows and Xbox diehards.
I cannot download it on wp8 :(

Little more information and we might be able to help…

It downloaded fine on WP8 here..L920. Was a fresh install for me.

Trying it out now. There are so many streaming services now. I have been using the Nokia Music and it's offline listening for free where I would have to pay to have this feature with this one. Just wondering what would make it bettter/worth going past the trial.



There are some serious differences between the two but it boils down to your needs. If paying for a cross platform, flexible and comprehensive service isn't what you need then you don't need Rdio in the same way you likely don't need Spotify or Xbox Music.

I really like Xbox Music service, it covers all my music needs, but then again I'm a full MS ecosystem user.

I thought rdio was great on my other devices ( win 8 PC, nexus 7 tablet ) but on my WPs ( 710 and 8X) the app lacks key features. For example you are able to sync you collection to you phone but there is no way to listen to your whole collection on shuffle. You can go in to a given song and play it but no play all option. I contacted therm and they confirmed the limitation and thanked me for the suggestion. Seems obvious to me. I believe if you use the web interface on another device you can setup a play list , add all your sounds and then sync that playlist to your phone to sorta do what I am looking for but then every time you find a new song you must add it to that playlist.

This app REALLY needs landscape mode. Can't use it easily when mounted in my car.

my Rdio free trial just ended last week prior to the wp8 update.

Rdio is a *very* credible option for those wanting "offline playback" for specific files/albums who also don't want to wait for spotify to 1. release a wp8 app and 2. create a html/web player. The only benefits i see for spotify is device-specific off-line sync (i.e. to let kids or SO share an account that is not used often).
Xbox music is such a mess words cannot explain. Embarrassingly bad management/sync even if it wasn't locked to one MS account, what a shame.

Might have to give this a try, if only to give the finger to Spotify for not updating their app or providing any timelines.

Very disappointed in Xbox music and am using rhapsody to get a better cross platform sync of playlists. Only thing missing on its wp8 app is offline listening like it has on android. First service to offer that is the one I will use. Does this rdio app allow offline saving for premium subscribers?

yes rdio allows offline save/listening (like spotify's wp7 app)

Just wondering, what are the main issues to be disappointed about regarding Xbox music. It seems to work well on my 920 and Xbox. Perhaps in not using if fully but it meets my needs pretty well.

no way to easily sync or download your music from the cloud to wp8 device for offline play (to save battery and data)
total library & sync mess (for those who legally own music and want it sync'd to phone)
turning on "cloud" creates empty playlists and screws up libray info (splitting songs from one album/CD into two album where cloud screwed up the tag info)
xbox music unlimited is $10 per device and not sharable between light-users. disgraceful.
Spotify and Rdio allow idiot-proof access to songs from the cloud and saved to your device at a lower cost than xbox music. Rdio also has free web html player for desktop use w/o installations.

not available in my country as yet!! :S
Nice!!

Anyone else have this issue? When I play a song from the album view, it plays the next song instead and not the song I selected.It does not happen for the first song but from the 3rd song of the album. Something like to play the 4th song in the list, I've to actually play the previous one(3rd). Otherwise it's a very good app.

I thought I was just having ft finger moments but that's the only bug I've noticed so far ... (Former Spotify user here who can't deal with the fact they don't respond to any queries about when/if a WP8 version will be available)

Thanks. Thought I was alone. Hopefully they fix it. I'm planning to move to Rdio from Xbox Music just to use it in my iPad. I don't know when Xbox Music is due in iOS.

I love Rdio. I have been a MOG, Spotify, Rhapsody, and Slacker subscriber at different points in time, but none of them match up to Rdio for me. Spotify is the closest, but I their library seems weaker in the areas I like. The app was seriously overdue for an update, so I am really happy they didn't ignore wp8 like the rest of them seem to be doing.

Former Spotify user here: I dropped them when I switched from Android to WP8, tried Xbox Music but found it lacking in several ways (Mac user, HORRIBLE playlist/library management for cloud music), so I was very happy to try Rdio to replace Spotify and Xbox Music.
So far so good with a few minor complaints- App seems a little buggy at times; will freeze/crash when trying to select a song from the play queue from time to time, the WP8 app is MUCH slower to load within the app (like when clicking a playlist) than Spotify on Android (despite WP8 being MUCH faster overall than Android), and most annoyingly- songs on playlists "synced to mobile" as a playlist do not appear in my collection unless I click. Each. One. and select "Sync to Mobile"
But overall its a much better experience for a mixed WP8/Mac user than Xbox Music, and certainly comparable to Spotify, though if both were available now for WP8 I'd probably stick with Spotify.

Am I the only one consistently having problems with this app? Even though it's updated for Windows Phone 8 I keep getting all the same bugs I've had since I switched to WP over a year ago. The main one since getting WP8 is once you select a song, it goes to the "now playing" screen but sits at 0:00, doesn't buffer or anything. I have to restart the app constantly and often it will only play 1 song before locking up again. I've tried uninstalling the app, factory resetting my phone, making sure I have either full LTE service or WiFi and nothing seems to work. I love the service but the app still needs improvement. You still can't even skip ahead to a part of a song, something EVERY music player has had since....ever? I was glad to see they added a lockscreen function, but disappointed it just fades back to the Rdio logo after you stop playing.