Rdio Updated for Windows Phone 8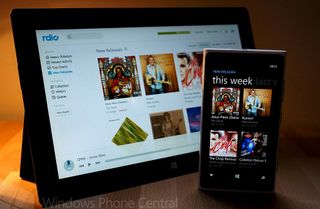 The popular cross-platform streaming service Rdio has just released an update to their app to make it Windows Phone 8 friendly. Microsoft has done an excellent job with their home grown Xbox Music service but at present it is still not cross platform and that can be a sticking point for many users.
Rdio will allow streaming playback through the web, a range of mobile devices and also though music appliances like Sonos. Read on to check out some of the changes.
Just like Xbox Music you can sign up for a free trial to see if you like the service before subscribing, in the case of Rdio you can get seven days to check it out. Unlike another popular music streaming service we could mention, Rdio has been active in developing its own app and supporting it. As mentioned above, the latest version brings Windows Phone 8 compatibility and here is the list of changes from the release notes from the store.
New in version 3.14:
Windows Phone 8 compatibility
Improved online streaming/playback
Browse Recommendations
Metro Interface Enhancements
In the absence of anything tangible from the notes we checked out their dev blog but found no mention of Windows Phone 8 or the update that has been released to the Windows Phone Store. Not only that but they are still showing off the Windows Phone 7 version on their front page, crazy times indeed. We have contacted them for some more clarification on what's changed but in the meantime we dug in and did some investigating of our own.
Lock Screen Artwork - Now Playing - Double Wide Tile
The latest version when first launched will ask you if it can set your lock screen. It doesn't say what that means but essentially you'll get the Rdio logo when nothing is happening but will change it to some album artwork when you are listening to music. Also you'll now get the double wide tile feature that Windows Phone 8 supports. In this case you'll get the name of the artist and what is playing updated on the tile.
In use everything seems pretty much as we'd expect, you can pin albums to your start screen and streaming seemed pretty solid in testing. I did notice that when streaming music it was not possible to access an album I had pinned to the start screen, it just didn't seem to like that. Going into the app through the normal icon did give me what I wanted.
So, some nice updates and Rdio seems to have moved decisively to squash some lingering bugs while improving the playback and streaming. We're glad to see Rdio continuing to push forward with updates for Windows Phone and if you're looking for a good cross platform option on your device this might be well worth checking out.
We'd like to know what you think of the latest version or if you've noticed anything else that's new in the update, sp be sure to let us know in the comments.
You can download from the Windows Phone Store here or scan the QR code below.
Get the Windows Central Newsletter
All the latest news, reviews, and guides for Windows and Xbox diehards.