Real Steel World Robot Boxing, knocking out the competition one robot at a time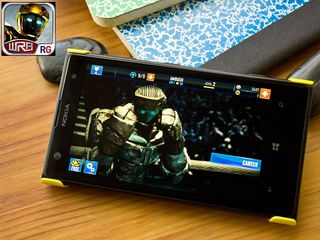 Real Steel World Robot Boxing is an entertaining Windows Phone 8 game modeled in the spirit of the movie 'Real Steel'. Think of it as a game of Rock'em Sock'em Robots but with more intensity.
Real Steel World Robot Boxing has 24 robots to fight or buy and 4 gaming modes to test your mechanical pugilistic skills with. The game has been out for a little while now and while there is room for improvement; Real Steel World Robot Boxing comes across as a fun game for our Windows Phone 8 gaming library.
Game Layout
When you launch Real Steel World Robot Boxing, you are greeted by a full-page ad banner. One would think in tapping on the 'X' at the bottom of the advertisement would send you to a main menu but it doesn't. Instead, you find yourself in the middle of a series of tutorial matches that walks you through the gaming controls. The full page ad will greet you on every launch (unless you make an in-app purchase) but the tutorial is a one time deal. After you complete the tutorial, you'll be greeted by the game's main menu.
While I cannot say there's anything wrong with this set-up, it does give the game an odd feel.
When you do find your way to Real Steel World Robot Boxing's main menu, the options are rather minimal. You can jump into the career game, access the game's settings and get free coins by liking the game over on YouTube. Settings sound levels and control orientations.
Here's a quick note about navigating around Real Steel World Robot Boxing. Do not use your Windows Phone Back button. Use the on-screen directional arrows and "x" marks to navigate backwards/forwards or close pop-up windows. If you use the Windows Phone Back button, you will exit the game.
Across the top of the screen, throughout the game, you have a statistical bar that reflects you energy refills, current robot in use, the level of the robot and your cash counts. You also have a link to view your gaming achievements in the left corner of this information bar.
If you need a jump on buying robots, coins, or energy cores all you need to do is tap the "+" in the right corner of the information bar to access the in-app purchase options. They range in price from $.99 for an energy core to $109.99 for a collection of twenty robots.
When you are ready to resume your robot-fighting career, you will be sent to a secondary menu that has your gaming options. They include:
Fight Modes: Championship Bracket, Free Sparing, Time Attack, and Daily Exhibition. More on this in a second.
Robot Dealer: Here is where you can use your fight earnings to buy new and stronger robots.
Owned Robots: An overview of your robot collection.
Upgrade: Spend your fight earnings to improve your robot's abilities. You can upgrade the robot's motherboard, power core, chassis, mainframe, and hydraulics. A full upgrade is possible or you can purchase the upgrades one item at a time. Each upgrade increase the robot's armor, power and special abilities.
Paint Shop: Don't care for the bare metal look? The paint shop has a series of color patterns and styles to let you customize your robot. The paint jobs are not free and are just another way to spend those earnings.
Mystery Draw: A card game where you can bet your earnings to earn rewards that include additional robots and coins.
Your four fight modes breaks down as follows.
The Championship Bracket sends you up against twenty-four opponents to see who the best robot in town is. Time Attack is a match against a randomly selected opponent and you have to dispatch them as quickly as possible. Free Sparing lets you choose the level of your opponent and the Daily Exhibition is a match for bonus cash.
Game Play
While there are plenty of options with the pre-fight screens, the actual boxing match is rather simply laid out. Game play for Real Steel World Robot Boxing has you controlling your robot with a series of on-screen controls. Movement controls are in the lower left corner of the screen while your offensive and defensive controls rest in the lower right corner of the screen.
Across the top of the screen, you will find your robot and their opponent's vital signs and power levels. The goal of each match is to beat your opponent into tiny chunks of metal.
You purchase upgrades to keep pace with the level of competition you face and essentially dodge, weave and punch your way to victory.
Reel Steel World Robot Boxing paces your game play by requiring one energy unit from your robot's core to box. If you run dry of energy units you can buy additional units through the in-app store or wait five minutes and your robot will energize automatically.
Overall Impression
I have to say I enjoyed Real Steel World Robot Boxing's game play. The controls were simple and you could either go toe-to-toe with your opponent or take more of a boxing approach to victory. Graphics were a little on the dark side but well drawn up nonetheless. The robot competition does keep you on your toes, giving the game a nice level of challenge.
What I didn't like is the user interface, the lack of a help section and the lengthy load times.
I found myself exiting the game more times than not when I expected the Windows Phone Back button to send me to the previous screen. While the tutorial does a nice job of walking you through game play, the game really needs a help section that can be used as a reference.
The load times for Real Steel were at times long enough to make you wonder if the game had crashed. The game goes to a black screen when launched (no splash screen) which really makes you wonder if things are working properly. I would also like to see those full page ads converted to smaller ad-banners that appear on the game's menus. I understand the ads keep the game free but the full page ads just come across as annoying.
While there is room for improvement with Real Steel World Robot Boxing, overall the game is worth a shot. I do not know if the game could stand up to marathon gaming sessions but Real Steel World Robot Boxing does a good job of helping you pass shorter spurts of time.
Real Steel World Robot Boxing is a free, ad-supported game with plenty of in-app purchase opportunities. The game is available for Windows Phone 8, which does include low-memory devices.
You can find your copy of Real Steel World Robot Boxing here in the Windows Phone Store.
Get the Windows Central Newsletter
All the latest news, reviews, and guides for Windows and Xbox diehards.
George is the Reviews Editor at Windows Central, concentrating on Windows 10 PC and Mobile apps. He's been a supporter of the platform since the days of Windows CE and uses his current Windows 10 Mobile phone daily to keep up with life and enjoy a game during down time.
Developer needs to make use of the back button. Using it is a reflex action for most of us so I would definitely exit the game too much. Plus the load times seem too long.. Thanks for the review though, exactly covered what we need to know!

Let dev prev. 8.1 Come up nd m sure gonna install it on my SD card ..!!!

Me to having 720 what a coincidence

+720 works good but that stupid coins are too expensive

The trailer had Apple, Amazon and Google Play logos, but no WP logo. Sigh...

It's annoying when Developers have a Windows Phone version, but don't proclaim it, they only have Apple and Google Play logos.

That's disgusting, it looks that the devs don't want to show that they made an for Windows phone. I think that screwgle and apple pay the devs to don't make a Windows phone version for their app.

Probably because this game has been out awhile.... So it is the same trailer from when it was originally released with ios and android. I don't blame them for not having the windows phone logo.

Yeah, I'm sure that's the reason. Of course the game comes to WP long after the others, but how much work would it be to at least edit the YouTube description and add the LINK to the Windows Phone Store? They couldn't even bother to do that. It's really annoying. It's not like this is an ancient game, it came out 6 months ago. I'm sure someone there could add a link, or a logo to the video. They just don't care.

I thought the game didnt work, maybe will try again. But im also starting to wonder If the L1020 is not for gaming. Games do work, but not rather optimal it feels. Who knows.

can these games be installed in sd card once wp8.1 comes out or would they require an update supporting SD.

Windows Phone 8.1 brings native support for app installation on SD Cards (class 6 or above). No app updates required.

Its fully buggy and reliance as I know will not update that game again. Fuck that game

Good, good let the hate flow through you.

It's not from reliance. It's from zapak

It's sad this is the only proper boxing game on windowsphone.

Works great on my L920. Been playing with it for a few days. :)

How different is it from the earlier version of real steel boxing?? Glad to see 512mb ram support..

Lol i just downloaded this game before checking out this to come on wpcentral..bad game not worth a download

Yep, popup ads is "VERY" annoying.

And need to update to multiplayer over wifi/bluetooth ability.

Are the graphics like the android counterpart..??

Hey i have an alternate solution to this ..guys try out my game Brotherhood of violence..paid but comes with a trial..hope you like it

B.o.V is a stunning looking game. Had it previously on my 920 but a few bugs prevented me from committing the coin. Seems these have been fixed according to reviews. Question though, how come you didn't recommend IFB seeing as that's a boxing game just like Real Steal?.

Thank you dread venom, we will work on the issues faced and make it a better game.Thanks and hope you will like the future updates

The game is shit -.- it kept crashing anf bringing me back to the first fight

Which? Real steel or BOV??

Real Steal is a solid fighter though a little buggy and the in game ads still persist(for me anyway) even after i used the iap feature. There are a variety of mechs and signature moves but the combat doesn't have much depth. B.o.V also has bugs but the overall gameplay has more depth and stronger story. So even though Real Steel is free, B.o.V shades it for me.

Smooth on my 920! Liked it. Only downsite is the advertisement how it takes ove the entire screen and you have to close it befoer you can proceed to the game. Overall, not a bad game at all

When developers make games available for low ram devices is definitely a win-win, they get more downloads and people can support them more, I wish all devs (craploft) were like that Pd: message sponsored by captain obvious

Stay away, this game is terrible.

What is the installation size of this game?

Game loads up, pop up an ad, after promptly closing the ad, an intro shows up, I click ok, one robot vs another robot shows up, loads to 100%, then BLANK SCREEN... when I hit the back button, another ad shows up, when I close that ad, game closes... thats it?! Am running this from a Lumia 1020 with games like Morden Combat 4, NOVA3, Mass Effect Infiltrator... running smoothly, on Windows Phone 8.1's latest developer preview ... where the f*ck are the programmers? cant anybody see the Ratings loudly saying "this sh*t isnt working!" : I guess my boss is gonna kill me for the 250MB of his WiFi data wasted only to uninstall afterwards

this game is little bit crash it in my Lumia 520

Hello I am writing in regards to the Real Steel robot boxing WRB. I used to play this game a lot and I've gotten to pretty high levels and had owned many robots an well I had stopped playing because of lack of Wi-Fi and having a get a new phone and I recently read downloaded the game and I don't see where there is a place to reinstate my old profile and wondering if that's possible so if anybody can take the time to answer this question it would be greatly appreciated I would love to have my profile back with all my upgrades and how far I've gotten instead of having to start from scratch. Thank you very much have a great have a great day.