Reclaim lost storage with Shrink Storage for Windows Phone 8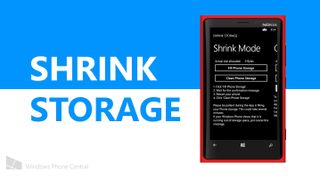 Windows Phone 8 believe it or not isn't quite perfect. Its close, but things like the other storage issue put a cloud or two over a relatively sunny platform. When high-end devices like the Lumia 925 ship with only 16GB of storage for all your apps, games, and music you expect to utilize it all. The other storage issue has impacted many of you. We've heard of future fix coming from Microsoft, but that was last in March we heard. Nokia took matters into their own hand and released Storage Check to temporarily help Lumia owners and their storage woes. It works by clearing all the temporary files.
But for everyone else there is Shrink Storage, an app in the Store that helps to give you back some of your limited space. It recently had an update adding some useful new features. Let's check it out.
Quick recap. The Other Storage issue is something that has been an Achilles heel for Windows Phone 8. Go to your settings then to phone storage. This is where you can see how quickly how much storage you have on your phone and microSD card. Odds are you don't have a microSD card, so just click on phone to get some detail about what is using all the storage. You'll see music+videos, pictures, apps, other, system, and free space. In Windows Phone 8, the other storage grows until you're left with no more space. Kind of a pain when you're on a device with limited storage right?
Shrink Storage is available for all devices on Windows Phone 8 and comes from developer Manu Bauer. Your mileage may vary from device to device, but overall a lot of you in our Forums seem to see success with freeing up storage on your device. Same goes for users in the Store, it currently has about 306 reviews averaging 4 stars out of 5. We tried it ourselves and only freed up 40MB in "other". Again, this will vary between all of you.
The app works to reduce storage using the following trick. It fills up your internal storage completely. After that you'll restart your phone and click on clean phone storage within the app. For quite a number of readers this will free up space on the phone. Again, it works for some and doesn't for others. When it works the amount it frees up varies.
A new feature in the app Shrink Storage is the "Control Mode". With this you're able to protect your device from unwanted storage growth in the "other" section. Using the app you can allocate an amount in your storage and block it from that growth. When you need to use that blocked/reserved space on your device for a new game you'll just go into Shrink Storage and free up the storage you need for whatever you're installing.
This isn't the most elegant solution for addressing the other storage issue, but it's one of the best available to many of you right now. Especially those of you on non-Lumia devices that haven't seen much support from your OEMs with this issue.
Shrink Storage is free for Windows Phone 8 users (it wouldn't do you any good on WP7.x so don't even complain about it). You can grab it here in the Store, use the QR code below, or swipe to the right in our app.
Thanks for the tip Shahid!
Get the Windows Central Newsletter
All the latest news, reviews, and guides for Windows and Xbox diehards.