ReCore's Windows 10 PC system requirements are revealed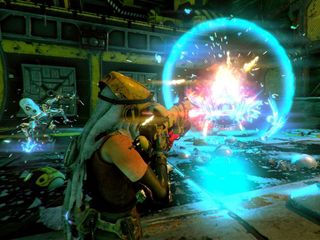 Microsoft has revealed the minimal and recommended system requirements for the upcoming Windows 10 PC version of its action-puzzle game ReCore.
The system requirements were posted on the game's Windows Store page today (opens in new tab):
Minimum:
OS: Windows 10
Architecture: x64, X64
DirectX: Version 11
Memory: 8 GB
Video Memory: 2 GB
Processor: Intel Core i5-4460, 2.70GHz or AMD FX-6300
Graphics: NVIDIA GeForce GTX 660 or AMD Radeon R7
Recommended
OS: Windows 10
Architecture: x64, X64
DirectX: Version 11
Memory: 16 GB
Video Memory: 4 GB
Processor: Intel Core i5 45690, 3.9 GHz or AMD Equivalent
Graphics: NVIDIA GeForce GTX 970 or AMD Radeon R9
ReCore, developed by Comcept and Armature Studio, will be released for both Windows 10 and the Xbox One on September 13 in the U.S., Sept 15 in Japan and Sept 16 in Europe. It will be the first official Xbox Play Anywhere game, which will allow Xbox One buyers to get the Windows 10 version for free, and vice versa.
Pre-order ReCore from the Windows Store (opens in new tab) ($39.99)
Windows Central Newsletter
Get the best of Windows Central in your inbox, every day!
I think this picture would have been better in this post https://twitter.com/ReCoreGame/status/773304785344696320

Wish they make more games like Recore or Forza or Killer Instinct etc. for mid-range Pc gamers (not mobile like asphalt or dungeon hunter etc.) with xbox integrated of course

16 is becoming the norm. I upgraded from 8 to 16 and was surprised how often games pushed my usage over 8.

Yes, I'm aware that RAM is cheap nowadays, I just built a Sorpio-VR box with 8GB DDR4,(HTC Vive) with 2 slots free. I didn't expect to see a recommended requirement of 16GB.....just wow....

Just looked up rec requirements of Quantum Break, 16GB also....guess I need to put a couple sticks on order..

Maybe not the best example, but Arkham Knight was pushing 12 GBs of RAM on W10.

As a comparison I would see about 7ish GB used on MGS 5

It's the reason I went to 32gb on my newer gaming machine...

16gb of ram is so cheap now, anyone should update there ram if there PC allows for it.

unfortunately my laptop only has 6gb of ram

Its a very easy and cheap upgrade. Its video though, probably not so easy...

Not really on laptops....

Wait wasn't Quantum Break the first Play Anywhere, buy console version and get PC version free? Because got that deal.

That was for preorders only of the digital XBox One version of Quantum Break. If you bought it after launch you only get version you paid for.

No, it wasn't. They just gave you 2 licenses - for Windows and Xbox One - and only as part of pre-order bonus. Play Anywhere is a single license on multiple device type that comes from adding Windows Store to Xbox One console. You get one license.

Recommended processor: i5-45690

I was wondering what that was..... New chip ? lol

I have an x64 architecture but not a X64 architecture. Hope it still works... In all seriousness, what's the difference between the 2 architectures that they've listed?

Pretty certain that was a typo and should have read x86, x64

It can't be x86. 32-bit maxes out at 4gb ram and the minimum for the game is 8gb.

Sweet, looks like it'll play nicely on my laptop.

Whelp! It certainly doesn't look like it NEEDS that much power to be able to run good. Or are we in for another round of "optimized" games? I mean Xbox is less powerful that ps4, but we still get the same recommended specs even though there are different games and graphics do not compare equally. If those recommended are not for solid 60 fps at least 1080p, then it'll really show "commitment" to pc gaming.

Flop like all other UWP junk.

Maybe one day they will tell you what resolution/frame rate you can expect with each requirements. I hope recommended one is for 1080p@60fps in high or ultra details. Otherwise, the optimization of the PC version is a joke.

I doubt UWP can come close, especially with anti-user stuff like forced vsync and whatnot.

Vsync can be turned off since May. Update yourself like your PC.

Meaningless since games werent updated for it (due to developer distaste and consumer dismissal of UWP) and not allowed excusive mode.

If you say so... I had no issue with Apex and not seen anybody give a **** about UWP one way or the other. It's like Origin or Uplay, if you end up without other options than using it to play the game you want, you will use it. Like it or not. I wouldn't pass on a Fifa just because I need to use Origin and most people would do the same. I hate Rockstar software but still have to use it to play GTA V.

These AAA games should have a demo for people to see if the game works in their PC. There used to be demos in the Store, so it makes sense. Also, on Steam at least you can refund it.

This makes me miss the system scores from Windows 7/8. They could just say you need a CPU score of 5 instead of an Intel Core i5-4460 and a Graphics score of 6 instead of an NVIDIA GeForce GTX 660.

Why don't they do that? Oh yes because the score was bs and based and lower specs part on your PC. Not reflecting the real performance abilities of it.

Yeah, overall score was based on the lowest component, but you could drill in to see what caused the lowest part of the score... pretty deep as I recall. For average user though, much easier to look at a score or two to see if your computer meets the criteria. It failed mostly because no one actually used the score on games and MS didn't really seem to update the score except with major OS releases. Now that MS is doing the play anywhere stuff, they could easily enforce having the scores on the store page. It would definitely be easier than going, ok, the minimum is a GTX 660, let's see how the non-GTX 660 falls in comparison to it. Not even like you can judge by the year it was released because the top of the line one year will most likely beat the mid range next year and the low range for several years in performance.

Although the game kind of looks interesting, I need to see a few solid reviews on this one before I would buy it....