Red Dead Redemption 2's 'Gold Bar' microtransactions are quite expensive
They should probably lower those prices.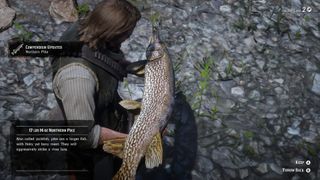 Recently, Rockstar Games announced Red Dead Online's availability to the general public. Red Dead Online is a connected online experience set against the backdrop of Red Dead Redemption 2's massive open world. According to the studio, this new version is an evolution of the classic multiplayer experience found in Red Dead Redemption.
Red Dead Online is currently in beta and due to this has a number of issues. Aside from the world feeling somewhat barren, the multiplayer mode suffers from a bizarre in-game economy where gold watches are worth less than a can of baked beans. It seems to be balanced to encourage gold microtransactions. While some fixes have been rolled out, a lot of work still needs to be done. The "Gold Bar" microtransctions are quite expensive as well.
25 Gold Bars: $4.99 introductory price and $9.99 regular
55 Gold Bars: $19.99
150 Gold Bars: $49.99
245 Gold Bars: $74.99
350 Gold Bars: $99.99
You'll have to spend a lot if you truly want to go all out. For example, equipping gold weapons and special horse looks is going to cost you. Hopefully Rockstar will reconsider these prices.
Red Dead Redemption 2 focuses on the events after a robbery goes wrong in the town of Blackwater. Arthur Morgan and the Van der Linde gang are forced to flee. With federal agents and the best bounty hunters in the nation massing on their heels, the gang must rob, steal, and fight their way across the rugged heartland of America in order to survive.
How do you like Red Dead Online? Let us know. Red Dead Redemption 2 launched on October 26, 2018 on Xbox One and PlayStation 4 systems.
Keep an eye on WindowsCentral.com/Gaming for all the latest in Xbox and Windows 10 gaming, accessories, news, and reviews!
Asher Madan handles gaming news for Windows Central. Before joining Windows Central in 2017, Asher worked for a number of different gaming outlets. He has a background in medical science and is passionate about all forms of entertainment, cooking, and antiquing.
I sure hope no one spends real money in a beta...at least wait for it to be officially stable

i purchased the deal they were doing this week. 4.99 for a 9.99 price is a goood deal.

Half off of something that shouldn't cost anything but game play is not a good deal. I bet you fall for jewelry store "sales" too.

Rockstar appear to be getting greedy.... first shark cards for GTA5, which people didn't see as an issue as you can easily make ingame currency in that game. But here, not a good sign at all...

I really hope this fails. Rockstar used to make lots of games. Last gen they made quite a few games. RDR2 is the first game that was made for this gen.
They just milked GTA 5 with microtransactions. That's the thing about games as a service.
Do we want less games that are made to make gamers pay more money after the initial purchase?
Or do we want more games that are made with the only aim as to make gamers get the best experience. The only priority is to make a quality game. Spending cash on this microtransactions only helps turn console/PC gaming into what's going on in mobile gaming.

I like the idea behind GaaS, but if games are going that way, there should never be a sequel to a game like that, they should only ever build on the game that already exists, ala WoW, Elite: Dangerous or Neverwinter.

Aww all I'm reading here is cry babies 😂 know what Rockstar did it right this time. It's only cosmetics that you can use gold for unless you are the proper rank. So all the Guns and ammunition you cant just think you are gunna by pass and not level up. Wrong. You have to play to get that level and then unlock that gun/ammo. Unless its cosmetics, like clothes and such. Then you can by pass it. And no buying ability cards with gold. Lol. That's awesome haha. So complain all you want. Great game. Did it right this time.

There is no right or wrong way of doing things. Here they are using free-2-play mechanism in a full price game and I'll always be against that.
If you want them to make a new game every 5 years and during that 5 years milk people with microtransactions then that's your opinion.
I would rather they focus on making a more games. Games that don't focuses on how to make gamers spend more money after the original purchase.
Windows Central Newsletter
Thank you for signing up to Windows Central. You will receive a verification email shortly.
There was a problem. Please refresh the page and try again.