This is the striking red leather and gold Mozo cover for the Lumia 950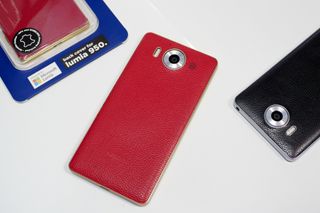 Mozo, who are exclusive partners with Microsoft and ex-Nokia, make some great replacement covers for the Lumia line. Late last November, we gave a hands-on tour of a few Mozo cases for the Lumia 950 and Lumia 950 XL, but we forgot one variant: the red leather with gold trim.
Today, we can finally give a quick tour of that cover. Truth be told, it is one of our favorites as Mark Guim, and myself are both sporting the classy cover on our Lumia 950s.
Unfortunately, the red leather version for the Lumia 950 XL is almost ready for pre-order, so we could not feature that one here today.
The Mozo covers retail for €48.50 or about $53 USD plus shipping. Mozo estimates a waiting time of about four weeks, and we can attest to that timeframe. Shipping, however, took just three days.
Even after months of usage, our previous Mozo's have held up very well with daily usage. Comparing them to the cheap knock-offs from China is night and day regarding quality with the Mozo being far better designed. Of course, you pay for it, but if you are planning on keeping the Lumia 950 or Lumia 950 XL for some time, we have no qualms about recommending them.
Order the Red and Gold Mozo case – Lumia 950
Pre-order the Red and Gold Mozo case – Lumia 950 XL
Do you have a Mozo or are you thinking about ordering one? Which color would you get and what do you make of the red and gold? Let us know in comments!
Windows Central Newsletter
Get the best of Windows Central in your inbox, every day!
Daniel Rubino is the Editor-in-chief of Windows Central, head reviewer, podcast co-host, and analyst. He has been covering Microsoft since 2007 when this site was called WMExperts (and later Windows Phone Central). His interests include Windows, laptops, next-gen computing, and for some reason, watches. Before all this tech stuff, he worked on a Ph.D. in linguistics, watched people sleep (for medical purposes!), and ran the projectors at movie theaters because it was fun.
Red and gold, no. Black and gold. Yes.

Dan, are teh Mozo cases real metal? or Faux chrome?

Faux chrome. It's listed as such on their product page.

Real metal would cause problem since the phone was not designed with metal in mind I think. Usually you need to do something different on the antemnas to make them work with metal....

I think that was the reason for the dual stripes at the top and bottom of the 930

Yah. That would be almost as bad as "holding it wrong"

Quality looks amazing in the photos - My 950 developed a creak on the bottom corners after removing the cover a few times. I wondered if adding a new Mozo cover helps with this (I was already planning to buy one at some point tbh). I also saw you (or another person from WC) say somewhere the creak issue can be resolved with a bit of paper - Haven't tried that yet.

Uh yeah black and gold. Ever saw a black and gold 930/830, wow. BUT the gold comes off after some time and then it looks ugly. Hope it's not the case with those,too. Posted via the Windows Central App for Android

My gold 930 is still in pristine condition, no fading of the gold at all, I say this because I'm thinking of selling it and getting a 950XL, if anybody is interested, let me know and I'll see what I can do

Yeah, but L930 is NOKIA ;)

Can you send me some pictures of your L930 on iskanev@live.com?

I like the red but not the gold. Would love a silver version.

Dude, red & yellow with a Ferrari logo on back... Perfection.

Ferrari logo on the phone and driving Toyota Corolla... Naaa ;)

Why?.... It's a racing team.. How many people do you see with there favorite team embossed on their case?
....
You can wear a Manning jersey all day long, but you're not going to be able to play like him.. Nevertheless, people represent what they like (or aspire to be). Lol

But Ferrari rims on dat Corolla! Yaaa ;)

First thing came to my mind... Is there black and gold for 950xl

Looks like a makeup compact. Not for me. I'll hold til they do a polycarb version.

Cheaper at Clove.co.uk Vat in the UK is 20% not the 21% .

Have to agree on the gold.

"recommended if you are going to be sticking with the 950 for another few months or a year"..... What does that mean? Is something happening that I haven't read about?

I don't think so - People just change phones at different rates. Some people buy a new phone every 6-9 months, others once a year. A lot of people who get their phone via their mobile contract wait the full 2 years. Don't know if they updated the article, but when I read it, it just says "for some time" and not "another few months or a year"

Absolutely....gorgeous cases, black with gold trim would be spot on!

my white and gold 830 looks better :P Posted via the Windows Central App for Android

Then use it! "posted via ... Android" ;-)

Well. I was ready to buy them when visiting the states, but they didn't even know about these cases in the Microsoft store on 5th ave. Sad how little does MS care about the promotion of these Lumia's.

Unfortunately Mozo are very slow when it comes to get the stock to suppliers, I cancelled my Fist order in Australia and ordered from EBay. love my brown case and it still look fantastic after one month but then again it should at that price point. Wish they would hurry up with the coloured ones.

LOL!! Try am AT&T store...they have all but written the Lumia line off

If it didn't have the gold, I'd be on it. I may still get one. My tan leather is doing well, but the metal looking edge is wearing, and has a crack in one point. Still love it.

Got a slight crack in mine too (right by the usb-c plug). Still love mine (brown leather) and would love to have more of them, but the cost is a little much.

Got my red and gold one in mid January, having ordered it from Mobile Fun in mid December, roughly 4 weeks. What a spectacular case! Oh, and the phone (950 XL) is awesome, I've had no problems with it. Currently rocking 10586.71

I'm happy with my brown and metal Mozo case, less bold, but still unique.

Love my brown and metal Mozo case too!

As soon as its available in the UK for the 950 XL I'm in... In red of course...

Now on order via Amazon uk... ;-)

Good luck. I've had mine ordered since early December and still haven't received it!

Hopefully the fit and finish is better than those terrible Aliexpress cases. I ordered two of them and they were awful. Good thing they were only a few bucks a piece.

When the gold not comes off then good.
This is a problem with the gold Lumia special edition 830/930. Posted via the Blackberry VKB on my LG Flex 2

Red and Gold is a nice combination, but it honestly clashes with the colour of the metal ring around the L950 camera. It looks better on the L950XL instead.

A silver option would be nice(r)! Still, it does look sexy, that's for sure!!

I got the red & gold Mozo case for my 950 when it was on Amazon. I must say, it looks absolutely amazing on the 950. Of course, the color scheme reminds me of Iron Man ;-)

I got one of these from Amazon too for my 950, it's made quite an impression at work. Gotta get the matching red type cover for my Surface 3.

I got mine today, and to be honest doesn't look as good as I thought it would for a 40£ case, and the worse thing is that I ordered it on November, send many tweets and emails to mozo and they didn't reply a single one... Not a happy customer

At least I don't feel alone ! I'm waiting since the beginning of december. But they only answer to mails now

Wonder if they will make a carbon fibre case

I'd dig a carbon fiber back with gunmetal or black sides

Mozo Polycarbonate covers are coming soon. http://wmpoweruser.com/mozo-to-release-coloured-polycarbonate-replacemen...

Don't bother with Mozo direct. Still waiting since December. Buy from MobileFun

Waiting from MobileFun for about 2 month

Ordered mine on eBay was shipped the next day was in my hands within 7 days on slow shipping. Very happy with the service considering it was sent into Thailand.

Is it China fake or real tho?

Yep. 1890s. Shouldn't be anywhere near new tech.

Yeah, you have to be a grown-up to appreciate leather.

Red and gold look so beautiful.. I really wanna have 950 xl :p

I got this this for my sister about two weeks ago (ordered late December) and it does look really nice. Looks even better in person. Daniel you mentioned in the video that it comes with NFC and Qi but I was also surprised that these Mozo cases also have Powermat just like the AT&T version. Nice surprise.

I've had mine for a few weeks and I love it. It makes me want to leave my phone upside down just so people can see what it looks like:

Is it possible to remove the silver ring around the camera and paint it gold? The silver is throwing it off for me lol.

Loving mine! Got it for 35€ on amazon

I have a white on order for my 950xL.

Looks pretty beautiful, but for that prices Mozo should be using real metal and not plastic, even it's a "good" plastic

Yeah, and since the phone is not designed for, you'll just have a really bad signal reception.

i have had the black 950 cover on order at Mobile Fun since the beginning of January. They emailed me today and said they may get stock next week. Cant wait to get it!

They do send that msg every week for 2 month already

Each time I send them a mail for my order (2nd of december) I'm having the same answer.

You're not sure? Sounds like you have a bigger issue!

Not as big as that eyesore from the image, haha. Hoenstly, we need some good, non-leather options already. I wish those cheap ones from overseas hadn't dumped the Qi and NFC. I'd love an orange one.

Looks really nice. I have the white and silver at mo. I luvvvv it. I have the tan leather one on preorder. But I think I may have to get this one to. Lol.
I would really like a white and gold or black and gold to. Hell I want them all lol

Bought the red and gold 3 weeks ago on a special for £23.99 @Amazon UK. Am loving it, best colour. Waiting for the price drop for the brown one with white stitches.

I check the mozo cases and I love them all but I have a 640 xl and are all plastic and not original leather.I love the brown real leather for Lumia 950 Xl.I will pay the 50€ but...I cross my fingers to make and for other Lumia Devices.
Plz guys just plz

Are these going to be available at the Microsoft Store anytime soon?

I was the 1st ones to pre order the red leather with gold rim for my lumia 950...i call it the Iron Man case...looks super like limited edition phone
Thou 1st time around i got defective case with nfc strip missing...after many many mails...mozo sent me a replacement which had better quality and gold looked more gold...thou after using it for a month there is little wear n tear...gold color is fading and i can see the black color benith the gold color...but the leather is holding very well...i ordered few orange and blue from ali express but i just love the mozo case... Posted via the Windows Central App for Android

I have the Red and get lots of compliments

umm, red and gold, classy?? oukei... :D Posted via the Windows Central App for Android

Still waiting for mine...a little over 5 weeks and counting.

I ordered the black and silver one almost as soon as I ordered my 950. Upon receiving it I wasn't that taken with the appearance. Believe it or not I like the black polycarbonate back cover. It is certainly better than the two I order from Alliexpress. But a week ago I decided to try the Mozo. I think it looks great, much better when it is actually on the phone.

No lie. These back covers make either flagship the most gorgeous devices available. Wow. One picture at a time -- LG V10

I've had the black leather version for about 5 weeks. Very impressed with the quality of the leather and the fit and finish. Just wish the edge material was real metal and not plastic. It still looks and feels good, but the fact if it's just plastic. I'm certain if I drop the phone on it's edge the plastic will shatter

Would be cool if they took this into consideration and made a metal version. I know would buy it to use it interchangeably with my current red and gold.

Dan, next time please show us the inside of these cases where nfc and qi coils are....thanks

Loving the red and gold case on my 950XL. Had to wait forever for it to arrive but well worth the wait

I ordered the black flip case at the end of November and received it last week. It began to fall apart the second day. I love the idea of replacing the normal phone cover, mostly because of the potential for a very thin phone-cover combination. Unfortunately this is not realised with this product because the leather is crudely glued onto something only slightly thinner than the factory case. If done well this solution would really have silenced sll my doubts about the aesthetics of the lumia 930, so I am extremely dissappointed it has not worked out, especially considering the cost and the wait. I reached out to mozo a few days ago at a few of their email addresses listed on their website, but no response yet. I still believe in the idea, I'm not bothered with having my money back, I just want the potential realised so I can have a really beautiful device. :(

I remember when a Lumia looked good right of the box. Now you need to cover it up with a leather couch.

I'm probably the only one here that prefer the original plastic cover to these leather one. Sorry, but it just looks like old stuff my grandpa used to have with all this leather for me. And the mix with metal like is just for the worst. But well, just a matter of taste.

Don't worry. When you grow up and become a fearless badass as your grandpa is you'll like the touch of a dead animal's skin on your skin.

You just have a choice possibility, which is good. Nothing more, nothing less.

Love my Lumia 950 Mozo Cognac case.

I have one too, but I prefer the original white cover for now since I can use a case with it; the mozo cover is too big for my case and I'm nervous about dropping and shattering $650...

I got mine from the mobile fun website, only took a week to get to me, alot quicker than i was expecting. Looks great, feels premium.

How feminine does the red and gold look in person? I like it but can't help but think it looks like a makeup case or something.

Thought I'd feel the same, but is more Iron Man than feminine.

I got white and silver Mozo back cover replacement. All works great and it fits perfectly, BUT for 50$ plastic silver rim around the case? Really?! That is real shame. Looks cheep. Aluminium like in lumia 930 would look so much better! Still much better than stock back cover from MS.

Well, I already ordered my R&G case for my XL... Two months ago. Still waiting.

I've been using this for a couple of weeks. Gives off a serious. Iron Man/Ferrari vibe. I love it!

can mozo make the same case for 640 & 640 xl series, Please....

Cool looking quality accessories via their website, just a pity their only catering for Microsoft Lumia and not Nokia Lumia too...

They look great, but are sooooo slow to deliver!! I ordered a brown case from Amazon was back in early December, but it's still not arrived and Amazon still can't predict a delivery date! I've also ordered a flipcase from another UK supplier who claimed they were getting deliveries on the next day but that has now gone back to saying deliveries due in 7 days :( Chris

nice covers, ordering them is easy, getting them is pretty hard! supply problems for every 950 and 950XL cover

Did get mine after 7 weeks but it is worth waiting for! Everybody asks me what type of phone it is when calling or on the table. It really stands out. You don't add anything to the size of the phone or weight and the wireless charging works perfect. Even the iPhone users are jealous ;) For ones.

Why didn't they make a red and silver combo? I'd buy it instead of the brown one. The gold is a bit too flashy/feminine for me.

Looks like a woman's purse.

Brown leather Mozo on mine 950XL, looks really great. Side-effect - device is much heavier (polycarbon original cover is much lighter). But still OK.

I got both - Brwon and Red for my 950xl and on top of it I have Ghostek transparent bumper case ... looks great! http://punkcase.com/collections/microsoft-950-xl-case-ghostek-cloak-seri... Images: https://onedrive.live.com/redir?resid=25441B257468E1BD!713121&authkey=!A... https://onedrive.live.com/redir?resid=25441B257468E1BD!713122&authkey=!A... https://onedrive.live.com/redir?resid=25441B257468E1BD!713123&authkey=!A...

Thanks for the photos, I was just wondering if using the mozo would stop me of using cases. I only use cases after my firt crack in the corner (in like 9th fall) of the almost undrestrutible Lumia 900.

Ive been waiting since nov for my mozo 950xl notebook case. Finally mozo contacted me and gave me a refund for the long wait and gave me a back cover at a discount. Last time i deal with them.

i want green and silver cool

Any material other than leather, plz.

I think they did say they would be bringing out some other material back covers, possibly faux leather or textured plastic.... Hopefully the 950's deem a popular choice and so they can expand their range and possibly ramp up production!!!!

I was tempted to buy the red one, but after seeing the brown leather back, I decided to get that one for the 950 XL, I do like it, I'm always worried about dropping it because it's a tiny bit slippery, but the back feels nice and I've had people ask me what phone it is, which is an improvement because people used to ask me if my 1020 was an iPhone, but they can make a distinction between the two now!!!! It's a bit expensive for a back cover but then your getting good quality leather, QI and NFC integrated into the cover plus it feels durable and will hopefully last until my next handset!!!! Very happy with my purchase....I got mine from Amazon Prime so it's next day free shipping!!!

Do not order the mozo covers from mobilefun.com. Awful experience. 5 delays from original order date of 12/15. Had to cancel my order and still do not have the cover yet. Ordered from mozo directly.

I'm order from Mozo from 6 weeks ago but still did not get my order. Really sucks experience to order from Mozo.

Got Red and Gold, Looks awesome, looking to buy a White/Silver next.

i have a question. I am from Germany and ordered a red and a black (with silver) Mozo case from different distributors. Both look in general not like a fake, but the red one smells like real leather, and the black one has a complete different smell (not like leather...). Additionally, the black one has another structure, more fine and feels a bit different. Now I began to wonder if the black one is a fake. Has anybody here seen both in real and can tell me if the black and red one have normally the same structure and smell?


Just got this cover yesterday and man its beautiful!