Redfly Gets Revved -- Two New Models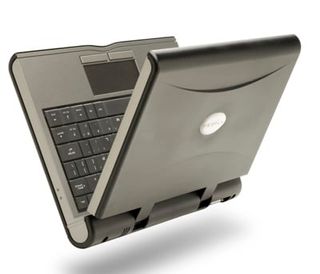 Celio is updating their line of Redfly Mobile companions. There are two new models that replace the original C8: The C8N and the C7.
The C8N is pretty much identical to the original Redfly with a one important difference. They've added a "Media Port" which, with a $20 cable (you have to buy it separately) will allow you to use the Redfly as a screen for an iPod, Zune, or whatever else you've got with a composite video out (that's the 'yellow plug'). The cable also has another USB port on it for charging. Otherwise you're looking at the same 8 hours of battery life and an 8" 800x480 screen. The price for this model is $299.
They're also introducing a newer low-end model called the C7. It's the same Redfly you know and possibly love but they've reduced costs by dropping the screen down to 7 inches (though it's still 800x480 screen resolution) and also by reducing the size of the battery to 5 hours instead of 8. The two changes combine to cut a half pound off the weight of the device. The price here: $229.
Both models also feature a slightly redesigned keyboard (though it's still not full sized), wherein the OK has been conveniently placed next to the arrow keys and the function keys at the top have been reordered. They're also both now a much more conservative black color. Overall, we're not entirely sure that it's a great idea to take a product that already requires some explanation and further muddy the waters by adding two different models. On the other hand, both models are better than the original in their own way: pick a media port or pick reduced weight.
You can get the full skinny on how the Redfly works by checking out our full review of the original Redfly. Speaking of that original, it's still keeping that reduced $199 price at the WMExperts Store until stock runs out.
One thing we had to keep close to the vest here: for our Smartphone Round Robin we're giving away an HTC Fuze and a Redfly. What we didn't tell you is that the Redfly we're giving away is the new C8N. That's right, every day you comment in an official Round Robin post or forum at WMExperts you're entered for another chance to win this great package -- check out all of our updates to the Round Robin here.
Get the Windows Central Newsletter
All the latest news, reviews, and guides for Windows and Xbox diehards.