Review: REDFLY Mobile Companion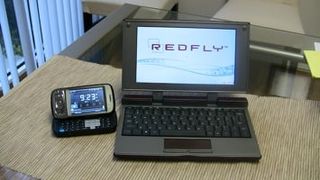 We've discussed the Redfly Mobile Companion here before (a quick hands-on and a quicker commentary), but now we've had it here at WMExperts HQ for a week and are ready to render a verdict. That verdict: pretty darn good but not perfect.
First, a refresher: what is the Redfly? Like the maligned Foleo, the Redfy is called a "mobile companion," which is shorthand for "intended to be used with a smartphone." Unlike the Foleo, however, the Redfly is "dumber" yet therefore a smarter concept. What the Redfly does is connect to your Windows Mobile phone over USB or Bluetooth and "trick" it into believe it has a large, 800x480 screen and a near full-sized keyboard instead of a tiny 320x240 screen and a chicklet keyboard. So the Redfly itself stores no data and has no processing power, it all stays on the smartphone.
So although the Redfly itself doesn't have any RAM or processor to speak of, it's actually an incredibly smart concept because there is no syncing and no danger that if the Redfly gets lost or stolen the same thing will happen to your data. Also smart: Windows Mobile (for the most part) scales quite well to a larger screen. The knock on Windows Mobile has often been that it has too many "Desktop Metaphor User Interface" elements, but on a Redfly Windows Mobile sort of becomes a desktop OS, so it works.
Read on for the full gallery and review!
Compatibility & Price
Currently the Redfly is only compatible with a relatively short list of Windows Mobile Pro devices -- that is, devices with touchscreens. Celio is working feverishly to finish the compatibility for standard-edition devices as well as expanding the device compatibility with Windows Mobile overall. They're also probably working on other platforms, but let's not worry about that, eh?
You can find a list of compatible phones here.
The price: $500. That is, as many have said, a little on the expensive side. However, Celio intends on selling this device primarily to corporate users, usually in larger orders. They'll be dipping their toes into individual sales a bit later. In any case, it's a premium price that might cause some people to look at other options. But if you're committed to keeping your data on your smartphone and don't want to worry about having to sync and secure your data, the Redfly really is worth a serious look.
Hardware
The Redfly measures 1 x 6 x 9 inches and weighs a mere 1.9 pounds. It's painted with a "soft touch" paint that makes it very grippable and doesn't show fingerprints. Overall the unit looks and feels very professional -- there's nary a creak or wobble on my test unit and I expect the production units will share that same quality.
Celio says that the Redfly has an 8 hour battery life (in addition to the ability to charge your smartphone over USB) and in my testing that seems very accurate. I've used the device for several hours over the course of a week and have yet to plug it in since the initial charge.
There is no latch to to open the device, instead you simply pull it open. Opening it does not power on the device, however, there's a power button on the right hand side next to the power indicator light. The only other widgets on the outside of the Redfly are on the back, where you'll find a power adapter port, two USB ports, and a VGA out.
The VGA out is capable of displaying the same 800x480 that the main display can. The USB ports are where the real action is, however. You plug one into your smartphone via a USB cable to connect it to the Redfly -- and again this also charges the smartphone. The 2nd usb port allows you to plug in a standard USB mouse or even a memory card -- which shows up as a standard "Storage Card" within Windows Mobile. Nice.
Keyboard and Touchpad
I'll come right out and say it: if it's not a full sized keyboard, I am not going to be able to use any device in this class. Full stop. The Redfly does not have a full sized keyboard.
It's unfair of me to say after only a couple hours of use that this is a deal-breaker for me, I suppose, and for many users I am sure that it is not a deal-breaker. Excepting the fact that the keyboard is slightly cramped it's actually quite nice -- there's very good travel and good response. The responsiveness, especially over a USB connection, is as good as using whatever 'native' keyboard you have on your smartphone. I was probably able to get somewhere in the neighborhood of 40 to 60 words per minute on this device.
But 40 to 60 words per minute is somewhere in the neighborhood of 2/3 to 1/2 my WPM on a full size keyboard. Were I to purchase a Redfly I could probably push that up and may even come around on whether or not I need a full sized keyboard. (Yes, you can plug a full sized USB keyboard into that extra USB port if you're so inclined)
As for the touchpad, no complaints there. I initially found it a little cramped as well, but once I found the Redfly setting inside Windows Mobile and discovered you could ramp up the speed of it, I had no problems. The Redfly works by replacing the "touch" parts of your smartphone with a mouse and that works very well overall. The only issue I found is that I would sometimes be tempted to "double click" when only a single click (read: smartphone tap) was necessary.
Connecting your Smartphone
Once you've loaded the Redfly driver (and reset) onto your smartphone, connecting it to the Redfly is a piece of easy. Plug it in with USB, hit the power button on the Redfly, and wait about 5 seconds. Pow. Once you're connected over USB, you can authorize the Redfly to connect over Bluetooth. This obviates the need for pairing mode and pairing codes while still maintaining security.
USB is definitely faster than Bluetooth and has the added benefit of charging your smartphone while connected. However the responsiveness and speed while connected over Bluetooth was significantly better than I expected -- definitely usable but with a rare dropped keystroke.
Overall I found that Windows Mobile on a Tilt was slightly less responsive than using it directly on the device, though it's tough for me to quantify that exactly. Part of it might be that I found myself asking it to do more -- loading larger web pages
Using the Redfly
Windows Mobile 6 scales quite well to 800 x 480, with the exception of a few apps that are not well-designed. Overall, though, you'll find that you will like Windows Mobile a lot more with this extended screen real estate, it makes a big difference in usability.
To wit: I've been a longtime critic of Pocket Internet Explorer. I'm not a fan. On the Redfly, however, it's downright usable. In Desktop mode. Oh yes, this is a great "couch browser." Opera 8.65 practically feels like a full desktop browser.
Other programs are also great: Live Search maps fill the screen and look great. Heck, TeleNav works great on the Redfly. Outlook mobile is similarly nice -- since it views full HTML emails (since WM6, anyway), you can see them as they're meant to be seen.
Again, the only downside is that some applications aren't designed to work properly at this resolution. The nice thing is that the Redfly generally manages to notice this and just place a 320 x 240 version of the app in the upper-left-hand corner.
Sadly, this solution does not apply to the Today Screen. After several tries getting the Today screen to format properly I ended up giving up. It might be the HTC home screen, it might be something else, but the Today Screen just didn't format nicely for me on the Redfly.
We'll end this apps section on a high note, however, check out the screen shots below of Word Mobile and especially of Excel Mobile. Click those thumbnails to get a real feel for what Windows Mobile is like at this screen size -- it's a whole new OS.
Conclusion
The Redfly definitely impresses. I'm fully, and I mean fully on board with the concept of leaving everything on my smartphone and just using a peripheral like the Redfly to display and input data. This arrangement works especially well with Windows Mobile, which scales well and already has a desktop-like interface to begin with.
The Redfly's implementation of this is also great -- it's very easy to set up and seamless to use over USB or Bluetooth. The hardware itself is also of a very high quality.
I understand that there are always tradeoff with mobile devices. The tradeoff with the Redfly is that they made it more portable at the expense of having a full sized keyboard. Looking over the sub-laptop space these days, complaining about this almost feels like complaining about the death of the Rotary Phone, but there it is, I prefer a full-sized keyboard.
Even so, the Redfly is tempting -- I am very likely to purchase one when it becomes available in retail just to see if I can get over that smallish keyboard. Yes, even at that $500 price point.
Swipe to scroll horizontally
| | |
| --- | --- |
| Ratings (out of 5)Hardware: 5Battery life: 5Software (responsiveness): 4Keyboard: 3Overall: | ProsGreat concept: how a "mobile companion" should workWindows Mobile works great on a large screenCharges PhoneVery long battery lifeNo Syncing RequiredConsKeyboard not full sizedSome apps don't work at this high resolution |
Get the Windows Central Newsletter
All the latest news, reviews, and guides for Windows and Xbox diehards.