Remedy announces Control multiplayer spin-off
The new game is 4-player PvE co-op.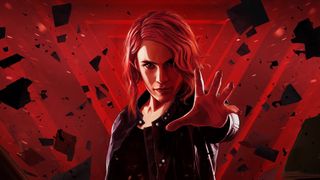 (Image credit: Remedy)
What you need to know
Control is a successful third-person action-adventure title from Remedy, and was released in 2019 to critical acclaim.
Remedy today announced it's working on a multiplayer spin-off of Control, code-named Condor, that will be 4-player PvE co-op title available on PC and consoles.
Remedy and 505 have implied they're also working on other games in the Control series, possibly as part of its plans to expand the larger Alan Wake universe.
Remedy today announced that it's partnering with 505 Games to make a multiplayer spin-off of its popular title Control. It's in development for PC, PlayStation 5, and Xbox Series X/S -- codenamed "Condor" and it'll be a 4-player PvE co-op title.
According to Remedy's announcement, the two developers are working together to co-publish Condor. Rami and Raffi Galante, co-CEOs of 505 parent company Digital Bros, said the intention of the title is to keep gamers playing it for years to come: "As a multiplayer game, Condor has the potential to engage the gaming community in the long run, contributing to 505 Games' product revenue stream longer than traditional games." The two studios are working together on another title in the Control series, a "high-level collaboration… a bigger-budget Control-game, to be agreed in more detail in the future."
And that's not all the studio plans to do with this IP. Control is part of the larger Alan Wake universe, and rumor already has it that an Alan Wake remaster is coming to the Epic Games Store. Previously, Remedy has announced that it has partnered with Epic Games to publish two games, and the clues that it gave imply that one of them may be this Control spin-off.
The announcement of this collaboration reads: "Remedy is working on two multi-platform games for next-generation consoles and PC that will be published by Epic Games. The first project is Remedy's most ambitious one yet, an AAA multi-platform game already in pre-production. The second is a new, smaller-scale project set in the same franchise. Both games are being developed on Remedy's proprietary, state-of-the-art Northlight game engine and tools." Since we know Condor is being developed on the Northlight engine and tools, it's possible it could be one of the games in question.
Get the Windows Central Newsletter
All the latest news, reviews, and guides for Windows and Xbox diehards.
Rachel Kaser is a Windows Central gaming contributor, who's been writing since 2013 and gaming since the age of five. She's covered everything from gaming news, reviews, and analysis -- if it exists in gaming, she knows about it. She also contributes to Future's other sites, iMore and Android Central. If you want to hear her opinions on games, pop culture, tech, and everything in between, follow her on Twitter @rachelkaser.