Remote Desktop for Windows Phone adds Azure RemoteApp in latest update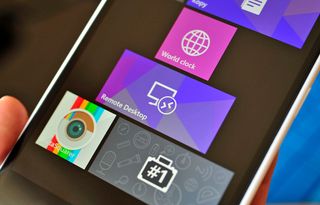 A new update for the Remote Desktop Windows Phone app adds support for Microsoft's new Azure RemoteApp service. The update also contains some unnamed bug fixes and improvements.
Microsoft says the new 1.6 version of the app with Azure RemoteApp allows for "IT admins company their Win32 applications available to users on all their devices." It added, "We are hard at work to bring you additional enterprise features in the near future including support for Remote resources (RemoteApp and Desktop Connections) and Remote Desktop Gateway." Will this update be a help to your business needs?
Source: Microsoft (opens in new tab)
Does that mean that you can run the Azure remote version of IE from this app?

Sure does. RemoteIE is running on Azure RemoteApp.

Never got to know how to use this app

That's because you probably have Windows 8/8.1 Single Language.....Remote Desktop doesn't work (as host) on SL

Agreed. You need Pro or Pro with Media Centre.

True.. I just realized that I have only got single language pack. Anyways what are the uses of the app

there was that problem with windows 7 and Microsoft disabling remote desktop, after doing some research it was just a reg key change that enabled.it, it should still work in 8.1

Enter your PC IP address instead of the name.

Use the help function, follow the instructions, and will be working.

Ha, I'm sat at Future Decoded hearing about this capability and was about to complain that there was no Windows Phone client, guess they just read my mind!

Never managed to get this app to work...do you need Windows Pro? Does anyone know how to get it to work without Windows Pro? (Sorry if that is mildly unrelated)

Yes, you will need Pro/Pro with Media Centre.....if you're a student, get a Dreamspark account, and you can get access to Windows 8.1 Industry Pro for free

Just get TeamViewer. They have a great app and a great desktop program. Works flawlessly on any type of Windows.
Also, with the MS Remote Desktop app you have to log in to the PC you want to control which is a big minus when you need it to help people. TeamViewer doesn't need to log in to Windows, it just uses the software.

RD and RA were never meant as a tool to support users live on their desktop. It is a complete minus if you use them that way.

That might be so, but it just seems stupid not to add the option for live support also.
Hmm, can you use RD to WOL?

Really? I always thought that Remote Assistance was designed so that one could, well, assist someone remotely. So, what was it really designed for then if not for that, ruddevil?

You're both right, but Remote Assistance is not what is being discussed here. There is no remote assistance client for WP (afaik).

Its not officially supported on windows clients just server. There are workarounds but quite time consuming.

Very much looking forward to RemoteApp support! Our staff could easily run our company apps on their phones. Will be awesome.

Until they add remote gateway, I have to keep using ConnectMe. I don't understand why they aren't doing this as a universal app based on Windows 8.1 client app. If they are, why is it taking so long?

Could have sworn I have seen remote gateway in the Microsoft app at some point... That is too bad

It is in the IOS and Android version, but not the WP version.

It will be interesting what the definition of "...the near future..." is. Until RD Gateway functionality is added, I can't see any real benefit - for me.

Still waiting for wake-on-Lan so I don't have to use 2 apps :/

I am using it right now lol

It would be INSANE if I could use this on my windows phone out side of the Azure environment like I do already on Surface RT's on the shop floor here at work. We natively run many x86 apps right on them with RemoteApp off our TSM box. Having that support on the phone would be killer!

I still prefer TeamViewer. Much better app.

wouls luv all those goodies!!

What phone is that in the pictures? Lumia 735?

TeamViewer is a joke. I have used the program since version 5 ... Microsoft RDP is far superior in quality, runs less bandwidth, and is less resource intensive. Only makes sense to be utilizing RDP on Microsoft based systems. May want to reconsider your life choices if you are using TeamViewer, seriously There are a those rare exceptions, mostly incompetence ..

is it restricted for devices on the same local network? or can I use it to connect to a computer on an outside network??

Excellent news! Looking forward to testing Remote App client on Windows Phone!

Plz some body tell me how to use this app with laptop and LED...

The connection between phone and PC needs to be in the same network? can I connect to my PC at work from my home over the internet?
Windows Central Newsletter
Get the best of Windows Central in in your inbox, every day!
Thank you for signing up to Windows Central. You will receive a verification email shortly.
There was a problem. Please refresh the page and try again.