Remote Desktop for Windows Phone gets a transparent Tile and more features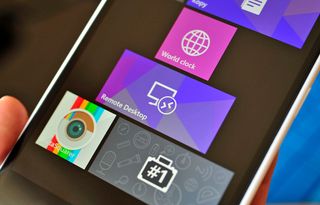 Microsoft's Remote Desktop Preview app for Windows Phone 8.1 got a new update earlier today, and it brings with it a number of new features, including a way to pin any frequently used remote desktops to the Start screen.
The app update, which brings the version number up to 8.1.1.19, also adds Word flow and predictive texts to be used while typing in the app's virtual keyboard, and going into Settings will now allow users to high or show any desktop thumbnails.
The new version also adds support for the transparent live tile feature, that was added as part of Windows Phone 8.1. Finally, the official change log states there are a number of unspecificed bug fixes and improvements.
You can download the free Remote Desktop app for Windows Phone 8.1 right now from the Windows Phone Store.
Do you use Microsoft's Remote Desktop app and what do you think of the changes and additions that have been put into the Windows Phone 8.1 Preview version?
Thanks to the many people who gave us tips about this release
U should share all ur backgrounds

There's a thread that does exactly that in the forums.

I think he wants them under every news because it is really hard in life to find a picture in bing that fits the own style rather than the style of your news reporter :O

ya
that and I don't have the time to browse the internet for something as simple as a background image. You know, having to work and all to keep a roof over my head.
I don't care for it that much. A comment takes two seconds.

Anybody knows how to use it

You connect to a Wifi or VPN. Enter the PC name you want to connect and enter the PC Logins for a remote accessible username on that PC. than you have to accept the certificate and start using your PC with your Smartphone. Make sure in the computer management under useraccounts you have remote access allowed and rightclick my computer and go on settings and change the remote settings there to allow a connection

Sadly I was never able to connect it to my computer where as team viewer worked just fine. :/

Same. Could not connect. Gve up and continued using TeamViewer.

Same problem here. Also gave up in favour of TeamViewer.

You need to setup your computer prior to use this app. You need to allow remote connections, forgot where, and find your computer by IP. It's quite messy though.

Tried it. Everything was set up still. Microsoft should make it an easier affair for new users.

True. I tried earlier a PC-PC connection, and after that I closed the remote connections to my computer.

RDP is mainly of use to IT pros that understand well the requirements and risks of using it. It is well documented in TechNet and there are thousands of tutorials online.

"easier affair" what?
it's easy to use..... but I don't like RDP for the fact that it locks the computer while you use it, that's why Teamviewer in many cases *is* better.
but it works, of course, if someone can't get it work, well, teamviewer can be easier.
But i don't see how it's complicated just to allow the remote connection and put the username or ip and the password, and donee. don't see it hard at all.

Had sort of the same problem. You can connect by IP or by computername.local. That's finally how I got mine to connect by name. I think this app is designed for domain use so it still looks for the FQDN instead of just the simple name.

RDP requires access to the internal network. Skip step 1 if you are just using it internally at home. 1) If needing access from external (web) connect to your router and port forward port 3389 to the IP address (USE A STATIC IP ON YOUR NETWORK ADAPTER .. BING IT IF YOU DONT KNOW HOW TO SET IT UP) 2) Go into the control panel -> System -> (Left hand side of Win8) Remote Settings 3) Bottom box for "Remote Desktop" enable "Allow remote connections to this computer and check the box below it to allow only NLA authentication from clients"
TeamViewer is a proxy based connection meaning TeamViewer client constantly connects to their servers allowing you to easily connect to them by the ID and Password provided. I do also not understand why now with Windows 8 devices MS does not do the same thing. I should be able to BROWSE all machines that have my LIVE ID signed into and easily connect to them.. (Use that power of Azure MS lets go ...)

OneDrive Remote? Or OneRemote? :P

For some reason, it appears that the WP RDP client has some DNS issues (especially if the target is on a different subnet). I have been able to connect to everything with no problem using the IP address, but it will fail on certain machines trying to use the hostname. Hopefully that gets resolved.

It's unlikely a problem with the app and more likely a problem with your DNS implementation. I regularly use this across over 30 sites with no issues, but I also manage the DNS infrastructure for them.

I've not had any trouble connecting to any of my machines ranging from XP all the way to 2012 R2. The only feature missing for me is RDS Gateway. Otherwise it would be 5 ⭐ from me.

Just a recap for anyone that forgot. You have to have 8.1 Pro version or 'higher' to use Microsoft RDP. Also some routers may require a setting to be changed. Also need to enable RDP in 8.1.

Nope. You need a pro-level OS. Works on XP and higher and all versions of Server.

Now Xbox music's turn. I heard soon. :)

Yes and they need to bring gapless playback, i wonder if windows phones have sound problems

I've been waiting ages for this..

Yay! Now it can save credentials even if there is a space in username. Previous version wouldn't save those.

Sweet, I can high while going into Settings. Will I still get the munchies? In all seriousness though, I can't get this to work over other networks. I have to be on the same WiFi network to use my computer. Defeats the purpose, except in the toilet...

2 things of note here: 1. It does work over the internet (even using cellular data). I use it almost daily that way. 2. In order to use it over the internet, you need to know your public IP address (the one provided to you by your home internet company). Then you will need to use port forwarding on your home router to foward the RDP port to the PC that you want to remote in to. The default RDP port is 3389.

If you have a dynamic IP then you can use a service like no-ip.org which is free and gives you a domain name that points to your current IP at all times.

That said, unless constrained by IP, opening RDP to the entire Internet is a bad idea. You should be using a VPN tunnel.

Thank you everyone above. I'll try all this out tonight at home then test over LTE.

Am I able to do this through Windows? Or do I need to download specialized software? I've seen people using something called Teredo or something like that. I've actually seen that when I was looking up my IP address so it must be built in. Sorry if I sound ignorant...i *do* have "noob" on my handle :)

what if you change the port number?, if only you know the port number for RDP, I don't see how it can be *that* insecure, unless someone really wants you and tests every port available.

You have no idea how easy it is to run a port scan for RDP. Security by obscurity... Isn't. =P

i understand the having a public ip address but isn't there a simplier way to connect with your computer over LTE. just as simple as putting in the public address? because i dont understand anything you said.

Still doesn't support Remote Desktop Gateway, a requirement for many enterprise deployments.

Yep. Especially lame since the iOS, Android, and Win8.1 clients do. Oh and the Win8.1 client is worse than the iOS and Android ones on top that! So frustrating.

I now use the Win8.1 RDP App more than the old desktop client (mstsc.exe). I like being able to snap it to any size and find it easier to switch servers without managing multiple RDP windows.

Still can't get it to work to connect to my PC. And yes, remote services are running and did walk ain't blocking remote connections.

Sadly the same problem i use a Nokia 920 and are trying to conect to surface just. another unusles software

Surface RT does not support RDP as a server. You need a Pro version. If you are still having problems it could be firewall, routing, DNS or that it isn't enabled. Why is entirely dependant on your implementation.

I still can't get Remote Desktop to connect to my computer, either from my tablet or my phone. It keeps saying "could not connect" even though I've been putting in my laptop's name exactly.

Are you using a "pro" version of Windows on your desktop? if not, it wont work.

Wait, Pro only? What's the point, then? No, I don't have that kind, and now I feel kind of stupid.

you need use an OS that can be host for RDP, versions can be client, but not host.
versions that can be host:
windows 8: pro and enterprise.
windows 7: pro, enterprise and ultimate
Vista: business, enterprise and ultimate
XP: pro and I think that's it. not home or consumer editions, like Windows 8 (non-pro version), windows RT, and win7 and vista home premium and basic. so if you have one of those versions that are not above "Pro", then you can't use it. simple as that. and alternatives like teamviewer is the only option for you. if you have one of those versions that can be host, then it means you didn't setup something correctly. or didn't activate to let remote connections to your computer.

Try your PC's IP address.

I got the IP address and name of my Surface Pro right but it still never worked using either method of connection (I have remote connections allowed).

It won't work on my WINDOWS RT

Definitely... It is only for Windows 8.x Pro.

As long as it only works with Pro-versions of desktop Windows, this app is useless for regular home users.

It isn't meant for homes users. RDP as server has always been targeted at IT professionals.

Can anyone please teach me how to use this?
I've tried many times but I just don't get how is this even suppsed to work?
Also, does it work just when my PC and Phone are on the same WiFi?

Is your PC running on Windows 8.x Pro?

it can work even if you are not on same wifi and just another place in the world, but you have to open RDP port 3389 in your router and firewall which can be insecure (unless you change your port, which can be boring to set up). but on same wifi, it's really easy.
you go to System -> Remote Settings -> you should "Allow remote connections to this computer" and you are ready to go.
now you go to the app on the phone, and put your local IP like 192.168.1.100.
you decide if you add your credentials to the app or it asks you everytime you connect to it.
but then you put your username and password.
if you are using Microsoft account, it's your email and email password. if you are using local account, you put your normal username and a password (you should create one if you don't have one) and it should connect that way.
I tested the app just to see if it worked, and today I tested it again, in this computer and it worked fine too. so it shouldn't give you any trouble or extra work (both devices on same wifi of course)

Teamviewer. And I hate transparent tiles.

Does this version fix the problem with it turning the glance screen upside down after you run the app?

No, just checked it. Still f*cks upside-down the glance screen. Shame to you MS.

Probably Nokia's issue rather than Microsoft.

Its very strang, that the MS RDP program is the only single known program in the entire app store, that makes all nokia glance screens upside-down. No other app behaves like this. So while it may be true that this is a nokia bug, definitely MS is also doing something unusual in their app, that no other 3rd party is allowed to do, and the result is this bug. But luckily as the 2 companies already became 1, they may do something against this.

Use this very regularly. Connects to my Win7 Pro and Win8 Pro machines smoothly and quickly. Love it. Really comes to life on a 1520 and big screen. The tablet version runs great too.

Looks like the obsession with Transparent Tiles got to Microsoft as well lol

interesting, the original version of this software worked for me, now, I cannot connect to the computer anymore , error 0x204

1520 win8.1 pro working fine since day one

I must have a pro version of Windows.

I am really wishing for a "Windows Phone===to===>>Surface 2" solution!!! If anybody has one that I apparently have not come across yet, oh do please let me know!! :) I really dig PC Remote (pcremoteserver.com), and controlling my Windows 7 laptop from Windows Phone. I wish I had a Surface 2 solution now.

Seems it only Works for Pro versions of W8.1 - It would be nice if you could mention this in the article BEFORE your readers spends 2 hours trying to get it to Work...! :-(

Adding to this, if your internal network does not have a way to resolve names of computers (DNS, NetBIOS) don't expect to be able to use them. Use IPs.

I was using third-party RDP apps until this came along - much more fluid and I love how the cursor works. Other apps just use touch-screen which is really inconvenient when using my phone to scale down a 23" dual-monitor setup. No more pinch zooming to get my finger in just the right place :) Glad to see word flow keyboard support, too.

Did the update add functionality so I can actually use it with my Surface RT?! NO -_- Still have no need for it! I wish it worked with RT...

RT, like home versions of Windows, does not support the RDP server. You can connect to other systems but you cannot host.

Doesn't work with Windows 8.1 single language.

It's so frustrating to use this. I'll just stick with Teamviewer.

I wish transparent tiles were available on W8. As well as a universal theme colour like wp.

I need to connect to networks OUT of home...
Windows Central Newsletter
Get the best of Windows Central in in your inbox, every day!
Thank you for signing up to Windows Central. You will receive a verification email shortly.
There was a problem. Please refresh the page and try again.