MyCortana for PC lets you call Microsoft's digital assistant anything you want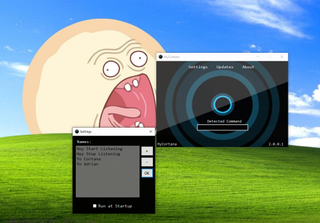 Microsoft's Windows 10 OS is now on 220 million computers worldwide and counting. While Cortana, the personal digital assistant, is not available in all regions its presence is indeed growing.
Now, a new, free app lets you customize how you call up Cortana by giving the assistant any name you want.
Currently, Cortana's optional voice activation works by saying 'Hey Cortana' with the command following. Users can say things like "Hey Cortana…what is the current weather" or "Hey Cortana…remind to pick up milk next time I'm at the supermarket". The common element in all of that is saying "Hey Cortana", which wakes the assistant.
MyCortana is a free x86 application (.exe) from LazyGuyz that runs in the background. It doesn't use any CPU when not in use and only consumes 38MB of memory (something like Skype for PC is double that size).
MyCortana just hit version 2.0.0.1 and with it a few new changes:
Removed the limit of 5 custom names
Check for updates added
Visual improvements
Bug fixes
The app is running well on our machines, and we have no complaints. The one thing we noticed was with the default 'Hey Cortana' you could just go right into your command without a pause. Renaming Cortana, however, results in you having to break slightly until Cortana is listening. This pause is hardly a big deal, but worth pointing out the slight difference.
Other than that, you can now call Cortana 'Lady' or 'Adrian' (from Rocky) or whatever you want. It's fun, it's free, and you can't beat any of that.
Download MyCortana from SourceForge
Source: LazyGuyz
Daniel Rubino is the Executive Editor of Windows Central, head reviewer, podcast co-host, and analyst. He has been covering Microsoft here since 2007, back when this site was called WMExperts (and later Windows Phone Central). His interests include Windows, Microsoft Surface, laptops, next-gen computing, and arguing with people on the internet.
Another Flash/Legends of tomorrow fan :D

The commandhey cortana does not working on mobile.. Hope it will work on the next build.

I'm having some issues with it on my 950 XL too. It works well right after I set it up, but it'***** or miss afterwards. It seems like I have to unlock the phone for it to work too. Hopefully it's a server side fix so we don't have to wait for Redstone.

Works great on my 950xl. There's an option for Cortana lock screen in settings. It refers to search button but applies to hey Cortana. Try that.

Works fine on my AT&T 950 even with the screen locked the maority of the time I use Hey Cortana my screen is locked

I'm having no such difficulties on my Lumia 1520 on the latest iteration of W10M

works perfect on my L1520, all the time, latest update

360 Total Security identify the file as a Trojan

Same... file got deleted straight away. Don't know if I'm going to trust it.

Don't use 360.......use avast instead :)

Don't use 360....use avast instead :)

I call her 'Not available on your region'

Try changing region to USA/GB and change language to English. Worked for me (I´m from Slovakia). The only problem is Cortana will find things in English and mess up on the native tongue words and phrases.

I wonder, of those 220m computers, how many actually have Cortana available, and of those, how many use it?

Only reason why I don't use it all that often is because I have my phone nearby almost all the time, and when I say 'Hey Cortana' the 2 of them activate. So I'll likely get this program and change it to what ever I want, and then I'll be good to go.

Exactly. Even in English first countries some of us have been waiting..how long now...almost two years? Still nothing without region changing, which can be a pain in several respects.

Something that should be added in her settings, like as she calls us by our name. We should have the ability to give her nicknames.

Nice! This solves the problem of the command waking Cortana on the phone and on the PC at the same time. Posted via the Windows Central App for Android

Yes! Can't believe Microsoft didn't account for this. I have Hey Cortana turned off on my phone for this reason.

And coming soon, the same conflict with Xbox One, once Cortana is released on it...

Hey Siri... Siri !... HEY SIRI !!! Hmmm... I wonder why this isn't working?...

This should be baked into Windows devices.

It would never happen. MSFT wants to established Cortana as a brand better than Siri and google now. Allowing user to change its name would not suffice the objective

Finally! Now I can talk to Cortana like the computer on the USS Enterprise in TNG!

Haha! I wonder how many will be doing just that. I've already renamed her, "Computer." So far activation and response actually "seems faster" than when not using this app. Maybe because I'm losing a syllable and it doesn't take as long to say it now.

I wonder how Microsoft will feel when people start saying, 'Hey Stupid' to get Cortana's attention.

Can someone give me the link to that epic background?

Seems like windows XP default background photoshoped

http://i.imgur.com/qSwQ6ez.jpg
FYI, it's from Rick & Morty, with the screaming sun planet on the last episode of Season 2.

Or do you mean the Cortana Background? http://skorun.deviantart.com/art/Cortana-Desktop-1-508892565

Imma call her Chloe (from 24)

Hey, Bill Gates! Posted via the Windows Central App for Android

MS really ****** the concept of Cortana by never introducing it to 95% of mankind. Same with WP. Just exactly who are these imbeciles running that show? The level of bad in MS is astonishing to say the least. Do they secretly work for Apple or such competitor?

You are correct!! That's what I came here to post and will be using. "Blake!"

each geography needs specific regional search, unique language, understanding of local customs and cultires, etc. It would have taken many more years to implement worldwide support so Microsoft is releasing Cortana support region by region as they are able to add support for specific cultures.

Sweet! Now when I say 'Hey Cortana' I won't have a whole lab full of PCs trying to listen to me!

Honestly being able to rename her "Alexa" will make my life way more consistent. Right now I am not using Cortana much because calling two different names depending on location. And right now Alexa is a hell of a lot more useful, if it had Exchange integration I'd have almost no use for Cortana at all, sadly. I really feel MS missed the boat on this one.

Hey Ultron sing a song ..... :D

I can now call my laptop "*****" and enjoy the reactions of people around me

AAAAAAHHHHHHHHHHHHHHHHHHHHHHHHHHHH

Hey B*tch, compose an email for me..i like the sound of that, better than Cortana.
Windows Central Newsletter
Get the best of Windows Central in in your inbox, every day!
Thank you for signing up to Windows Central. You will receive a verification email shortly.
There was a problem. Please refresh the page and try again.