Respawn supposedly cancelled Titanfall 3 in favor of Apex Legends (update)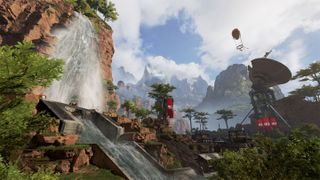 Updated February 5, 2019: In a new interview, Respawn said that EA had no role in developing Apex Legends.
Today, Respawn Entertainment — now owned by EA — launched a battle royale experience called Apex Legends. There were rumors that it would be a free-to-play version of Titanfall, but it's more along the lines of Overwatch than anything else. The first piece of information to get out of the way is that the game seems to take place in the Titanfall universe, but it doesn't feature mechs or any other towering contraptions you can control. It's a standard run-and-gun shooter, where each character has various special abilities.
Many gamers expected Respawn to unveil Titanfall 3 or a similar project today, but it turns out that wasn't the case at all. Furthermore, there are numerous articles that Titanfall 3 may have been cancelled in favor of Apex Legends. According to a report by Kotaku, "What was once Titanfall 3 has become Apex Legends... In other words, a third Titanfall is not currently in development, despite the critical acclaim for the first two." Respawn producer Drew McCoy told Eurogamer that Titanfall 3 wasn't happening in a blunt manner.
Kotaku states that Titanfall 3 was in development during Fall 2017 when EA purchased Respawn. It seems that Titanfall 3 was looking quite dated so it was cancelled in favor of this. Hopefully the project will be revived after Respawn's Star Wars game ships later this year. However, only time will tell. Titanfall 2 failed to set the sales charts on fire.
Do you want to play Titanfall 3? Let us know. What do you want out of the project if it happens in the future?
See at Microsoft Store (opens in new tab)
Asher Madan handles gaming news for Windows Central. Before joining Windows Central in 2017, Asher worked for a number of different gaming outlets. He has a background in medical science and is passionate about all forms of entertainment, cooking, and antiquing.
If I were a betting man I would say that Drew is not overly happy with decisions made by EA there.

Yeah, his response is quite strong.

He calls out the microtransactions like "well, this is what they forced out of us". You done goofed EA, you horrible, horrible company.

You can hear the spite in his words, that's for sure. That being said, I'm glad it's a free to play with cosmetic microtransactions (as opposed to full retail with microtransactions), that sits alright with me, and so long as it retains Respawn's awesome feeling combat I'm going to enjoy the game. Now just to drag my mates into teaming up.

Really disappointed if this is true and TF3 is canceled. Been a fan of the franchise from the beginning and still play TF2.
I was hoping for another awesome campaign, updated storyline, more advanced weapons, and customizable Titan chassis and load outs. The movement abd mechanics in TF have made it hard to play other FPS games, it is smooth, fast paced and the balance of abilities between the pilots makes for fun game play.
With a dedicated, albeit a small base. I hope Respawn and EA green light a third game.

I just feel like this was such an odd move. I don't much of a Titanfall vibe at all out of Apex. What made Titanfall was the movement mechanics, slide hop, wall-running. Is there even any cannon behind Apex? This is a Titanfall-lite masquerading as a loot crate pay scheme. Not interested.

You should tried without prejudice. It's a really fun game on its own.

Game was im dev for several years. So its obvious that Apex is made from TF3 build. Saying TF3 became Apex.

Good. Been playing Apex Legends and it's a blast. Another Titanfall would have been its own thing, and out of the current trends. Apex Legend just aced the BR genre and it's gonna go for F0rtnite's throat. Hopefully kill it and take down Epic with it.

I hate fortnite as much as the next guy. But epic, besides the exclusives, is helping the industry push forward with cross play. And I can only commend them for that.

Sadly epic isn't pushing anything. If Xbox didn't open their mouth to create that Sony drama on Crossplay.. Epic followed and did not start it.

Sadly all Epic seems to want to be pushing is money into their own wallets. Cross-play existed before Fortnite and would have come without it. The fact that they used their leverage to forcé Sony is not a merit of theirs, nor something to congratulate them. They were just very successful with their game and their care about their game, and their store.

It's EA. It's already ruined for everyone. Fortnite has nothing to worry about.

Another franchise killed by EA. Guaranteed they were the ones that forced the switch from TF3 to Apex. I hate EA. They have ruined every single franchise they have bought. TF2 was the best shooter I have played in probably 5 years. It3 a shame that companies like Respawn can't survive on their own and instead have to be bought up by the likes of EA who then proceed to gut and neuter them and everything they worked on up to that point.

Critical acclaim of the first one. The second one was crap. So, if they had no idea where to go with TF3, this doesn't surprise me.

Anybody noticed that the release version of Apex Legends is already at 3.0?
Even more indications that this game was supposed to be Titanfall 3!
Windows Central Newsletter
Thank you for signing up to Windows Central. You will receive a verification email shortly.
There was a problem. Please refresh the page and try again.