Resident Evil 4, 5 and 6 will scare you on your Xbox One console in 2016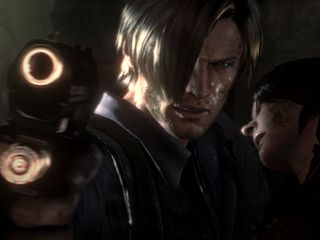 Xbox One gamers will be able to play the last three games in Capcom's Resident Evil zombie action series in 2016. It will begin with the release of Resident Evil 6 on March 29, followed by Resident Evil 5 in the summer of 2016 and Resident Evil 4 in the fall of this year.
All three games will be priced at $19.99 each when they are released. The launch of Resident Evil 6 for current consoles will also include all of the game's post-release DLC content as well. For those of you who are not familiar with the game, here's a brief description:
Source: Capcom
So are these remasters, or ... ?

it will be available to PS4 too...

If it was BC they would have said so, and they wouldn't have listed prices (or at least they would have listed "existing" prices).

You're right, Cryio is wrong, they're remasters for the xbone and ps4.

if it BC then they wouldn't get money... this is meant to be money maker so it's a remake, more crappy remake crap.

Resident Evil 4,5 were amazingly horrifying but Resident Evil 6 was a piece of trash. I want Outlast as one of a free Xbox Gold game. Posted from Windows Central for Windows 10

There was nothing horrifying about RE5. It was just a generic hallway shooter with single player crippled in favor of useless multiplayer. It was the perfect example of what the Xbox 360/PS3 generation did to gaming. RE5 signified the death of the series. RE6 was just decomposed, posthumous crap.

It may not have been horrifying, but it was a pretty great and fun game. People get so wrapped up in basing a game because it's not exactly what they had in their mind...

RE4 was the same (sans the multiplayer aspect), yet it was still a great game.

Not sure why Capcom hyping up trash 6? RE 4 - 5 received high praises and have sold way beyond 6. Why they downplaying their best REs of all time?

Why lauching the series all backwards??? RE6 first?? then RE5?? WTF o.O like if you want to play the series for the first time then screw you, go wait until end of year... not only are they milking old games (*cough* SFV *cough*) but they're doing it wrong! jeez... smh Posted from Windows Central for Windows 10

Based on what people have told me about 6 (never played the series myself), 6 it's terrible. Releasing them in reverse keeps people from ending their experience in disappointment, if 6 is last.

RE5 and RE6 aren't great, basically devoid of horror, but they're fairly fun as co-op action games.

Because 4 is the one people actually want.

I thought 6 was pretty fun. Not scary but fun

What if we already have the game? XB backwards compatibility?

I'm thinking no. Unfortunately I bought all of these games back in December when they were fairly cheap, hoping for bc. Ah well... my risk. Sometimes it doesn't pay off. I just hope it we have to pay $20 a pop they are at least at higher resolution or something.

I can understand a Resident Evil 4 remaster etc. However, Capcom, honestly...release some new IP you lazy b*****ds.

Yeah RE4 originally on PS2 Generation

RE4 was originally released on the GameCube. When they ported it to PS2, they had to downgrade the graphics because the PS2 was less powerful. The GameCube was the least popular system at the time.

RE6 is about 1/10th as good an action game as Bayonetta.

What a let-down... Now one more major reason not to upgrade to XO...

Sounds great! Posted via the Windows Central App for Android

I want resident evil on hololens

That would be to much for some people to handle. I can see all the heart attack lawsuits. Lol

Great.. Another remaster of a remaster

RE4 is the best RE game to date. Can't wait for this. The other 2 I'll pass on. I have played RE4 since the GameCube so it'll be almost like playing it for the first time.

What about the people actually care about RE 2 & 3

Boycott Capcom for not bringing street fighter on Xbox one and alienating the fans who loves SF series

Why so many people hate Resident Evil 6? Posted via the Windows Central App for Android

It's not scary, compared to RE4 it's expected to be more great, still the game itself isn't bad just not meet fan expectation

RE4 wasn't scary either. I don't get why people think that it was, it's still an amazing game but it really wasn't scary.

What scares me is that hairstyle.
Windows Central Newsletter
Get the best of Windows Central in in your inbox, every day!
Thank you for signing up to Windows Central. You will receive a verification email shortly.
There was a problem. Please refresh the page and try again.