Retail Exposure Report: Windows Phone - Westfield London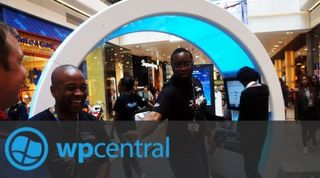 A few days ago, we visited London's newest shopping mecca, Westfield to get a quick take on how much coverage Windows Phone is getting in the retail space. Much has been made about Windows Phone not having good retail exposure. We wanted to see if this was true and get a feel for how things look for Windows Phone in the UK's largest shopping centre.
Almost as soon as we entered the main concourse, we were surprised to find a full-blown ZTE promotional stand. Currently ZTE produce one Windows Phone, the Tango spec Tania, a device that's somewhat hampered by having only 4GB memory it does make up for it with a generous 4.3" screen size. The stand was there primarily to promote a new Android phone but the Tania was along for the ride and being displayed right up alongside it.
ZTE Stand, complete with white plastic chairs
We engaged with the demonstrator, who, whilst keen to show us the device first showed us an Android device (it had been a long day he informed us). After he found the Windows Phone he went on to explain that the phone had a memory card slot to upgrade the standard 4GB. We did help him search for the mythical slot but alas, did not find it. Still it is good to see a Windows Phone taking pride of place next to their flagship Android phone.
Whilst a nice device - we didn't find a memory card slot...
The shopping centre itself is a veritable smorgasbord of mobile phone shops, all the major network operators and retailers are represented; Three, Vodafone, O2, Phones 4u (x2) as well as Carphone Warehouse and Everything Everywhere. Phones 4u were previously pushing the Lumia phones quite hard but have since switched their focus to pushing the Android flavoured Galaxy SIII and other Samsung Phones. The Lumia devices we found were at the back of the store, displayed well enough but no longer front and centre.
All of the mobile shops we visited in Westfield had Lumia Phones available in store. The Windows Phones are generally occupying eye level positions, mid-level positioning, top level displays being reserved for the Galaxy SIII's and HTC One X phones. They are after all, newer and of a higher spec. Where shops use a tiered display, it is often to help shoppers and staff visually differentiate between costs of devices, deals and how recent a phone is. That Windows Phones are positioned in this mid-tier is positive, the devices are mid-spec compared to many Android phones and they have been on the market for some time.
We had previously reported on the Nokia Arch in Westfield, we're pleased to see its back after a little break. Nokia have the arch positioned on the main concourse amongst most of the mobile shops, a prime location that makes it hard to miss. They have the full range of Lumia devices on show including the Play 360 Speakers and Purity headphones. You don't have to browse the devices for very long before one of the demonstrators comes over to ask if you need any help. I have personally been to the arch a few times and it's always the same, the staff are always prompt, friendly and helpful.
The Arch - As seen from above
After talking with the guys on the stand (who are fans of wpcentral!), it would seem that things are going well. Customers are happy to have the Nokia crew here to help, they provide demos and detailed information to customers before a purchase. The customers who have just bought a phone will often go back to the Nokia stand and get some further help with initial setup of the phone. It sounds as though staff from local stores often refer customers to the stand for detailed demonstrations. Whilst the Nokia Arch was absent, we talked with sales staff in the area. They reported that sales and queries of Windows Phone devices dropped significantly when Nokia left, the return of the Arch is perhaps a sign that Nokia are keen to ensure those sales do not dip again in such a key retail location.
At least in this centre, Windows Phone is certainly getting its share of good coverage. The Nokia arch is a great way for the Finnish company to re-engage with the public and demo their Windows Phones. It's certainly doing its bit to raise awareness of the phones and give the public a chance to check them out with interactive hands-on demos. It also seems that the presence of the Nokia people is also helping to move more phones in the surrounding stores and provide a little bit of pre and post sales care for customers.
The question is does any of this promotion make much difference overall? Is raising Windows Phone's awareness bringing more people to the platform? Is it winning hearts and minds? Nokia sales have been impressive, 4m devices in Q2 isn't bad. Here in the UK they have cited more intense competition, that's true but it goes way deeper than that. The UK public are positively mesmerised by Android and iOS right now, they are heavily favoured in shops and staff actively push them. The Apple Stores provide a strong pull for consumers, they provide an amazing retail 'experience' for buyers both before and after they have bought into the platform. The combination effect is that Windows Phone doesn't get much of a look in.
Before the Nokia partnership, Windows Phones were both poorly advertised and poorly distributed. That has since changed. Devices can be found almost everywhere and are at least being given the chance to go head to head with other platforms. The road is far from clear, advertising does remain patchy and sales staff and the public still have deep reservations about 'Windows' on their phone and perhaps the name remains the single biggest hurdle to mass adoption?
So what more can be done? More advertising? A rebirth of Nokia flagship stores? Microsoft pop up shops to promote their products? How do you rate the current exposure of Windows Phone at retail? What more can Microsoft and its partners do to turn things around? I'd love to hear your ideas in the comments bellow, please engage, the right people might hear your ideas..
Get the Windows Central Newsletter
All the latest news, reviews, and guides for Windows and Xbox diehards.