Review: 1byone Portable Bluetooth Keyboard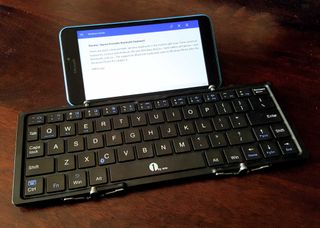 There are quite a few portable, wireless keyboards on the market right now. These universal keyboards connect with Android, iOS and, Windows devices – both tablets and phone – over Bluetooth, and are portable enough to lug in your bag, and sometimes even in a pocket when you're out and about.
While connecting to a Bluetooth keyboard in Windows is pretty seamless, the support for Bluetooth keyboards came to Windows Phone after the Windows Phone 8.1 Update 2 only. I spent some time with the foldable portable Bluetooth keyboard by 1byone and used it with my Lumia 640XL (and Surface RT, Nexus 7, and the iPad to test cross-device and cross-platform compatibility), and here are my thoughts on the same.
Design
The first thing that strikes you when you see the 1byone keyboard is the compactness of it. Roughly the size of a Lumia 640XL, the two folds open up to a decent-sized keyboard. While it is made of plastic, the sturdy construction is impressive. The two hinges that allow the keyboard to fold up are well built.
Of course, it creaks here or there when pressure is applied, but that's true of all portable keyboards. Also, the far edges on left and right do not rest flat on the surface, so hitting an Enter Key hard for example (I do that often), sometimes makes it lose balance.
Setup
The Bluetooth keyboard is really simple to set up. Unfolding the keyboard automatically turns it on. Once the keyboard is on, all you need to do is hit Fn + C to enter pairing mode (the light on the left of the keyboard flashes blue). In pairing mode, navigate to the Bluetooth settings on your device, and complete the pairing by selecting the 1byone keyboard.
Experience
The 1byone keyboard has three dedicated modes for Windows, Android, and iOS providing functionality specific to these platforms, and has buttons that allow the user to switch between the three modes. For example, the home button and media controls for Android work as function keys in the Windows mode.
Even with the compact size of the keyboard, it has a nice feeling when typing – the keys are nice and responsive and the typing sound/click is just perfect. The travel is a little shorter, but that's a trade-off for a compact, pocketable keyboard. The layout is pretty good, although the size of the Right Shift key is odd and while I got used to it, it will be a little disorienting at first.
The only issue I have with the 1byone keyboard is that there is no way to dock or place your phone or tablet with the keyboard while working. One would've liked a foldable dock or kickstand that would hold the phone with the keyboard while typing.
Summary
The 1byone Bluetooth keyboard is a great little device for on the go typing. It offers great portability and works really well. The build quality is pretty good, and I can just throw it in my bag casually. At $34.99 from Amazon, the 1byone portable keyboard is a great way to increase your productivity on the go for an instant workstation.
Windows Central Newsletter
Get the best of Windows Central in in your inbox, every day!
This looks and works just like my old i-go stowaway keyboard, but a bit more modern

Also available in a German version on amazon.de: http://www.amazon.de/faltbare-drahtlose-Bluetooth-Deutsche-Tastatur/dp/B... Just what I have been searching for.

I have a feeling the "surface phone" will have something to do with having a keyboard or something. Since they want to focus on productivity, a keyboard makes working easier in many ways (Word,Excel,Email,etc), and would make Continuum actually useful because you wouldn't need to carry a physical keyboard and mouse, which you kinda have to do now if you want to get work done, and defeats the portability advantage of Continuum
Or I might be wrong :)

Maybe the laser projected keyboard we've been hearing about?! (God I hope not haha)

Haha that thing actually exists, it's about $40 on Amazon. It works but apparently it has some issues catching up with fast typing

Laser projected keyboard coming from side of the phone. Would be interesting. :)

Does anyone have a recommendation for a Bluetooth keyboard to go with a Lumia 950XL? Portability isn't a necessity for me. I'm looking to have a decent keyboard to leave in my living room. I'd appreciate your feedback, guys.

I use the Microsoft Universal Keyboard at home, bit heavy, but you kind of doc your phone to it.
http://www.amazon.co.uk/gp/aw/d/B00KA95UNS/ref=mp_s_a_1_3?qid=1447661705...

The Microsoft wedge is awesome! Uses AA batteries, so no charging. The batteries lasted over 6 months for me, though of course it depends on how much you type. and the cover is a built in stand. Does a great job of holding up my phone, and it was perfect for my dell venue 8 pro, especially in portrait orientation, which made using Word totally usable on the 8" screen! You can view a full page document larger than the SP3 can in landscape mode. Love love love that keyboard!

This same exact keyboard is rebranded by a bunch of different companies. For even cheaper ($30), and without the gaudy labeling on the space bar: http://www.amazon.com/gp/product/B00QT8WQ86

What kind of battery life can you expect from this? It is my peeve to want to use something and the battery is dead.
Windows Central Newsletter
Thank you for signing up to Windows Central. You will receive a verification email shortly.
There was a problem. Please refresh the page and try again.