Review - Amzer Double Layer Hybrid Case with Kickstand for Nokia Lumia 1520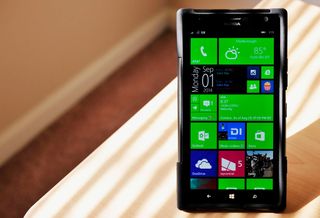 Amzer's Double Layer Hybrid case for the Nokia Lumia 1520 is a rugged full-body cover, much like Incipio's DualPro line of cases. It is made up of a soft silicon jacket that slides over the entire body of the phone, as well as a hard plastic shell that clips on over it
We have been running with one for the last few days, and here is our quick review, including some detailed photos! If you are looking for an affordable case that offers medium to heavy protection, check out the Amzer Double Layer Hybrid case.
Build and features
The plastic shell covers the back and the majority of the sides of the phone, while the silicon remains exposed on the corners for a rubbery pillow of protection against drops. The Lumia 1520's buttons are also covered in rubber to defend against dust and grime.
The dual layer approach is one that we have seen in many smartphone cases. It offers substantial protection against most common threats that our devices face in our daily lives. The rubber sheath helps keep out moisture and absorb the force of falling from a reasonable height. At the same time, the hard shell will protect against scratches, drops and a variety of other potential phone killers.
This combination offers superior protection, falling just short of the full suit of armor that you get with an OtterBox type case. The price you pay for this kind of defense is added bulk to your device. Unlike the thin snap-on cases for the Lumia 1520, the Amzer adds size and weight to an already large phone, making it much more difficult to fit in your pants pocket.
Topping off the Amzer Double Layer Hybrid case is a retractable kickstand on the back, designed to conveniently prop up your phablet either vertically or horizontally on any flat surface. To me, this is one of is one of the bigger selling points of the case.
If you own a Nokia Lumia 1520, chances are, the size of the screen was one of the driving forces behind your decision to buy it. Having a kickstand that pops out from the back of your phone's case is a perfect way to sit back and watch movies or video chat on that beautiful 6-inch HD display.
So what's the verdict? Well, that all depends on what your end goal is. If work in an office environment, you may find that the Amzer is overkill. Furthermore, the added thickness and grip from the case may make it annoying to put it and out of your pants pocket. However, if you work at more active job, or spend a lot of time outdoors, you may benefit from the ruggedness of the Double Layer Hybrid case.
The Amzer Double Layer Hybrid case is only available in black. It's not going to win any beauty pageants, but it may just save your Lumia 1520 from an early demise.
You can find Amzer Double Layer Hybrid case in the Windows Phone Central Store (link below) for just $7.95 with worldwide shipping available.
Windows Central Newsletter
Get the best of Windows Central in in your inbox, every day!
It makes Lumia 1520 veeeeery huge. :D

What's that calendar app on the home screen

Uau this case looks horrible, its like having a supermodel dressed like a homeless person. Is,it that hard to make a semi-heavy duty case look decent?

Cool. I just picked up my son a red 1520 yesterday. Currently searching for a case. Thanks.

I prefer the Nillkin slim case!! It doesn't add too much bulk, size, or weight.

Same here!!! The design and color of my sleek 1520 is not compromised and the texture on the back has prevented slippage altogether! Best case period!!

Doesn't add much protection either ;)

Lol! You're right about that.i just needed my case to protect the camera lens and this one does just that. Its Perfect for me. On top of that I like the fact that it leaves the buttons exposed. I'm not a big fan of the cases that cover the buttons.

I cant believe that Nokia STILL have not released a wireless charging version of their oem branded case!

Im thinking of taking my L1520 with me on my deployment. Im wondering if Otter Box will make a case for the L1520 before I actually leave the States. I may take my backup L920 instead. The standard SIM card in the L920 may be the deciding factor. I deployed in 2010 and purchased a fake iPhone and just kept adding prepay time to it to be able to call back to the states. I can imagine getting a micro sim card will be lucky at best in the sandbox.

Otterbox has spoken. The phone has been out for close to a year...and they have been silent (while releasing an Icon case). They won't make one for the 1520, sorry.

I just ordered a generic case for my 1520 with this exact design on eBay for $3.95 and free shipping. We'll see how I like it when it gets here.. normally I HATE cases! Especially on Nokia Lumias... But since I have a bad habit of dropping my phones and breaking their screens, it's time to put this one in a case.

I have incipio case protects the corners will see ..

I have the Diablo dual layer case, works ok for me, but I haven't dropped my phone.

All of these "rugged" cases are obviously made in the same Chinese factory. And WHY do they all feel compelled to include a janky kickstand on the back? Just stop. Sad that Otterbox didn't feel inclined to support this model. Oh well. I just picked up the official Nokia folio cover from the Microsoft store for $25. The flap is very thin and doesn't get in the way when tucked back.

Have had the Nokia Lumia 1520 since December 2013. I now have 3 cases! Here's why... 1. Nokia Lumia 1520 Protective Cover CP-623 The thin one you see on the commercials. I like it when going out dressed up or in a suit. The flap isn't obtrusive, but the prop up sideways function is silly and floppy. Keeping it propped up all day while on your PC is just not feasible. :( The case obviously protects seeing as I've dropped it twice onto concrete! Yikes. Still, I think I dropped it because of the minimalism of it...not grippy at all. 2. Minisuit Rugged Hybrid Kickstand case. Have had this one since March and the function is pretty good. It compliments the original minimalist case well because it has ridged on the side that make it easier to grip. It is my go to case whenever I'll be doing photography. This case really allows you to control the 1520 for minute adjustments. The covered power & volume buttons require extra pressure is the only drawback. The horizontal kickstand works MUCH better than the Nokia protective cover horizontal stand. The USB or charge cable sticks out to the side on a 1520, so it is fine for all day use. It really is a tailored suit vs. the Amzer which is more of an off the rack type of fit. Both work. Would buy this case again, no doubt. 3. Amzer NL 1520 SKU 96986 (subject of this article). Had this one for a few weeks already and it has become my go to stand when I'm in the office and plan to use my phone during the day. The 1520 is a vertically oriented device and so is the kickstand on this case! For that reason it is a must have for me. The buttons are much easier to press vs. the Minisuit also. The minisuit is a tighter fit overall BTW, if that is a concern for you. The Amzer is more like a comfy pair of XL board shorts by comparison. When plugging your phone (on the bottom of a 1520) in to charge or USB it can be a tricky exercise because of the phone vertical orientation. It can hang off the desk (could fall easier) or I often just tilt the case onto its back while working. YMMV. While 3 cases can seem silly, I like the 3 different personalities they give to the 1520. And considering I paid substantially less for these 3 cases vs. my previous iPhone Otterbox, ballistic, or Mophie's...I'm one happy Nokia customer. Carry on!

Horrible case, but I'd trade my kingdom for a back cover with a built-in kickstand like the HTC HD7 had. That thing would have been awesome on a 1520.

Get the Minisuit. It's a 2 piece unit, so you have a choice whether you want full protection or not, depending on the heft you want to lug around.

I already got this Amzer hybrid case since February and its an amazing case full protection, similar to otterbox case without the protective rubber thing for the usb and the headphone jack, but the phone is big and the case made it more bigger and it suck a little but at least i can put the phone in my pocket anyway so i don't really care, the nillkin slim case look better but there is no shock absorption, in fact there is not any real protection with it so i will keep the Amzer until i find something better !!

1530 with multiple screens and built in digitized stylus..... Could be interesting

A case not protecting the beautiful big 6 inch screen Im enjoying my leather case.

Is sbdy needs a perfect case for the 930: http://www.amazon.de/gp/aw/d/B00MDQX2TK/ref=mp_s_a_1_2?qid=1409576259&sr...
IMHO this is the best case available. You can get it in black, green and orange. The colored part seems to be made of polyurethane, the clear part of polycarbonate. It looks great and is really high quality ;-)

Can anyone tell me the name of the tile which shows time and date and everything

can i buy this from romania?
Windows Central Newsletter
Thank you for signing up to Windows Central. You will receive a verification email shortly.
There was a problem. Please refresh the page and try again.