Review - Amzer Double Layer Hybrid Case with Kickstand for Nokia Lumia 1520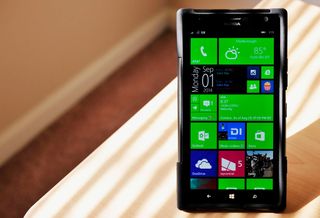 Amzer's Double Layer Hybrid case for the Nokia Lumia 1520 is a rugged full-body cover, much like Incipio's DualPro line of cases. It is made up of a soft silicon jacket that slides over the entire body of the phone, as well as a hard plastic shell that clips on over it
We have been running with one for the last few days, and here is our quick review, including some detailed photos! If you are looking for an affordable case that offers medium to heavy protection, check out the Amzer Double Layer Hybrid case.
Build and features
The plastic shell covers the back and the majority of the sides of the phone, while the silicon remains exposed on the corners for a rubbery pillow of protection against drops. The Lumia 1520's buttons are also covered in rubber to defend against dust and grime.
The dual layer approach is one that we have seen in many smartphone cases. It offers substantial protection against most common threats that our devices face in our daily lives. The rubber sheath helps keep out moisture and absorb the force of falling from a reasonable height. At the same time, the hard shell will protect against scratches, drops and a variety of other potential phone killers.
This combination offers superior protection, falling just short of the full suit of armor that you get with an OtterBox type case. The price you pay for this kind of defense is added bulk to your device. Unlike the thin snap-on cases for the Lumia 1520, the Amzer adds size and weight to an already large phone, making it much more difficult to fit in your pants pocket.
Topping off the Amzer Double Layer Hybrid case is a retractable kickstand on the back, designed to conveniently prop up your phablet either vertically or horizontally on any flat surface. To me, this is one of is one of the bigger selling points of the case.
If you own a Nokia Lumia 1520, chances are, the size of the screen was one of the driving forces behind your decision to buy it. Having a kickstand that pops out from the back of your phone's case is a perfect way to sit back and watch movies or video chat on that beautiful 6-inch HD display.
So what's the verdict? Well, that all depends on what your end goal is. If work in an office environment, you may find that the Amzer is overkill. Furthermore, the added thickness and grip from the case may make it annoying to put it and out of your pants pocket. However, if you work at more active job, or spend a lot of time outdoors, you may benefit from the ruggedness of the Double Layer Hybrid case.
The Amzer Double Layer Hybrid case is only available in black. It's not going to win any beauty pageants, but it may just save your Lumia 1520 from an early demise.
You can find Amzer Double Layer Hybrid case in the Windows Phone Central Store (link below) for just $7.95 with worldwide shipping available.
Get the Windows Central Newsletter
All the latest news, reviews, and guides for Windows and Xbox diehards.