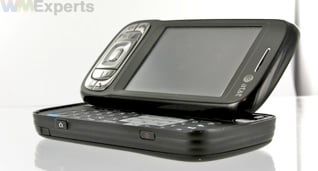 At first glance the Tilt may look like just a minor upgrade to its predecessor, the 8525, but that would be a seriously wrong assumption to make. The ATT Tilt offers 3G, GPS navigation, Push To Talk, and the coolest sliding keyboard format. This is the phone that I have been envious of from afar for a long time now and was extremely excited to have the opportunity to have hands on for several weeks to write this review.
But with all the wow factors this phone offers, I still found myself wishing that for once they would get it all lined up just right to offer the best phone possible. The potential to hit a grand slam is certainly there. As a result, I fell prey to its wow'ness factor, was personally impressed with its stellar line up of features, yet was still wishing it had a little more umph.
Physical Build & Layout
There is no doubt that this is a solidly built phone. It feels like it could take the normal daily use abuse in stride and still continue to work just fine. The sliding keyboard is well built. It is comfortable to hold in my hand as well as nicely balanced when typing with the keyboard extended.
The back battery cover has a nice rubberized texture that has a good feel to it. It does show fingerprints and scuffs really easy, but can be wiped away as needed. Some have trouble figuring out how to take off the back cover, so here is a tip... put the palm of your hand by the camera and GPS antenna and push up towards the top of the phone.
The SIM card is also in a very good location. It is common to have the SIM card located under the battery, which is kind of a nuisance to remove. In the Tilt, it is behind the screen! To find it, extend the keyboard, tilt the screen up, and then turn the phone around to look on the backside of the screen side of the phone, and you will see it.
The MicroSD slot has a nice rubber protector over it that is secure but easy enough to remove when needed.
The only item I saw of possible concern was that the buttons on the front of phone can be moved around a little bit.
I will give it 4 out of 5 stars for the quality of the general physical build.
Buttons:
Available hardware buttons are a factor I take into consideration when buying a phone. The more physical buttons, the easier it is to launch what you use the most on daily basis with a single touch of a button. The Tilt offers the standard buttons, but unfortunately does not offer many extra ones. The obvious exception to this criticism is the jog wheel. In my opinion, all WM Pro phones should have this as a standard button. When pushed, the Jog wheel acts like a button as well. Below the jog wheel is an OK button. The Jog wheel, along with the OK button just below it, makes going through emails or menus a breeze.
Right above the jog wheel is the PTT button. It is almost easy to miss this button.
All the buttons are easy to use and push. But as I mentioned above the buttons on the the front of the phone (green / red phone, 5 way nav, soft buttons, web, and email) are basically one plate that can be moved around in place both from side to side and up and down.
I will give it 3 out of 5 stars for not offering more hardware buttons and for being able to move the front buttons around in place.
Keyboard:
If you ever visit any forums for PDA WM phones, there are always two arguments going on about keyboards. The first is whether they need a physical keyboard or not. And among those that want a physical keyboard, whether it is better to have one that is always exposed, like the Treo, or a sliding one, like with the Tilt or the PPC-6800. There are certainly valid points on all sides. The bottom line to these arguments is that if it suits your needs and likes, then you are right.
The advantage of having a sliding keyboard is that the phone can offer a larger screen without increasing the dimensions of the phone. It also is generally easier to type on the sliding keyboards as the buttons are further apart. I personally love the keyboard with the Tilt. Not only does the keyboard slide in and out easily, the sliding mechanism appears to be well built. The keys are individual keys that are easy to tell apart just by touch. The keyboard offers indicator lights showing when Caps & Fun are locked on. It even offers two buttons for the soft keys. As you can see from the pictures, it is also really easy to see the number keypad as well.
But what really sets the Tilt apart from other sliding keyboard phones is that once the keyboard is extended, you can then tilt the screen up giving it the appearance of a mini computer. This has very practical use as well, as now I can see the screen with the screen extended, while the phone is sitting on my desk. I really like this format. It is well designed and well thought out.
Physical Build:
Layout:
Screen
The tilt has a very bright screen. The screen is a 2.8" QVGA LCD. It looks pretty good when looking at it from extreme angles from side to side, but is unusable when looking at it at extreme angles from the top or bottom. This is an important note because when you have the keyboard extended and the screen tilted up you may be looking at the extreme angles from the side. Why are VGA screens still not standard?
Screen:
Connectivity
Cell Reception
This will obviously greatly depend on where you are, but I have found the Tilt to have good reception. I took it to the Oregon coast and it has the normal expected reception drops when and where expected. The call quality is very respectable as well, for both a normal call and with the speakerphone.
I give it 4 out of 5 stars.
Network Data Connections
I am used to Sprint's EVDO, so it really did become apparent that the Tilt ran slower than that... but that is more of a carrier issue than a phone issue. As far as the phone, the Tilt offers the most options for a PDA phone for a GSM network. It will support GPRS, EDGE, UMTS, HSDPA, and HSUPA.
When comparing it to only GSM network phones, I will give it 5 out of 5 stars.
Bluetooth
I tested it with at least 4 bluetooth headsets and a bluetooth speakerphone. My bluetooth connections have been fairly good. I did experience some break up and static at times, but only on occasion.
While using it with my bluetooth stereo headsets, it sounded pretty good too.
I will give Bluetooth 4 out of 5 stars.
Push To Talk (PTT)
Everyone that I personally know on ATT never use PTT. So I called our own Taylor here at WMExperts, who is our resident Tilt expert, and we had a great time testing the PTT feature. Once you send each other an invite and connect, the sound quality is on par with a regular cell phone call. In spite of the fact that I couldn't see myself using this service very much (if at all), it did work well and was fairly easy to set up and use. The button is located where you would naturally want to push the button during a conversation.
I give PTT 5 out of 5 stars.
GPS
This is a REALLY cool feature with the Tilt. It offers internal GPS. That means you have GPS built into the phone that will work with any 3rd party GPS or navigation software, Google Maps, etc. It locks onto the satellites faster than I thought it would, due to its Quick GPS feature. This downloads the locations of the satellites and will automatically keep this database current behind the scenes via your phone's internet connection, or when you are connected with ActiveSync.
I was also extremely impressed with how well it is able to lock onto satellites indoors. Here is a screen shot showing that it was able to lock onto 10 satellites while sitting in my office at my desk:
I give the Tilt's GPS 5 out of 5 stars... I just wish I had more stars to give for this feature!
WiFi
WiFi can sometimes prove to be an invaluable connectivity option, like when you are traveling in a rural area with no coverage and you are sitting in your hotel lobby with free WiFi waves flying all around you. You will then be able to check your email, use Skype, browse the net, access your computer back at the office, etc. It was easy to set up the Tilt for my office wireless network that has WEP 64 bit enabled. It supports 802.11b/g.
I give the WiFi 5 out of 5 stars.
Connectivity:
Memory
The Tilt offers the higher end standard for both ROM memory (storage, think of a hard drive) in current WM PDA phones with 256 MB while also offering 128 MB RAM memory (thinking-memory used while running programs). After loading some plug ins, ActiveSync, TeleNav, Vito Navigator II, Windows Explorer with www.WMExperts.com web page loaded, and MobiTV I still had 52.5 mb still free.
Memory:
Battery Life
This is always a hard item to rate in the real world, because it can vary greatly on how each individual is using their phone, and their knowledge with being able to fine tune the settings to deliver the best performance. As a result, whenever you talk about battery life it can be subjective to the individual.
It comes with a 1350 mAh battery that is officially rated for four hours of constant use with the Tilt. I have to say that I use my phone probably more constantly than most, and I was personally impressed with its battery life. Its standby time was extremely impressive. With some low or moderate use, I forgot to plug it in overnight, so I decided to see how long it would last sitting on the shelf. Two and a half days later it was still going. Finally somewhere between 3 and 4 days it died. And this is with email Exchange push being used the whole time.
It can take 3 hours to fully charge the battery with the AC adapter, and longer via USB.
In real time use, I have been able to get through a day without many challenges. With normal use, I would certainly have to charge it that night, but I never really felt the pinch of having to find a plug in at the end of the day.
And all of this is without tweaking anything on the phone. With a little initial invested time in fine tuning your phone and some basic battery saving practices (see WMexperts' How to Extend Your Battery Life Article), I am sure this would only increase the battery life.
For an OEM battery for a WM PDA phone, I will give it 5 out of 5 stars.
Battery Life:
Camera
The camera is 3.0 megapixels (2048x1536 resolution). It does a decent job for being a phone camera, but is still a long ways from replacing your real digital camera. It does not have a flash, which I have found to be really useful in a camera phone at times. The quality is one of the best I have seen with a camera phone.
It has the standard HTC camera set of options, which is by far the most comprehensive than any other manufacturer that I know about. It does offer:
Several different modes for the camera

Photo
Video
MMS Video
Contacts Picture for Picture Caller ID
Picture Theme (5 themed templates like Person of Year)
Panorama
Sports
and Burst (Rapid Fire).

Includes up to a 10x zoom.
Depending on where you are taking the picture, you can choose from exposure presets like:

Daylight
Night
Incandescent lighting
and Florescent lighting.

It will allow you to even manually control the exposure for more fine turning before you take your shot. In addition to exposure settings, you can also manually adjust:

Contrast
Saturation
Hue
and Sharpness.

It offers special effects such as

Grayscale
Sepia
Cool
and Negative.

You can choose between 5 levels of resolution from basically thumbnail for Caller ID to 2 Megapixels.
It provides a timer so you can get in the picture as well.
The videos actually turned out better than I expected for using a camera phone, and I have found myself using it more than I ever imagined I would. It captured sounds really well while filming. The last point I found very impressive is how it can accurately automatically focus, even at really close up items about 3 inches away. The other side to the sword of this benefit is that it does take a few seconds to lock on the focus, so you have to make sure you hold still for up to 5 seconds.
Only because it does not include a flash I am going to give the camera 4 out of 5 stars.
Camera:
Real World Use
This phone has a great balance of features. I really liked having a built in GPS that even worked inside my house and office. In spite of it being one the heaviest PDA phones I have held, it is comfortable to use with the sliding keyboard. The keyboard has nice feel to it and it is easy to tell the buttons apart just by touch. Tilting the screen up is a nice touch and certainly adds a wow factor with my friends and coworkers. It has sufficient ROM and RAM memory to meet all of my needs. It feels extremely solid and like it can take a few knocks and keep on chugging along without any major concerns. The OEM battery life was better than I would have guessed, which is always a pleasant surprise.
I do miss having more buttons available along the top and the side of the phone, but love the job wheel. And it does not come with a cradle.
The Tilt also comes with the standard Voice Prompt feature that lets you launch programs or call contacts with a voice command... but as usual, you have to train it for every single contact and program, but it is free. If that is a concern, you can get MS Voice Command which works great out of the box with no need of training and a lot of additional advanced features... but you do have to buy it.
I did find that when compared to the Sprint Mogul (with half of the RAM, and also runs a 400 mhz processor) that the Tilt was obviously more sluggish in rotating the screen, downloading web pages, scrolling down graphic intensive web pages, and sometimes in responding to taps on the touch screen.
So the only cons that I found was that it did not offer as many hardware buttons as I would like, that it is pretty heavy, and more sluggish when compared to the PPC-6800's responsiveness.
The bottom line is that this phone is one that has a wonderful honeymoon period, will certainly make many users extremely happy with all it has to offer with its truly fantastic features (like GPS, WiFi, the tilting screen), but I could see how some may grow to have concerns with its performance in its daily use with its sometimes slower responsiveness. With my previous exposure to this phone, I knew I was going to like this phone even before I opened the box, but I was surprised at yet again how close HTC came to the perfect phone, but fell short in just a few areas.
Real World Use:
Final Ratings
Swipe to scroll horizontally
| | |
| --- | --- |
| Ratings (4 out of 5)Layout: 4Physical Build: 3Screen: 4Connectivity: 4Memory: 5Battery Life: 5Camera: 4Daily Real World Use: 3Overall: | ProsGPS includedNice sliding keyboard with the ability to tilt the screenEasy keyboard to type onVery bright screen256 mb of ROM128 mb of RAMWiFiConsHeavySluggish response timeDoes not include a cradleNot as many hardware buttons as some other WM PDA phones |
Technical Specs
Top Cell Phone Features

Speakerphone Yes
Bluetooth® Yes
Text Messaging Capable Yes
Voice-Activated Dialing Yes
Removable Memory Yes
Photo Caller ID Yes

Cell Phone Style

Style Family Hybrid
Slider Yes
QWERTY - Keyboard Yes
Swivel No

Specifications

Removable Memory Card - Type Micro SD Card
Phone Size Large
Antenna Type Internal
Color Display Yes
Dimensions (H x W x D) 4.4x 2.3 x 0.7 in
Weight (w/standard battery) 6.7 oz
External Volume Control Yes
Language Options Multiple Languages
Vibrating Alert Yes
External LCD Yes
Standard 2.5mm Headset Jack Yes
Standard 3.5mm Headset Jack No
Service / Support 1 Year Warranty

Camera & Video

Camera Resolution 3 megapixels
Camera Flash No
Video Playback Yes

Personalization & Fun

Ringtones Included Yes
Phone Color Silver
Snap-on Faceplates or Covers No
FM Radio No
Preloaded Games Yes

Organization & Tools

Multi-Use / PDA Phone Yes
Alarm Clock Yes

Connectivity

IR Port No
BREW-Enabled No
Java-Enabled Yes

Battery Specifications

Type of Battery Lithium Ion Polymer battery
Talk Time Up to 264 mins
Standby Time Up to 350 hrs

Network Technology

Data Technology GSM: GPRS, EDGE, UMTS, HSDPA, HSUPA
Technology WCDMA - UMTS 850/1800/1900
Mode Quad Mode

ADDITIONAL USEFUL INFORMATION

ATT Tilt User Manual HERE
ATT Tilt Tips & Tricks
ATT Tilt FAQs

Windows Mobile How To's:
Get the Windows Central Newsletter
All the latest news, reviews, and guides for Windows and Xbox diehards.