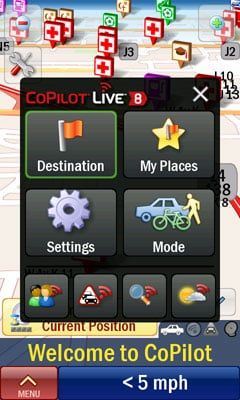 There are some pretty cool technologies involved in the hardware that is being crammed into our Windows Phones these days. WiFi, various cellular technologies, GPS, et al. My vote for the coolest of these is GPS. The fact that some very intelligent person somewhere came up with the idea of putting machines into orbit around the globe and then using these to navigate is extremely impressive to me.
Harnessing the full power of the GPS on a Windows Phone can be a difficult proposition. Free tools such as Google Maps and Bing/Live Search are capable of utilizing a GPS receiver, but they don't give you all of the benefits that we have come to expect from a full featured GPS.
Copilot Live is one of the premier GPS applications for Windows Phones. Now in version 8, ALK Solutions has re-worked their pricing to make this amazing software accessible to just about anyone with a Windows Phone. (See my review of Copilot 7 here.)
To see the new features that Copilot Live 8 offers, check out the review after the jump.
Included Features
Copilot Live provides navigation and routing to a specific location. In version 8, there are several ways of specifying the location that you are trying to get to. Obviously an address or GPS coordinates are a standard method of defining where you want to go; in addition you can use an intersection, a contact or point of interest (for example an airport, amusement park or museum). A new feature in version 8 is the ability to use a Geo-tagged photograph to define the point to which you want to navigate; very cool.
Also new and improved is the ability to specify the method of transportation being used. Car, RV, bicycle or walking are all supported modes of travel. That might not sound like a big deal, but getting routed to walk a freeway isn't the best thing in the world.
Premium Features
ALK offers a set of Premium features for an additional annual fee. These services make use of your data connection to receive up-to-the-minute traffic information, gas prices, and local search. Obviously these are services offered by Google Maps and Bing, but having these features available without leaving Copilot will be well worth the additional cost to some people.
Usability
One of the things that stand out to me the most about Copilot is how every feature is totally usable. Every button is finger friendly; all of the menus are easy to navigate. Maps and lists are intuitive and simple.
While driving, sometimes there are situations where you have to make multiple consecutive turns. Copilot handles this by offering what they call a "Turn after Turn Indicator." Your next two turns are displayed in the bottom left hand corner, and an audible cue lets you know if there is a quick transition between the two turns.
Pricing and Licensing
My biggest issue with Copilot 7 was the sheer cost. At more than $100, it was out of reach for a lot of people as far as cost is concerned. Version 8 sells for a much more reasonable $34.99 (upgrade for $29.99). This is a very competitive price point and is much more accessible for someone on a budget.
The flip side of the price conversation is that the Live features such as traffic and gas prices are at an additional cost. $19.99 per year will get you these additional features. Even at the additional cost these features may be worth the cost to some. I really like that ALK didn't go with the all-or-nothing approach.
There are some other additional features that are coming in 2009 Q4 (that would be any day now), but were not available at the time of this review. Keep an eye out for Text to Speech (Copilot will pronounce full street names in order to give you detailed directions) and Copilot Command (allows you to navigate Copilot's menus using only your voice) in the next couple of months.
Conclusion
The biggest benefit in Copilot Live 8 is the reduction in price. $34.99 is an amazing price for this piece of software. If you have ever wanted a fully featured GPS system, this is definitely your opportunity. I would highly recommend you take a look at Copilot Live before your next trip.
Copilot Live can be purchased directly from ALK Solutions.
Windows Central Newsletter
Get the best of Windows Central in your inbox, every day!
George is the Reviews Editor at Windows Central, concentrating on Windows 10 PC and Mobile apps. He's been a supporter of the platform since the days of Windows CE and uses his current Windows 10 Mobile phone daily to keep up with life and enjoy a game during down time.
I purchased the software this past weekend. Overall it works pretty well. But I was disappointed to see that it doesn't have my home address in it's maps. My neighborhood is about 8 years old, which I thought was old enough for it to appear on a map.

I actually did have the same issue with my house, though mine is only about 4 years old.

I've used this for 2 months now and I've noticed that road names are off...Although addresses are available the name of the road may be wrong and hence you can't find a certain address. I read reviews and overseas (not US) the maps were more up to date than the US versions.
I am hoping for an update soon!

I use google maps and it tends to be really bad at finding where I am (sometimes a mile away) and I am luck I can easily read maps. Is this better at finding where you are?

i have been using copilot for about 2 years now. using it to drive in UK is great. I travel almost everyday and this is the only s/w on my windows mobile i use. I have never updated the maps so i had lil trouble finding new postcodes but otherthan that it was very useful. I got it as a deal from O2 and my collegues suggested me to install tomtom but after 2-3 days of tomtom use, i reverted back to this one. Its soo friendly and easy to operate and wont distract you when you dont need it. like on a stretch of road where you dont need to exit the road unlike tomtom.

Can't find some addresses, wrong road names, ect. (per above posts) equals fail for me. I work in a business where we go to the homes of the clients. Getting to a suppliers' locations and back is also part of most days. Good to here about this problem before making purchases.

I used the Truck version of Copilot for years on the laptop and the pocket pc. For years my biggest gripe with them was their total lack of updates for maps. There has never been one on any version and it has sometimes been two years or more for a new version to come out. Even then, the map version was usually six months to a year old by the time that version was released so it was out of date before you even opened the box. Having said that, for years it was also the only game in town if you wanted to be routed with any semblance of correctness. The last update changed all of that. It was routing me to places even my three year old, $79 Tomtom wouldn't even take a car. Not just bad, but dangerous. I tremble to think just how bad it would be if and RV'er using ALK's $35 package where to be routed in this way when their premier commercial $299 dollar package can't even do it right now. I can see the headlines now. This may be and OK package as a backup for your car GPS but there are better solutions, even if they cost a few bucks more. Its sad to me because I loved their products for years, but in this day and age when you can get a decent stand alone unit that does the job right and gets and occasional update when new roads happen for $100 bucks, I just have to ask why?

As you can see in the screen shots above, Over The Air updates (including Map updates) are supported.

Always has had the ability to update and software updates have happened for glitches occasionally. I have never seen a map update and never expect to. They never have in the past.

Any idea what a "Map Maintenance Update" would be if it's not an update to the maps?

I just ran the update tool again and there is an update titled "Map Updates", so it would appear that they ARE updating their maps at this point.

Fun fact: The basic principle that makes GPS possible is based in Einstein's Theory of General Relativity. Cheers, Al!

Actually, relativity makes it more difficult and requires constant monitoring and updates by humans on the ground. Time flows differently the farther you are from the center of gravity. I saw the Discovery Channel special too ;)

Fun Fact: Wind resistance makes running possible! Sorry I'm late to the party, but you're fucking retarded and I couldn't help it... It's like, you wouldn't be retarded for not knowing how GPS or Relativity works, but you are retarded for thinking you know how they work, being that far off, and spouting it in public.

I been using copilot since ver 6 first came out. WHen I upgraded to version 7 co pilot it included the live traffic which I liked allot and not since I upgraded to live version 8 it does not included the live traffic. has that sucks! have to pay extra. It should be free has your using your internet mobile connection to retrieve live traffic data. Right now I rather not get it has they should have live traffic free.

I have just purchased this to replace OnCourse Navigator 8.0. That was a pretty decent package, but it was locked into the 2GB microSD card I purchased it on. Also, I was in need of an update to the 8.3 version to be supported on my new AT&T Tilt 2, with the 800x480 WVGA resolution. I was told I had to purchase it new to get the update, as well as possibly purchase new maps. So I went searching and found Copilot Live 8 on sale for $19.99 for download. I saw they had a maintenance application (Copilot Central), just like TomTom (TomTomHome)and OCN (NaviExtras Toolbox)have. I had previously done a map update on my OCN8, and it was simple to do, and at the time cheaper than TomTom. For $19.99, I got a premium live services subscription for a year. Also map updates are free for the life of the product. I downloaded and installed this on a spare 2GB microSD card on Saturday the 19th, and installed and activated it on my AT&T Fuze (that was being replaced due to some problems). I downloaded and installed the CoPilot Central application, and remove unnecessary voices from the installation. I was insice my apartment and got a fix within a minute or so (with QuickGPS updated). I used it for 2 days just putzing around town, and worked my way through the settings and featurs. Live weather was usefull, and could get weather for my location, my destination, or my route. Traffic allerts worked as advertised, and appeared to be up to date in my area, reporting numerous accidents, and a special project zone. Now Live Search, that is the killer. Originally I purchased OCN with a premium POI package which I found really usefull containing an advertised 11 million POIs. I was concerned as CoPilot only had 6 million POI's. But with Live search, you can find and navigate to almost anything, as it pulls the addresses from the internet over you data connection. I got my new AT&T Tilt 2, deactivated the software on my Fuze, put the card in the Tilt, and re-activated it no problem. And it is beautiful on the larger screen of the
Tilt 2. I hooked it up to CoPilot Central, and lo and behold there was the 4th quarter map updates, for free. I installed those, but had a little problem because of the limited size of my SD card, I had to remove the old maps first, before it would load the new maps. That done, I ran the program and had the new maps. It also informed me of a over the air map maintenance update, and I took that tool. Next day I got my new 8GB class 6 microSDHC card. I plugged both cards into my laptop, the old into a SD adapter and the SD card reader slot, and the new card into a tiny microSDHC USB reader that came with it, and into a USB port. I just copied everything over, plugged the new card in, and everything worked. Except it loaded the maps much faster, and I had room to spare for books and music and whatever. Originally I got CoPilot Live version 8.0.0.346, but just a yesterday I hooked up to Copilot Central and was informed of a program update, which I let it install. I am now running version 8.0.0.557. So far I am rather pleased with this product. It runs smoothly, the voices are pleasant, it is not "chatty", and the features and options are remarkable for the price. I am now waiting for the text-to-speech update for spoken street names, and for voice command. Even without those, so far this has been a good deal. Especially since TomTom discontinued support for their mobile product. They only support the iPhone/iPod Touch platform now.

Hey Falko I just finished reading your post about using copilot live8 on your HTC Tilt 2. I have the same phone as you and also purchased copilot live8 back in Nov. for $19.99 and since then I've been using it, but one thing I found interesting was how your version updated from 8.0.0.346 to v8.0.0.557. When I go to check which version I'm running it says 8.0.0.346 which oblivious isn't the newest v8.0.0.557. So I ran my copilot central on my PC and it says there's an update for the copilot live8 pocket pc and its dated Dec.21 but for some reason I cant get that new update strangely enough and idk why.. I have my phone connected with active-sync and all but no luck when I press on update/install so I was wondering if you could help me out or perhaps even send me the new updated cab?? I'd greatly appreciate it!!! Hope your having a wonderful new years as well!!!

1) When you click "QUICK STOP" the "RESTAURANT" listings are under the "HOTEL" tab, and the "HOTEL" listings are under the "RESTAURANT" tab. 2) When you do a live search and there is no match, the program gets stuck on searching until the phone turned off and reset. 3) I have read promises of a standard QWERTY keyboard but have not seen anything materialize. I purchased the program solely based on this as I dont have the time to relearn to type on a proprietary formated keyboard. 4) I also read where there would be spoken street names added to north america but have not seen this yet.

Hi,
I am using Copilot Live 8 on a HTC HD2 (windows mobile 6.5). I must say: I was stunned by the graphical interface and ease of use. I depend on a good navigation system so I have been using copilot for a few weeks. I have purchased the Europe-map license and I must say that I am surprised about all the positive reviews. Hasn't anyone noticed that the maps copilot uses, are way out of date? Streets aren't listed, routes are planned through streets that don't exist anymore..... I have had contact with the support desk and they say that the Navteq maps are updated once a year. My opinion is: the looks are great, but the maps are far outdated compared to similar navigators as TomTom. Don't buy unless you take outdated maps for granted.

This app has so much potential if the advanced features weren't vaporware. If you look at ALK's website, today, it STILL shows that text-to-speech and voice command are coming Q4 2009. Neither are released. ALK, for over a month has been saying it is "coming soon." Sunday, they said it had past testing and was coming Monday. Monday came and went. The week before that, it was coming "imminently." Great basic product. Superb UI. Ridiculous company to deal with.

Very disappointed in this software. Using on an HTC Imagio running WM6.5. This is no where near as accurate as my old TomTom (wont run on WM6.5)was. Often way behind my position. Tells me to turn as I pass the turnoff etc. Frequently cant find where I am exactly.
I have used it in Portland Or., San Antonio Tx, and NYC.
The system in the Hertz car I rented was so much more accurate, this is a great disappointment after 3 months.
Can anyone suggest an effective option?

I was about to buy Copilot 8. I had a trial on my HD2 but that didn't last 3 days. The countdown went mad.
I've seen a lot of poor reviews and complaints about out of date maps. It's clearly flawed but I can't find an alternative. Any ideas?

I have recently installed the TTS (text to speech)
update for North America (i have the CoPilot live 8/North America- installed on my HTC Tilt2.) I am having no luck of hearing the TTS feature. I installed many times, then go through the whole 'unpacking' and then setting/language- and select *TTS voice.. but to no avail. If i switch it back to standard voice - i can hear the instructions (but the basic instructions- not readingt the street names). What am i doing wrong. the .pds file obviously installed, since i went through the whole activation (key code), unpacking, and selecting the *TTS voice option.. HELP. I do like this software alot- colorful, bright, and easy to read. Live Traffic is very helpful! Hopefully soon we'll have "Clear turn and landmarks available". I cant wait to have the TTS to work though. I think for it's cost ($19.99, plus the yearly sub for live traffic- is very very good).
I also have Navigon- which has TTS, clear turns (lane selection assist), but did not have live traffic option and its kinda quirky on my tilt2 (the screen will not render right if you switch between landscape/potrait, so if you want it in landscape, you have to start the software while in landscape. **
HELP

I asked ALK how often the CoPilot failed (information that any user would want in order to know whether it is safe to rely upon the product or not). As a safety advisory to other CoPilot users, I posted ALK's response on Facebook that the failure rate of CoPilot ''is not available to customers''.
I promptly received this message from ALK: ''...having reviewed your comments on Facebook and with our own internal team, we believe the best course of action would be to provide you with a full refund on your purchase...''. Since I haven't asked for a refund, ALK's message feels to me remarkably like being shown to the nearest exit for asking about CoPilot's safety record.

After losing my phone, and my iGO8 maps and software, I decided to take a look at CoPilot 8 Live... Boy what a failure! Even though my old maps were almost 2 years older than these, I never have been directed down the wrong way on one way streets, or told to turn left at every intersection that I COULDN'T turn left on, or have such horrible accuracy... This software is a joke!

can anyone give me the activation code for co-pilot live 8 for my htc hd2 ....thanks

Simple. Its is nowhwere near the quality of Tom Tom. The mapping is innacurate making incorrect or no suggestion.
If you wear glasses for reading dont even consider co-pilot. o use it you have to be able to read the screen whilst driving (not a good idea regardless of glasses) This is because the verbal directions are poor and often late leading to sudden late lane changes.

I tried CoPilot on a recommendation and had trouble installing it and ended up paying twice for it. Certain software features advertised did not work and I was unable to get any response from their tech support. Finally after a week I get email from them saying that they don't have to refund the extra $30 that I paid for the program because I had activated it. I would not recommend this product or this company

I just purchased CoPilot for the US and noticed that the maps in my neighborhood are at least 5 years out of date. My street doesn't even exist and the area where my street now exists is recognized by CoPilot as an entirely different town. In short, the maps are horrible and useless unless the location where you are going has been there for 10 years. Also, entering an address into CoPilot is horrible, because you simply can't enter the city and street ... you have to enter the city and then pick the county (upper county, south county, county XX, county YY). So if you live in a big city that is split into multiple counties you'll have to know exactly which county your address is in or else it won't find it. I would not recommend purchasing this product. I did and I regret it.

Total ripoff! Beware! What use is a GPS software if the maps are 10 years old! No support for Canada postal codes. And they will not refund! And will not update maps!

Running Live 8 on a T-Mobile HTC Dash 3G. Very pleased with the speed of the application on this phone. Less than a minute to find a satellite and only a few seconds to recalculate routes. The display is brilliant. However, my settings for the turn warnings are not being retained. I've even manually changed the USER.CFG, but to no avail. To its credit, ALK has responded to my support ticket quickly. Also, I have run into missing streets two times for Florida. As others have said, the maps aren't quite up to date. Anyone else have the same problem with the turn warnings?

I have recently installed the TTS (text to speech)
update for North America (i have the CoPilot live 8/North America- installed on my HTC Tilt2.) I am having no luck of hearing the TTS feature. I installed many times, then go through the whole 'unpacking' and then setting/language- and select *TTS voice.. but to no avail. If i switch it back to standard voice - i can hear the instructions (but the basic instructions- not readingt the street names). What am i doing wrong. the .pds file obviously installed, since i went through the whole activation (key code), unpacking, and selecting the *TTS voice option.. HELP. I do like this software alot- colorful, bright, and easy to read. Live Traffic is very helpful! Hopefully soon we'll have "Clear turn and landmarks available". I cant wait to have the TTS to work though. I think for it's cost ($19.99, plus the yearly sub for live traffic- is very very good).
I also have Navigon- which has TTS, clear turns (lane selection assist), but did not have live traffic option and its kinda quirky on my tilt2 (the screen will not render right if you switch between landscape/potrait, so if you want it in landscape, you have to start the software while in landscape. ** m65 kamagra attorney lawyer scrub
HELP

Try this, I'm pretty sure this is how I got my TTS to work and I have a Tilt 2 as well....
"b) Download the files directly from http://www.alk.eu.com/files/v8/winmobile/cabs/8.0.0.620-2577-tts.zip. If you choose to download the files directly, please follow these installation instructions: 1. Exit CoPilot. If it is running by pressing MENU > EXIT COPILOT 2. Uninstall CoPilot from your phone. Go to START > SETTINGS > REMOVE PROGRAMS. Select CoPilot and click on REMOVE 3. Download the file from the link above. Once the download is complete, connect your phone to your computer via a USB cable in USB Host mode or ActiveSync mode 4. Extract the contents of the downloaded ZIP file to your storage card and overwrite any existing files to replace these 5. On your phone, select START > PROGRAMS > FILE EXPLORER 6. Browse to \Storage Card\2577 7. Tap copilot.wmppc 8. Follow the instructions on-screen to re-install CoPilot. Select DEVICE when prompted to choose an installation location 9. Close File Explorer on your phone 10.Start CoPilot from within START > PROGRAMS. You can check that the new version is installed selecting MENU > SETTINGS > ABOUT COPILOT "

This new device may become the new must in driving but I am skeptical about using the buttons, it would be much more friendly if it could be used just by voice, drivers need their focus, not distractions. Did you know that you can get car insurance quotes that are higher than the average quotes if your car has more features that may distract the driver? There a lot of things that need to be considered before reaching a good quote. So for now, I think I rather wait for the voice command device.

Fenomenal es el navegador

ES FENOMENAL EL NAVEGADOR

ES UN NAVEGADOR CON UNA MULTITUD DE POSIBILIDADADES,DE CONDUCCON GUIADA SIMPLEMENTE CON PONER UN POCO DE ATENCION AL OIDO Y HECHAR UN VISTAZO A LA PANTALLA TRIDIMENSIONAL QUE HACE UN REFLEJO DE LO QUE TE VA VINIENDO CON UNA PREVISION INCREIBLE.CUANDO EXISTEN RETENCIONES TIENE UN SISTEMA QUE TE AVISA CON MUCHA ANTELACION AL ATASCO DE MANERA QUE PLANIFICA LA RUTA MAS COMODA Y RAPIDA SIN MLLESTARTE EN SI VAS A ESTAR TAPONADO Y CUANTO TIEMPO.POR ESO ES GENIAL LLEVARLO EN EL AUTO.