Dell's Latitude E7440 - A business Ultrabook set to redefine standards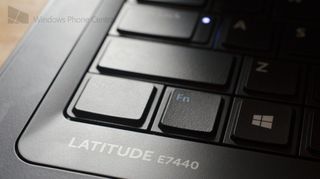 When Dell's Latitude 7000 series laptop showed up at our doorstep for review, there was one simple word that came immediately to mind – "Wow". The new 7000 series machines from Dell are not only a new standard for Dell, but also a new standard for business machines all around. Read on as we take an in-depth look at the design, performance, and value of Dell's latest creation.
The Latitude 7000 series we received for review is the 14-inch variation from the series, known as the E7440. The machine is simply a black beauty once it is unwrapped from its eco-friendly packaging; well-modeled industrial design and choice building materials make the E7440 a laptop to admire.
Swipe to scroll horizontally
Amazing industrial design - a perfect balance of subtle elegance and sleek style. Impressive Full 1080p HD touch display. Good keyboard and track pad. Long battery life. Durable construction.
Can be expensive when compared to regular consumer notebooks. Track Stick comes nowhere near Lenovo's Track Point.
Dell really hit the nail on the head with the Latitude E7740; it is an Ultrabook that shows the company is nowhere near ready to give up when compared to others who are beginning to take over the PC space. The notebook is a wonderful solution for both the business and consumer looking for a non-hybrid Windows 8 Ultrabook with a touch display. The price tag can be considered a bit expensive, but the build quality well justifies the purchase.
Form
The unit itself is built from the ground up with what Dell is calling a Tri-metal chassis that includes durable aluminum. The top of the unit itself is covered in a soft-touch finish that truly feels wonderful when carrying. The soft-touch finish emulates the appearance of carbon fiber and truly brings Dell's business machines up to a class it has never yet been. As with all Dell notebooks, the classic Dell logo sits in the middle of the lid, but instead of being made of silver plastic – the logo is cold hard metal.
In addition to the beautiful crafted and sexy top Dell has brought to the Latitude E7440, they have included one of the sturdiest hinges we have seen in a while. The unit's hinges are both made of hard metal, in addition to the strip that links them. Along the outer strip on the top of the machine, we can also see three LED indicators - power state, hard disk activity, and charging status.
Once we had finished admiring the lid and our amazement that Dell had produced such an ace looking machine, we rotated the machine to see if the trend continued all around – it did.
The front of the laptop curves down and under, as do many units in an attempt to seem thinner than they actually are, but carries no ports. The left and right sides of the machine are an example of excellent industrial design; both sides start thicker in the back and curve inwards to give what I like to call a "gull wing" design.
Ports on the left hand side of the machine are essentially hidden; there are only two and they are completely flush to the machine's side. An SD Card slot sits slightly under the curve, while a barely visible Smartcard reader rests nicely on the edge. When we say that they are "barely visible", that is not a bad thing, they have simply been designed so well that if you do not need them – they just are not obvious.
The right hand side of the machine has what we like to call "fast access ports"; these are the most frequently used ports that you want readily available and not tucked away at the back of the system. Quickly available is a USB 3.0 port, headphone/microphone combo jack, wireless switch – there is also the security standard Kingston locking port.
The back of the unit is crafted from cool metal and has four exposed screws, which gives off a strong feeling of industrial style design. Ports along the backside of the unit include two more USB 3.0 ports, a display port, an HDMI port, an Ethernet port, and the charging jack. We would have preferred the charging jack on the left or right side for fast access, but the positioning on the back is not too bad. One of the two USB 3.0 ports is available for always on use and we are excited to see Dell showcase two options for video output.
The bottom of the unit's appearance is also metal and coated in what Dell is calling a "powder-coated base" – what powdered you ask? We may never know. What we do know is that just as the rest of the unit looks great, the bottom continues that trend. In fact, for a business user, the bottom of the unit may just be the best part of the entire unit.
While many business Ultrabooks are extremely thin and decide to forgo dock connectors and removable batteries – the Latitude E7440 has both. At the rear end of the bottom, you will find Dell's standard E-Family docking station connector. At the front end, you will find a replaceable battery. The flick of a switch easily ejects the included flush 47Wh battery from the unit.
Besides the battery and docking port, you can also find the unit's two stereo speaker grills, a single fan grill for cooling, and four rubber feet. The feet worked well on multiple surfaces we tested and kept the machine firm in place during typing. One design feature that many people will overlook is a single bump on the bottom of the unit – it appears to help the keyboard from flexing. Dell really paid attention to detail when constructing this machine.
The real question now is whether the design of the machine lives up to the high standard Dell has set with the unit's exterior. Upon opening the lid, we once again notice the extremely sturdy hinges; some Dell units of the past have not had the world's best hinges, so it is great to see what they have done with the E7440.
Of course, the first item your eyes divert to once the lid is opened is the edge-to-edge 14-inch display. The touch-enabled screen that came included with our unit is forged with the strength of Corning Gorilla Glass NBT. The glass itself is said to be 8-10x more scratch resistant and optimized for touch.
Directly below the display we find three volume control buttons (mute, volume up, volume down), three LED indicators to indicate hard disk activity, battery status, wireless status, and the power button.
The keyboard sits slightly recessed and surrounded by a separation break in the metal, which breaks up the minimalism of the keyboard deck and adds dimension. The keyboard itself is Dell's standard "faux Chicklet keyboard"; the buttons themselves are not actually separated, but instead have bumps that make them appear to be. The keys themselves have a nice amount of travel and good pushback that made the keyboard a joy to type on. We were also happy that Dell included an LED light built directly into the Caps Lock key. The keyboard itself is also backlit for working in darker environments.
Dell continues to include its blue Track Stick, as an alternative to track pad navigation. While additional choices are always welcomed, we found the Track Stick and its buttons to be sub-par. Grip on the Track Stick can be difficult at times and we constantly found our finger slipping off. The buttons themselves feel a bit mushy and Dell chose to have the left and right buttons click at the bottom, while the middle mouse button clicks at the top. In terms of Pointing Sticks, Lenovo still has Dell beat by eons with their TrackPoint.
The actual Track pad included on the laptop is decent, not amazing, but not terrible either. It worked well during use, but felt a bit over sensitive at times – you may find yourself playing with settings until you find the perfect setting. The size of the Track pad is about what we expect on a unit that also contains buttons for a Pointing Stick. The left and right click buttons feel decent, but just as the Track Stick buttons were – they feel a bit mushy and we would have preferred a more solid click.
Function
The unit we received from Dell was equipped with a Intel Haswell Core i5 Processor running at 1.9 GHz (up to 2.5 GHz with Intel Turbo Boost), 4 GB of RAM, a 256 GB SSD, and Dell's Full 1080p HD display with WiGig technology. Currently, this configuration costs $1849 on Dell's website.
The unit itself starts at $1089 with an Intel Haswell Core i3 Processor running at 1.7 GHz, 4 GB of RAM, a 500 GB 5400rpm HDD, and a 1366 x 768 WLED display. The above unit that we received was the highest configuration available in terms of performance. Overall, we would have liked to see an optional Intel Core i7 Processor and 8 GB of RAM, but our review unit ran quite well.
During day to day operations, the unit ran smooth and without hiccups. The Intel Core i5 processor handled everything we threw at it and unless you planned on gaming or doing extremely intense CPU activities – it will suite you perfectly well.
Due to the unit only being loaded with up to 4GB of RAM, applications like Adobe Photoshop CC and Adobe Lightroom CC could become a bit bogged down if you attempted to do too much at once. Working with the two applications is certainly possible and most amateur photographers will not have any issues as long as they are not multitasking too many other applications in the background.
As expected, the included SSD ran at lightning speeds and its actual available storage space showed up as 220GB. Checking Disk Management, we can see that Dell did include a few of their own partitions for recovery, which can be deleted to secure up some more space if needed.
The optional Full 1080p HD display that came included with our 14-inch Latitude E7440 was quite nice and enjoyable. It does not come near Lenovo's YOGA series of machine or Sony's VAIO Duo units, but it is much better than what we expected to find on a business machine. Contrast and vibrancy on the unit is great and any movies you watch will be well honored.
In terms of touch responsiveness, the unit responded perfectly. The screen supports all Windows touch gestures and carries the standard 10 touch points found on most units.
Since we are on the topic of multimedia, let us talk about the integrated Stereo speakers - they are simply amazing. The laptop's speaker do not sound as good as a quality set of Desktop speakers, but for a laptop, they truly sound great. In addition, the two speakers can get decently loud so crowding around to watch a YouTube clip or movie will not be an issue.
In terms of battery life, we were impressed with the unit's performance. While browsing the internet and performing day-to-day tasks we were able to achieve five to six hours of up time. If you turn on energy saving mode and plan on working with Microsoft Office, we can easily see you pulling another hour or even two out of the unit.
We were also very happy with the lack of bloatware pre-installed on the system we received. There were a few applications out of the box including Microsoft Office, Google Chrome, Skype (desktop edition), Dell's own Windows 8 app, and a copy of McAfee internet security. Overall, all the software we found was quite welcomed (and easy to remove if you do not like it), but we still cannot recommend McAfee. We recommend uninstalling it as soon as you receive the machine and go with a less performance hungry and more effective security suite such as Norton Internet Security.
Overall, Dell has done what we did not expect – they produced a brilliant machine with few flaws. The performance of the unit is great, although we would have loved the ability to add a bit more power with Intel's Core i7 CPU and more RAM than just 4 GB.
Dell executed a simply stunning design that will even have consumer heads turning to look at this business machine and say "wow". The design is a bit subtle, but it carries a sophistication that is a perfect balance for the boardroom and beyond.
The Tri-metal chassis that the unit was crafted with really gives us confidence in carrying in this machine around, and unlike previously plastic latitudes – we are not afraid to be a little rough with it when we toss it in our bags.
As of now, Lenovo is currently the number one PC manufacturer in the world and once solid brands like Dell and HP have become to slip. The Dell Latitude E7440 is the type of machine that Dell needs to pull themselves up and show the world that they still have what it takes to remain competitive.
Conclusion
Starting at over one thousand dollars with an Intel Core i3 processor, does not make this machine cheap and you are definitely going to want to pick up the most expensive model at $1849, which includes the beautiful full HD touch screen with Gorilla Glass. That being said, this is a business machine and you are paying for the build quality, part support, long lifecycle and integrated technologies such as Intel's vPro security solution.
If you are not looking for a hybrid Windows 8 machine and simply want to see what some of the best touch screen Windows 8 Ultrabooks out there – Dell's Latitude E7440 is one of them. We truly feel that it is hard to go wrong if you pick up this machine for business or personal use.
You can find ordering information on the Dell Latitude E7440 here at Dell's website (opens in new tab).
Windows Central Newsletter
Get the best of Windows Central in in your inbox, every day!
Ddoesn't look too ultra to me.

Good review. I think this is a little expensive, considering an i5 + 256gb ssd + 4gb ThinkPad yoga comes in at like 1400-1500. Add in a higher tier i5 and 8gb of ram for another $200. AMD it has a wacom stylus. Lenovo's T ultranooks are slightly cheaper than the yoga as well. Also: review the ThinkPad yoga! One thing I would love to see y'all add to your reviews is a formal table with all of the specs, price, and dimensions somewhere. Kinda like what anandtech does. A lot of it can be found either on dell's website or in the review but it is nice to have in one spot. For instance this is an ultrabook but I have no clue of its weight or thickness. Mostly nitpicking but I apologize if any of this is actually already done... I just woke up :)

My thought too. I picked up a T440 with a Haswell i7, 8gb of ram, and touchscreen for about the same price.

Hah, you recommend switching from one virus, McAfee, to another, Norton. Microsoft Security has been all I've used for years and it's been great.

As an IT pro I've recommended peope get rid of both Norton and McAfee for years, recommending Kaspersky in its place, but in the past few years, a couple of my machines are just running Windows Defender and haven't been infected once while running it. Microsoft has indeed kicked up their game.

I do find Kasperksy to be quite excellent. And to be honest I haven't exactly felt paranoid while using Defender, but old habits, and old views die hard.

Yes, they do. To be honest, the reason I'm not running Kaspersky on my two laptops is that last year it started conflicting with the Windows Phone Emulators, so I uninstalled it.

This one looks chunky. We are going for the new Lenovo X1 at work.

Yea. I'm not liking the look of it either. The X1 is beautiful.

My $500 ASUS VivoBook looks more expensive.

Is the screen matte or gloss? I think this is just about the most difficult thing to determine on business laptops today.

Hahaha sorry but you call that an ultrabook? :D I have an 13 inch Asus Zenbook with 2 VGAs, 10GB of RAM, i5, 750GB Hybrid HDD, Bang&Olufsen audio for about 1600$

The E-Dock support is what makes this laptop very useful. Sure it's not the most "ultra" out there but it is really ultra vs. the old ten pound Latitudes we had in use. Lots of businesses, including ours, will have many docking stations around the office and this works like a charm with them. It really is a good working "ultrabook". We have 4 of them in the office now and all our users love them (compared to the 10 pound bricks that used to be the latitude line).

Hopefully my company gets this for us

Overall I like Dell hardware but I've had just about enough of the ridiculous fan noise at idle and worst track pads. I don't know if its only the XPS line that carries these issues from one model to the next but they should have been addressed already.

Nice machine, glad to see Dell is attacking areas hard once they went private.

"Full 1080p HD" is not a reason to WOW. Not in 2014.

I evaluated a pre-production version of the 7240 and really disliked the keyboard as compared to a ThinkPad. I'm hiping that it was lacking due to being pre-prod, but I suspected that there would be no change in that area. We should get a real 7xxx model soon to try out.

Preloaded with Windows 8.0?
Also screw Norton and McAfee, Avast ftw!

I've been looking at pricing one of these up but our DELL premier pages doesn't like me selecting the hardware encrypted HDD, it says I can't select it with windows 8 or windows 8 downgrade! Which is very handy as I can't select it with ANY OS option, win8 no, win 8.1 no, win7 no

Talk to your sales rep or catalog manager at Dell. The automatic configuration validator on the Premier page is probably not set up correctly. In the meantime you should be able to spec with a different hard-drive, and work out what the cost would be with the encrypted hard-drive.

Will WPCentral also be reviewing the Lenovo Y50 when it comes out later this year?

FWIW - we've been getting these for a few months now with the i7 and 8GB RAM options, which are available for business customers. The point here, though, is that these are definitely designed as business machines and, as such, have some additional features (in particular the E-dock connector and removable battery) which compromise the size compared to machines like the Zenbook, but add to the appeal in an enterprise environment. Our users regularly want a second battery, for example, so that they can keep working when travelling (in these days of cost cutting, a second battery is much cheaper than a plan seat that has laptop power!). We also need easy access to the internals of the machine to, for example, change the keyboard out if we're buying for someone in a foreign locale. I wouldn't go for one of these as a "home" ultrabook, but for an enterprise they are definitely a good option.

With the warranty Dell includes in all their Latitude models, nothing comes close for enterprise, at least where I live. 3 years NBD on-site tech support beats everything else hands down.

Glad to see Dell stepping things up. Yes, other machines are thinner and lighter, but as noted, they do not have the options for connections for docking and a removable battery. Personally, I am happy to sacrifice a bit of size for those options. Others may of course, disagree. Regardless, having another company push things for MS in terms of standards and options is a good thing for all of us.

This might be a nice drafting machine with the 8GB option. I'd have to look at Graphics card options though. Inventor can be a little picky with base cards. I'm currently using a desktop, but my travel is going to pick up this year, so a laptop is in my near future. And if I let our IT group pick it out, I'll be running a 10" netbook...

I've been doing carpet tiling at Edison lately, and everyone uses dell latitudes there. Omg those machines are definitely amazing!

I gotta admit, this bad boy is threading on MacBook territory

Touchscreen Macbook, as well :)

I have one running windows 7. Awesome laptop

No digitizer support? Next...

Its not as light as other uktrabooks but for a business laptop its solid and feels good.

I just received my new E7440 today and I must say that it is an amazing machine. However... the keyboard is a huge disapointment. I'm an IT manager and we have several different latitude series deployed throughout our environment so I've had the opportunity to get my hands on quite a few different models. All the other keyboards provide a nice firm feel yet this one feels like mush. The amount of flex is simply unacceptable. So bad in fact that I called tech support to check and see if this was a known issue. They didn't have much to say... they're sending out a new keyboard but I have a sinking feeling that this is simply the way it was designed. We shall see. If it doesn't get any better with the new keyboard, this machine is going back. Too bad because other than that, this laptop is exceptional.

Kinda late a reply I suppose. Yeah I feel the same after a few years with previous latitudes. The keyboard on the new E7440 do feel a little mushy but I suppose one can get used to that. Its the price one has to pay to have a slimmer chassis. The 7440 footprint is about the same as my E6320 that I am still using. Not an easy choice. For mobility I would choose the newer 7440 but if I am going to spend longer time on keyboard that I still prefer to work on either E63xx or E64xx series Latitudes. Them older Latitudes are going to still be around for a couple of years yet I think.

Hey Danny617, I'd appreciate if you share your *current* (4/2015) opinion on the keyboard: Both the flex issue + the overall usability of the seemingly-minimalist layout. Thanks in advance!

Hi enum, I've actually gotten quite used to the keyboard. This has turned out to be the best laptop I've ever owned. Highly recommended.

Can Windows Central do a review on the Dell 7000 Latitude 12 Ultrabook as well? The E7250 latest 5th Generation, how it compare to Surface Pro 3 and others.
Windows Central Newsletter
Thank you for signing up to Windows Central. You will receive a verification email shortly.
There was a problem. Please refresh the page and try again.