Jump into your photostream with Flickrology for Windows 8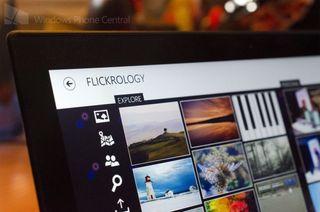 While Flickr's competitor, 500px, has beautiful applications for both Windows Phone and Windows 8; Flickr themselves have yet to deliver to the Windows Store and the last update to their Windows Phone application was pushed out in March of 2012.
However, to fill the void of an official Flickr application on the store for Windows 8, we have set out to find the best third party app and to see if any of them has what it takes to provide the ultimate Flickr viewing experience. After shuffling through collections of terribly mediocre Flickr applications, which trust me that some of them are simply terrible, we stumbled upon "Flickrology" for Windows 8.
Follow us as we explore the app, and decide for yourself if the full version's price tag is worth $2.49 USD.
The Homepage
Upon opening the homepage of the application, you will find a simple overall layout that is in front of a terrible "kitchen wallpaper" style background. Instead of leaving the background blank as the Windows 8 design guide suggests, the developer choose to have a reoccurring image of the application's logo. It is very distracting and takes away from the content in the application itself.
The homepage hosts two categories of content: "explore", which is devoted to the most popular photographs on Flickr, and "Personal", which shows all of your latest uploads to the photo sharing social network.
In the upper right hand corner is your Flickr avatar and your name, along with any possible notifications you might have from the service. Clicking on your avatar will bring you to your profile page, where you can then review all of your info.
Your Profile
On the Profile page, the main category displayed is your "Photostream" (AKA - All the pictures you have uploaded to the service). While your name, location, description and number of photos are displayed on the left hand side of the screen, we could not find a way to update any of that information.
If you decide to click on one of your photos, you are brought to another page where you can edit the photograph's information, add a comment, tag other users in the photo, sort the photo into a set, or delete it from your account.
You might have noticed that we mentioned above that the full version costs $2.49, the regular free version that you download includes ads and does not include the ability to edit or upload any photos.
Features
If we head on back to the homepage of the application we will find a collection of shortcuts on the left hand side, they include your profile, your photo map, your contacts, a search option, an upload option, and the ability to sign out from the app.
We were unable to view any photos on our map because none of them where geo-tagged, but the map itself is powered by Bing and operated quite smoothly if needed.
Once you are done looking through your personal Photostream and the Photostream of others, you may want to perform a general search. To do so, click on the magnifying glass icon and enter your search query; you can limit your searches to tags or people.
Last, but not least is the ability to upload a photo to the service. There is nothing special to say, except that the uploading works and you can fill in minor details like the description, location, and tags.
Conclusion
Overall, we feel that Flickrology could be the best Flickr application in the Windows Store, but it just is not there yet. It provides a lot of the functionality we are looking for, but the design is quite terrible. To start, we would suggest removing the tiled background and replacing it with a solid color.
Purchasing Flickrology is not a poor choice as it does work and it is your best bet, as of now, for a Flickr application. If you do not plan on uploading or editing and only want to use the application to browse photos then you will probably also save yourself some money with the free version. Then again, using the Flickr website might be the best option for now and it will not cost you anything either.
So there you go, check out Flickrology from the Windows Store by clicking here (opens in new tab).
Are you a member of Flickr or another photography site (such as 500px) – post your links below and share with the community!
Windows Central Newsletter
Get the best of Windows Central in in your inbox, every day!
On my PC and Surface I'm happy just going to the Flickr website. It has a good layout. For Windows Phone I like Flickr Central.

Glad to hear you are enjoying Flickr Central. Remember to use the contact button on the about page (in settings) if you ever feel like something is broken or you want to see a feature added. I do my best to respond to everyone

I actually did use contact button and sent 2-3 emails in recent weeks but no response yet. Or maybe I was just unlucky..? :-/

I wouldn't expect to ever see an update to flickr officially for WP. Marissa Miller clearly hates Microsoft.

I thought the image spelled something else!
Windows Central Newsletter
Thank you for signing up to Windows Central. You will receive a verification email shortly.
There was a problem. Please refresh the page and try again.