Review: Handy Weather for WM Smartphone - Week o' Weather Apps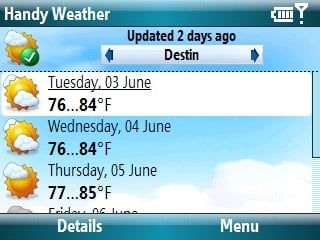 (Join us this week as George reviews 4 Weather Apps for Windows Mobile Standard and then gives them all a big smackdown on Friday. Today's entrant: Elecont Weather)
Weather applications are increasing in popularity and Paragon Software Group has tossed Handy Weather ($17.95) into the growing selection of applications. I've reviewed several weather applications lately and find them very useful to help plan your day on the go as well as planning for the days ahead. There are a lot of good weather applications available and I was curious how Handy Weather would stack up.
Read on to see how it shapes up!
Installation was straightforward and easy but set up threw me a major curve ball. Handy Weather claims to have over 40,000 preset cities in its database. You first select you country, then State/Province/etc., then city. I selected United States which prompted a listing of States. I saw Alaska, American Samoa, Arizona, Arkansas, and then it went on to California. Alabama was missing! I could pull up weather information for every State in the Union but Alabama. I could pull up cities from the Federated States of Micronesia but not Alabama. I could see the current conditions for Yap but not Birmingham!
Seeing that I couldn't use any city in my home State, I choose Destin, Florida. If I couldn't be in Birmingham, I might as well be on the beach.
Handy Weather is a weather application and Home Screen Plug-in. The application will place a weather forecast bar on your Home Screen that will show you the current conditions and the next four day forecast. A series of weather icons are used and the temperature is displayed.
Clicking on the banner will send you to the application itself. The main screen of Handy Weather is a seven day forecast and by clicking on the individual date, you pull up forecasted conditions including forecasted weather plus projected temperature, wind speed and direction, UV index, and humidity.
The application also includes three forecast maps; satellite, surface and temperature. The maps are graphically pleasing but lacked detailed information. Only eleven North American cities are shown on the Current Temperature Map, fourteen on the Satellite Map, and none are indicated on the Surface Analysis Map. It would have been nice to have seen the selected Cities shown.
Handy Weather does not have animated maps, radar images or notifications of severe weather alerts. It will allow you to see a graph of forecasted temperatures and conditions over a five day period.
The Options Menu for Handy Weather is limited. You can change the language, units of measurement and update frequency. Not much more. I would have preferred to see the ability to modify the information bar content (current conditions or three day forecast as opposed to just the seven day) as well as graphical appearances.
Overall Impression
On the surface, I liked Handy Weather($17.95). It gave you a snapshot of the seven day forecast along with a little more detailed information if you needed it. Compared to other weather applications, Handy Weather would be a basic model giving you just enough information on the weather but not too much. Unfortunately, it seems to be a work in progress.
Because Handy Weather does not include a single city in Alabama, it doesn't do me or anyone traveling to Alabama any good. In contacting Paragon Software, the omission of Alabama was an oversight on their part and steps are being taken to include Alabama in future releases, the first expected at the end of the month.
Based on the limited options, the oversight of including any city in Alabama, and basic features I'm almost of the impression that Paragon Software slapped this application together hastily in order to get a weather application on the market.
How do you forget a State? When developers saw 49 States listed under the United States of America, shouldn't that have been a sign?
Swipe to scroll horizontally
| | |
| --- | --- |
| Ratings (out of 5)Installation: 4/5Functionality: 3/5 (where's Alabama?)Graphics: 4/5 (more detail on maps)Ease of Use: 4/5 (navigation is easy)Overall: | ProsEasy to navigate throughConsCity Database missing an entire StateLack of Detail in Maps |
Get the Windows Central Newsletter
All the latest news, reviews, and guides for Windows and Xbox diehards.